Don't let any candidates get lost in a pile of applications
Improve your recruitment process and hire more efficiently by optimising your talent database and tracking the entire applicant journey.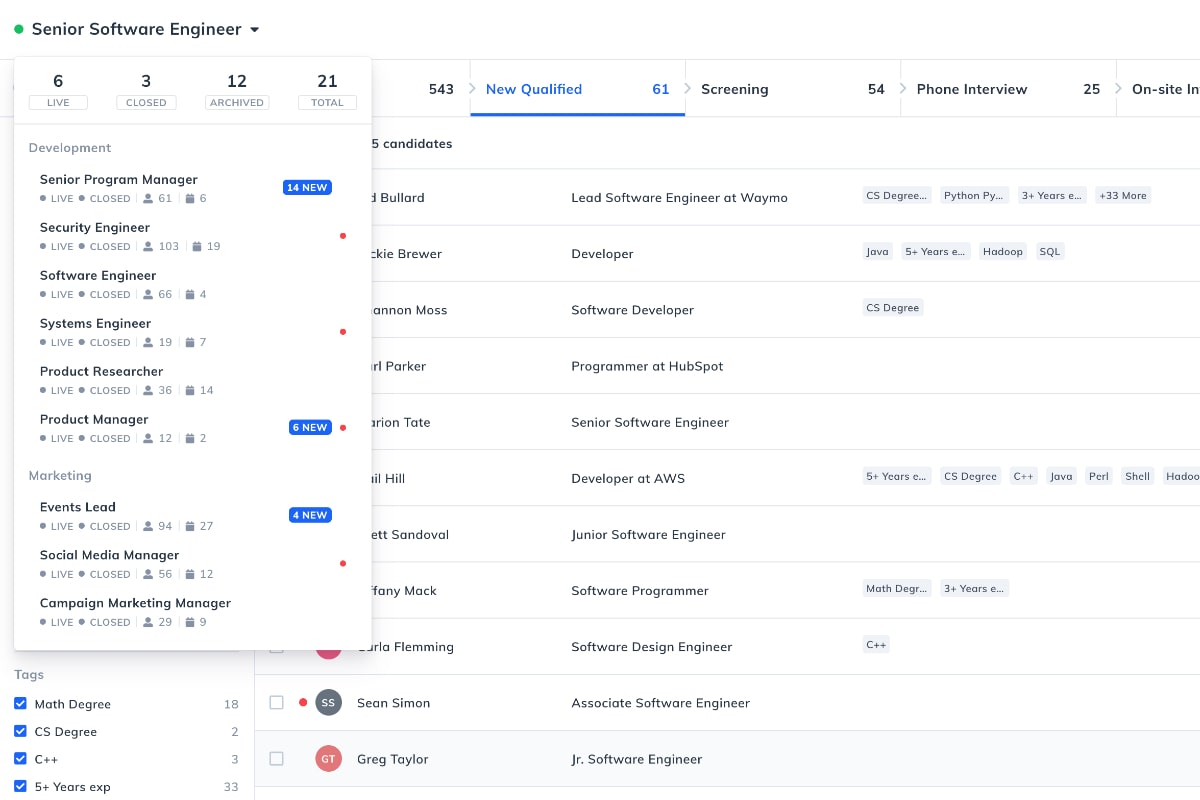 What is an applicant tracking system?
An applicant tracking system, usually shortened to ATS, is a type of software that provides recruiters with the tools needed to optimise their workflow. In simplest terms, it's a digital database where recruiters can collect, analyse and store candidate information.

It also allows you to track each applicant throughout their journey: from the moment they apply for an open position all the way through to onboarding. And for the candidates that don't make it to the hiring stage, an ATS provides a convenient and organised way to store their information for possible future use.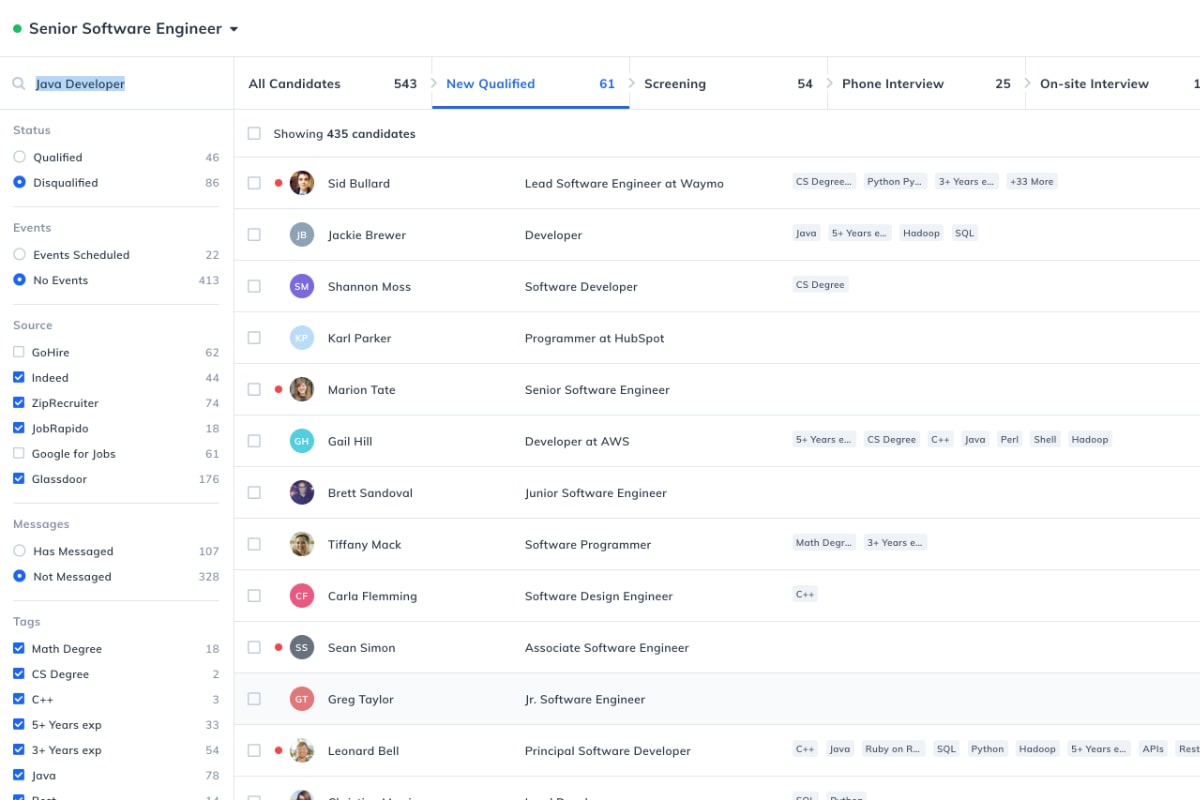 Should recruiters use applicant tracking systems?
Absolutely anyone who is involved in hiring can benefit from using an applicant tracking system—including recruitment agencies! In fact, 75% of recruiters and talent managers use some form of recruitment software. And 95% say that using the software has improved their hiring process.

So, if you work for a recruitment agency and want to improve your organisation and speed up your placements, consider using an applicant tracking system for recruiters.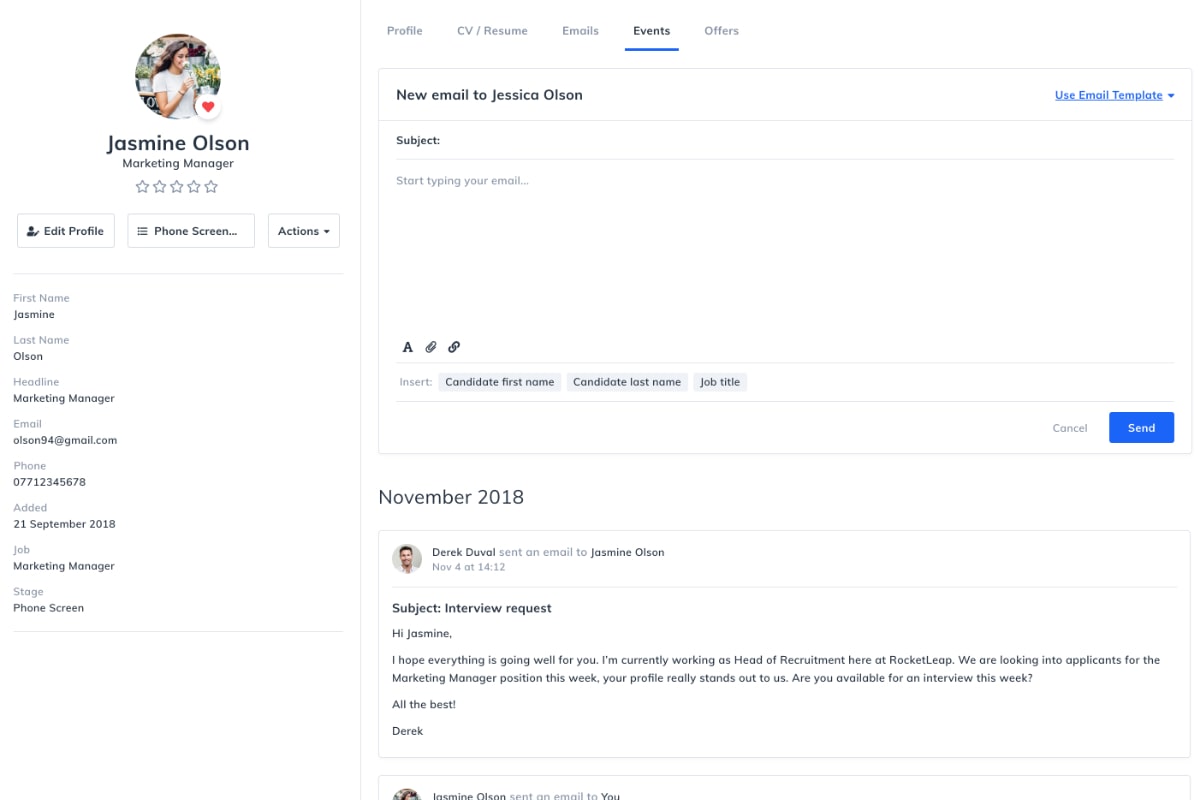 What are the benefits of an ATS for recruiters?
The benefits of an ATS are the same for everyone. But for recruiters, there's the added benefit that it'll improve your placement rates and impress your clients. And that's good for business!

Since you're in the recruitment industry, you really want to ensure that your workflow is as efficient as possible. And that you're not only helping your clients find top talent, but you're doing so in a way that makes sense for your business. That means hiring talent as quickly as possible—without extending beyond your budget.

An applicant tracking system helps you save time and money. The software automates job posting, communication, database management and candidate tracking processes. Plus, it helps you build a network database that is organised and easily accessible—helping you find possible candidates quicker than ever before.
Other benefits of using applicant tracking systems include:
Streamlining the recruitment process
Boosting candidate outreach efforts by posting on multiple job boards and social media profiles at once
Improving candidate experience
Automatically screening applicants with questionnaires
Generating useful recruitment analytics and insights
GoHire features that can help recruiters
GoHire's applicant tracking system is built with small to medium businesses in mind—including recruitment agencies
Here are a few of our key features that can help recruiters optimise their recruitment process and improve their hiring rates:
Manage multiple jobs
Manage multiple jobs with multiple clients at the same time. Seamlessly switch between each to stay on top of your hiring and keep all open jobs organised.
Streamlined inbox
Manage all communication with candidates in one place. No more searching for past emails or trying to match CVs with applicants. All information about a candidate is exactly where you need it, when you need it.
And, anyone in your recruitment agency can easily log in and find what they're looking for. This means you can quickly get anyone in your team—including new team members—up to speed on any client's recruitment status in no time!
One-click job posting
Sure, you do recruitment for a living, but that doesn't mean you have time to manually post job ads across multiple job boards.
With GoHire, you can post your clients' job ads to over 15 job boards, including Indeed, Glassdoor, ZipRecruiter and many more! Plus, you can integrate social profiles—either your own or your clients—to automatically broadcast any new job openings.
CV importing
Got old CVs that you want to add to your candidate management pool? No problem. GoHire makes this process simple. You can add candidates one by one or in bulk using our import feature.
Candidate tracking
From initial application all the way through to hiring and onboarding, you can easily track exactly where each candidate is in their journey. Including having all relevant information about them in one place: their details, CV, screening questionnaires, communication, previous interviews and any notes already made by recruiters.
Automation
Save yourself and your recruitment team endless hours of admin by automating manual tasks. GoHire's automation features include automated job ad posting, questionnaire screening, communication with candidates, self-scheduling interviews and onboarding.
Database management
As a recruiter, you know the importance of database management. With GoHire, you can search through your entire database of candidates instantly. Easily find and target specific candidates in your database, rate the best, filter the disqualified, and search for the applicants you want to take through to interview.
That's just the start. Learn about all of GoHire's features.
Why choose GoHire?
If you're on the fence about whether or not GoHire is the best applicant tracking system for recruiters, here are a few more reasons why your ATS search stops with us:
A dashboard that just works
With GoHire, you get a no-fuss, intuitive dashboard that's easy to manage. We've cut out the fluff and included only the features we know recruiters need to do their job most efficiently. Simply sign up and start hiring for your clients in minutes.
Affordable monthly fees
You don't need to break the bank to improve your processes. Optimising your recruitment workflow starts at just £58/$78 per month for our Starter membership. This allows you to share up to three live job listings, link unlimited team members and create customisable pipeline stages. For recruitment agencies with more jobs on the go, you can easily upgrade to our Pro membership with unlimited job posts for just £165/$182 per month.
Easy, streamlined collaboration
GoHire makes it easy for your entire recruitment agency to collaborate. Everyone involved in your recruitment and hiring processes can easily access and track all candidates. Recruitment teams can now collaborate in a streamlined manner on a single platform.
Stop waiting. Hire now.
With GoHire, all you have to do is simply sign up and start hiring for your clients immediately. There's no learning process to go through or complicated set-up procedure. It just works.
More applicant tracking system features
Explore more of our product stack and see exactly how you can GoHire will transform the way you recruit top candidates.
Applicant tracking system trusted by 1000's

"GoHire has improved our hiring process from the get-go. We can now free up time to focus on the things that matter, the people."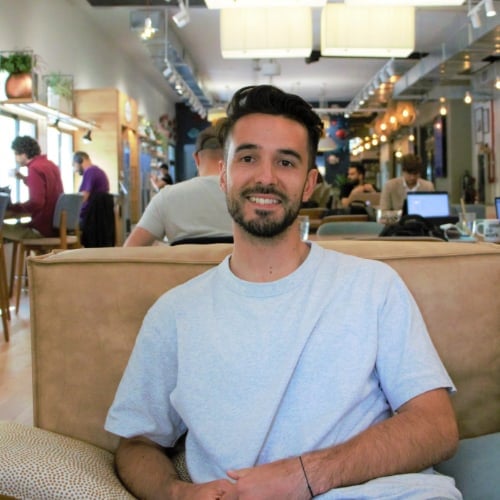 Sebastian Ibarra
Happiness Specialist

"We have a professional careers page that I can share with everyone. GoHire has solved our hiring problems and we couldn't be happier with it."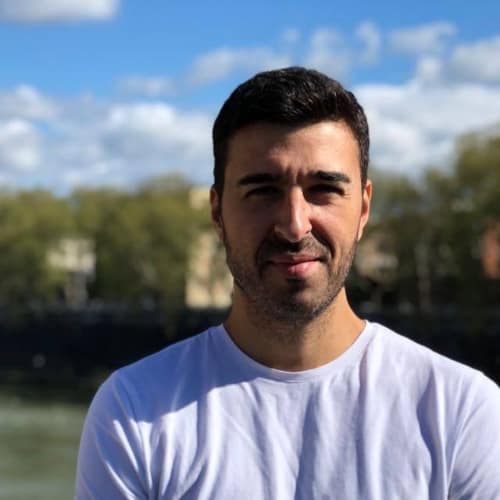 "GoHire helped us avoid the dreaded spreadsheet to manage our applicants. Its reasonably priced for its features instead of being priced because of the industry." "GoHire has improved our hiring process from the get-go. We can now free up time to focus on the things that matter, the people."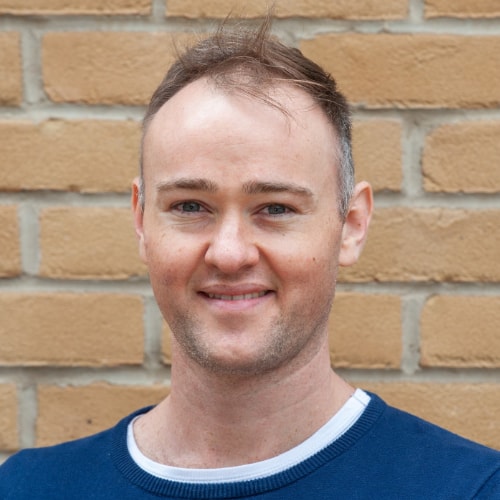 Luke Robbertse
Technology Operations Manager

"GoHire has made the task of posting a position almost effortless. Exactly what we were looking for."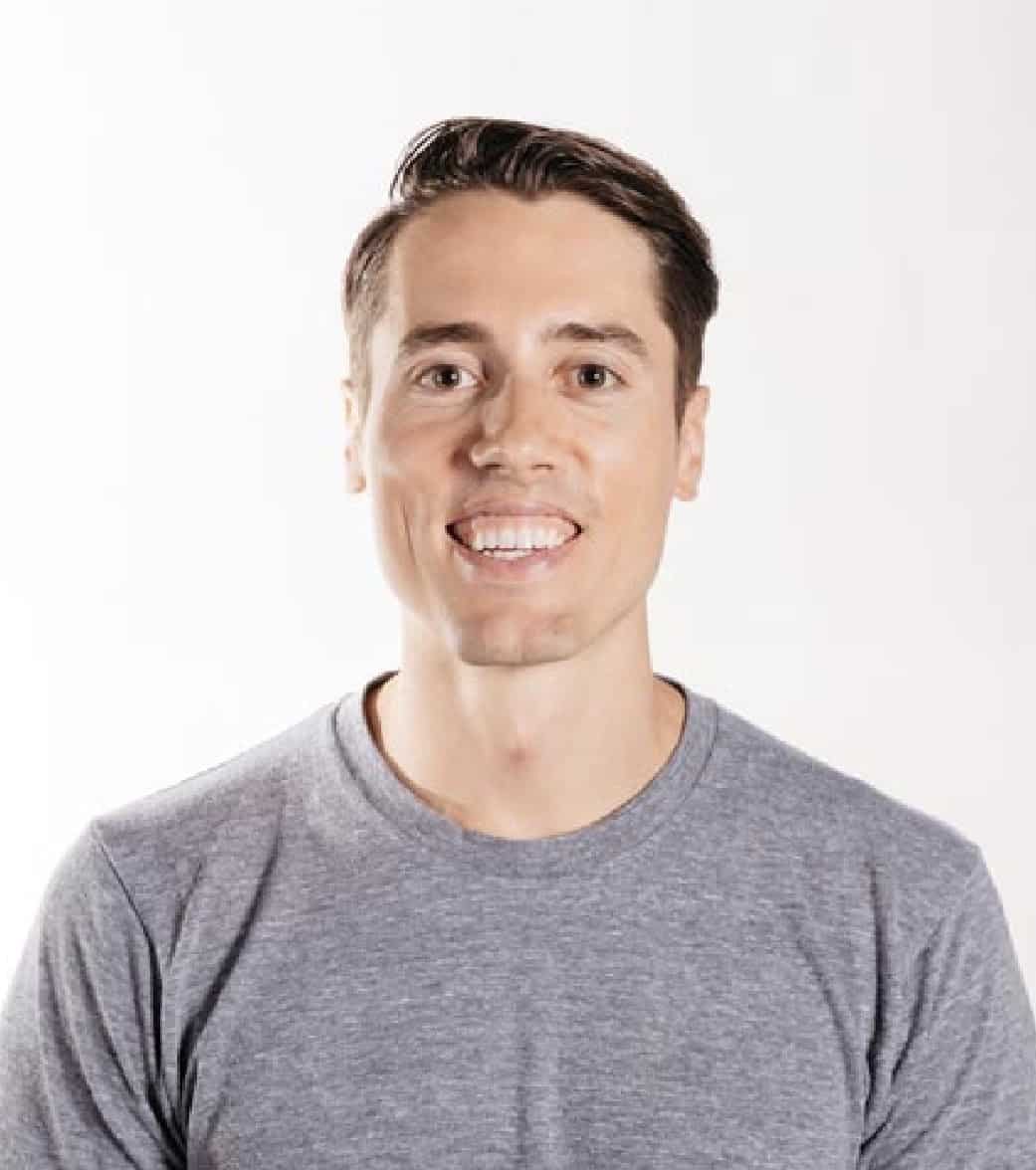 Get started with GoHire
Sort out the stress of managing recruitment and give candidates and coworkers a better hiring experience.