Save time searching for candidates and start hiring top talent now
Use the best talent acquisition software to build your dream team most efficiently.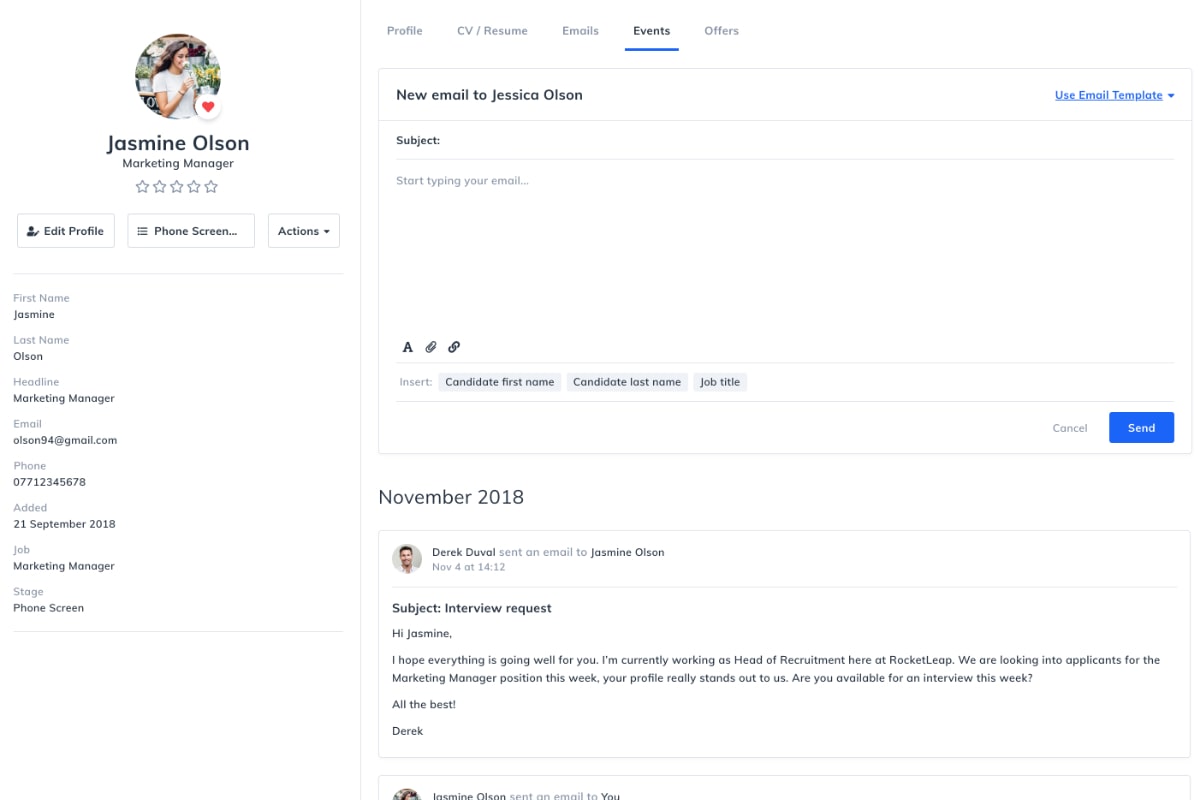 What is talent acquisition?
Talent acquisition is the process of finding suitable candidates to join your team. It involves the strategies, tactics and methods used to identify, assess and hire employees for open positions.
This process includes all aspects of attracting top talent, including:
Employer branding
Resource planning
Diversifying team composition
Outreach to potential candidates
Building a talent database
Hiring new employees
Onboarding
Evaluating employee performance
Employee training and mentorship programs
In short, talent acquisition involves both acquiring and retaining top talent by nurturing their growth.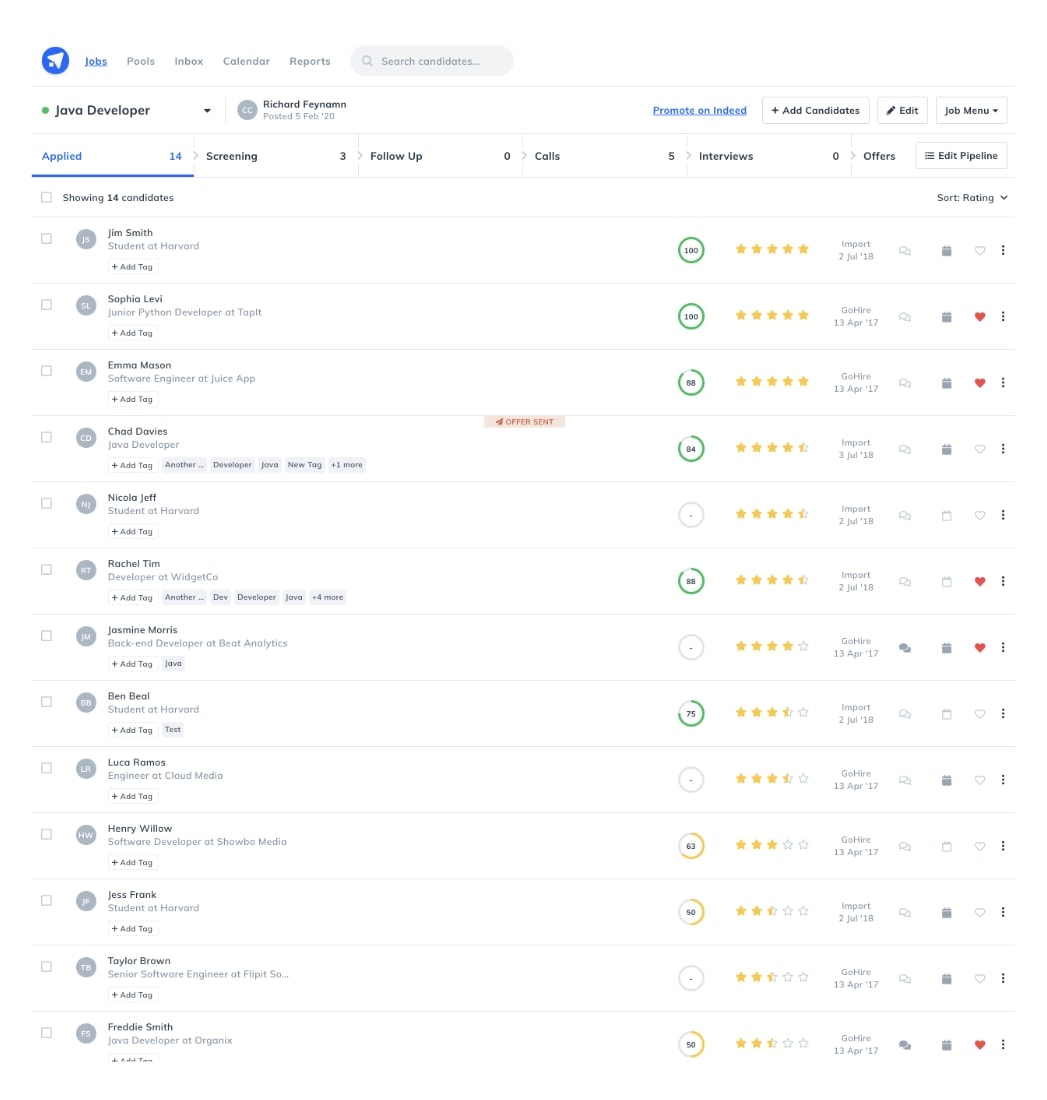 Why is talent acquisition important?
It's no secret that having the right employees with the necessary skills on your team helps scale your business faster. Talent acquisition ensures that you're not just hiring people, but that you're hiring the best people.

The best hires don't just have the necessary skills, years of experience and industry knowledge. They also share the same values as your business and fit in with the culture you're creating. And this is where talent acquisition comes in.

It considers how the candidate will fit into your company's culture and potential growth in the business. Strong talent acquisition ensures that you're not just filling open roles but hiring people that will eventually grow into senior managerial positions in your company.

So, you're making long-term employee growth strategies rather than finding short-term solutions.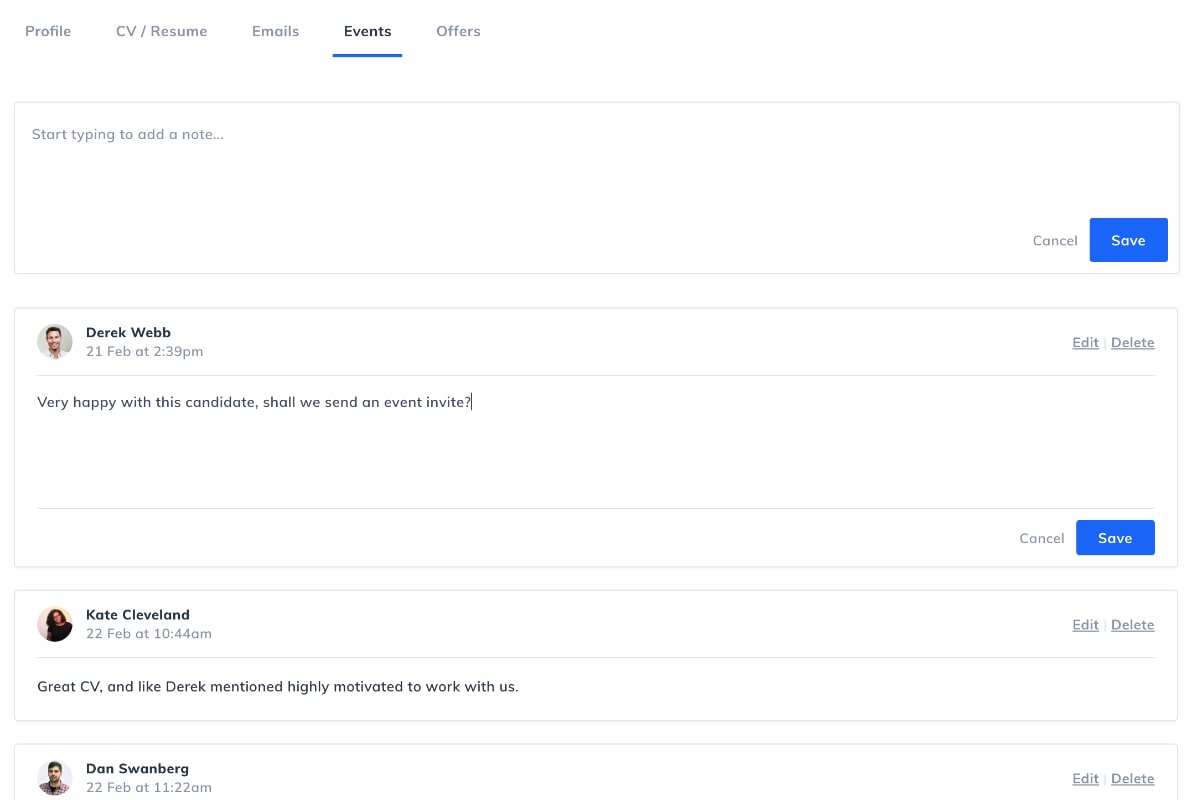 What is the difference between recruitment and talent acquisition?
Talent acquisition and recruitment are often mistaken as being the same thing. While they do overlap in many roles, there are a few differences.

Recruitment involves filling roles, while talent acquisition concentrates on long-term strategies to identify specialists and potential leaders for your business. Talent acquisition focuses on the long-term human resources of your company. It's less about filling vacant roles and more about hiring people who will thrive in your company.

You can think of talent acquisition as active hiring and recruitment as reactive hiring. Typically, if you're looking to hire people for a long-term position, you should focus on talent acquisition.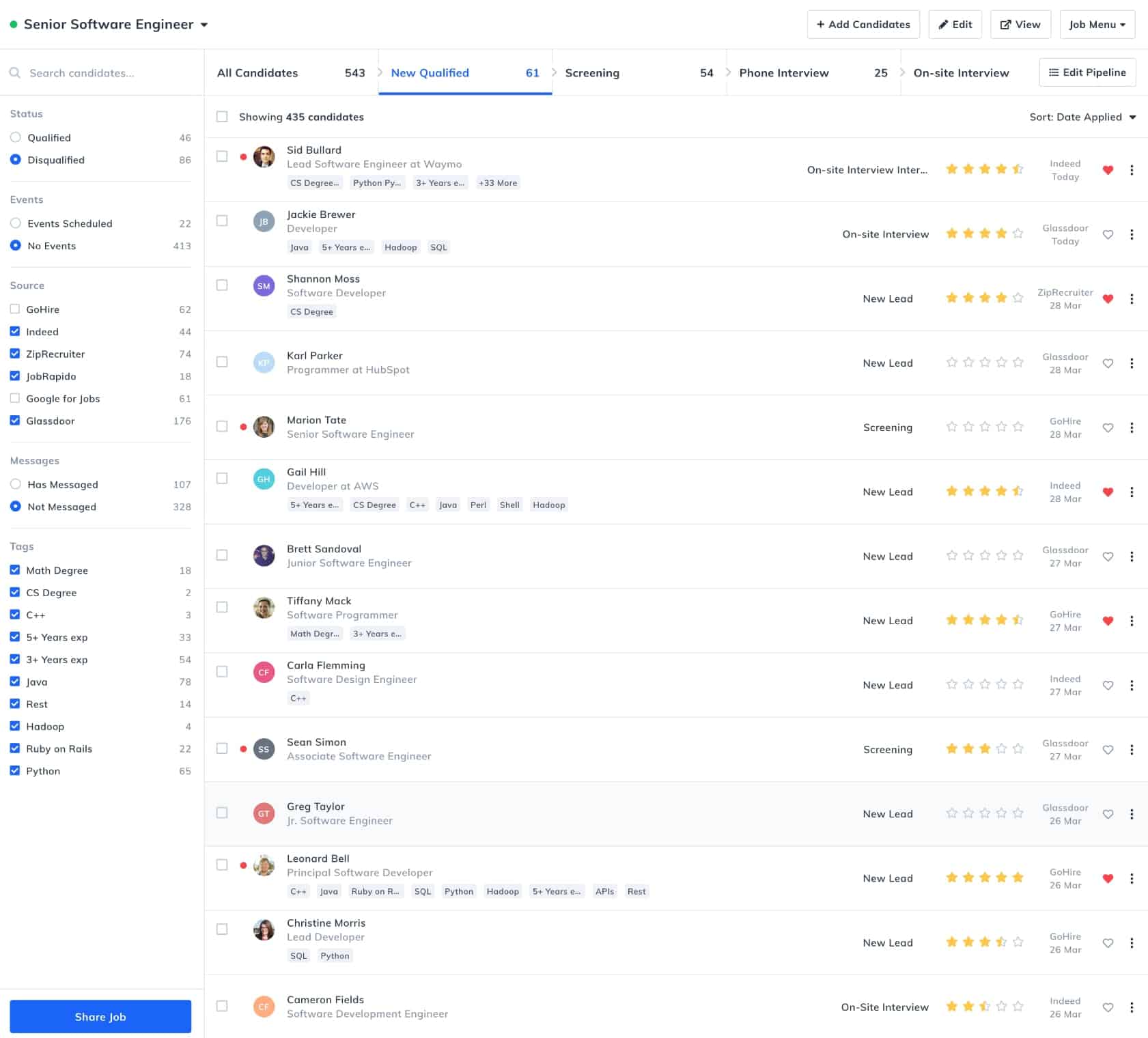 How does talent acquisition software work?
Talent acquisition software is there to help build a process for sourcing, selecting, evaluating and interviewing potential candidates. It provides all the tools you need to create a pipeline that takes you from talent sourcing all the way through to hiring, onboarding and employee management.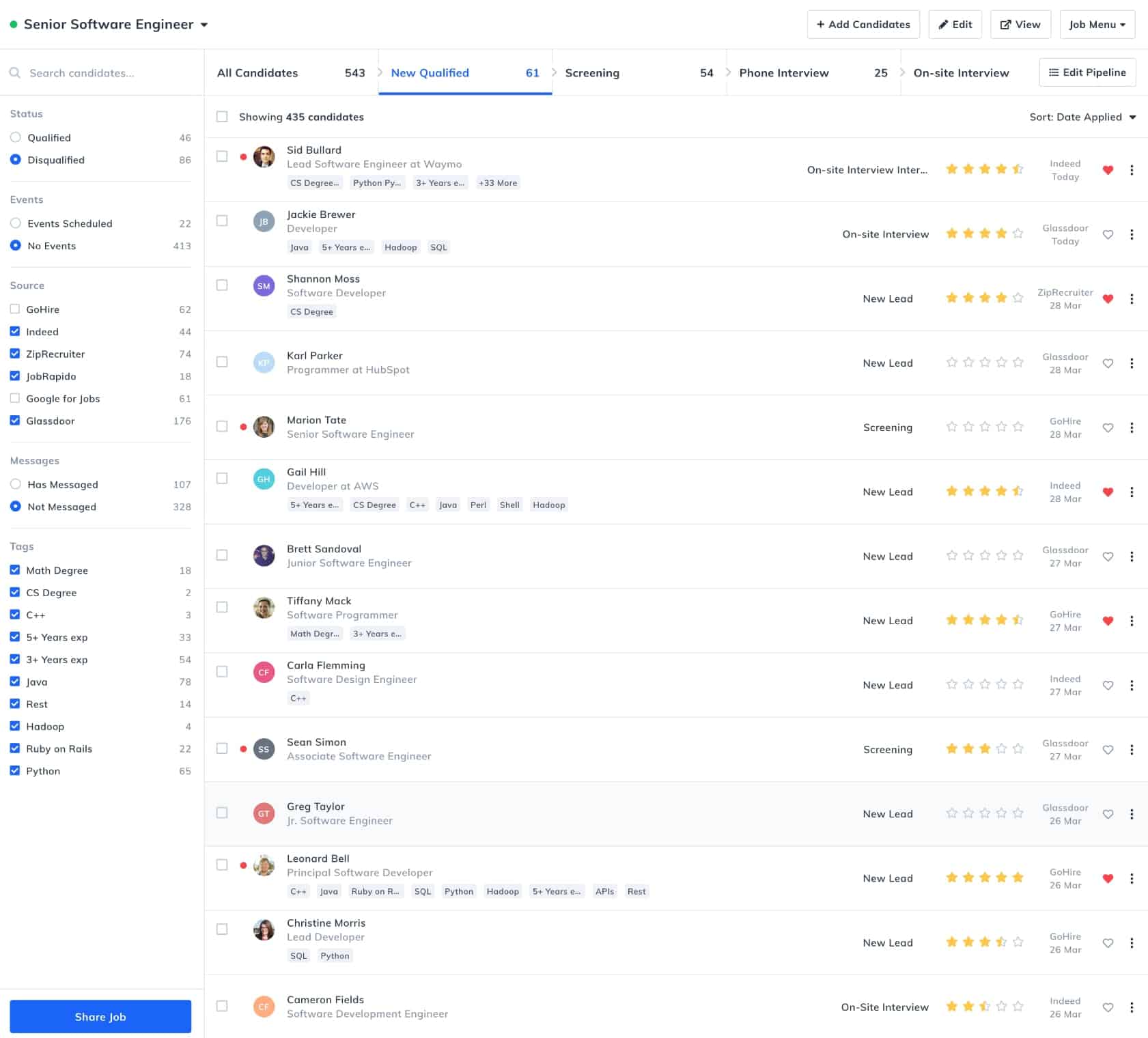 What are the benefits of talent acquisition software?
The most significant benefit of talent acquisition is that it enables you to hire employees who actually enjoy working for your company. Employee satisfaction is the best way to reduce turnover. This not only saves you money, but also the time and effort required to constantly hire and train new people.

You want employees that are in it for the long haul. And that's why talent acquisition works.
What are the features to look for in a talent acquisition platform?
When you're searching for the best talent acquisition software, here are a few features that make the process easier:
Candidate management pool
Sometimes, you just aren't ready to hire certain candidates right now. But you know they'll be an excellent fit for your company further down the line. Don't forget about them! Candidate management pools allow you to keep track of all previous applicants.
Customisable branded career pages
You need to find employees that are the right cultural fit for your company. A talent acquisition platform allows you to create a careers page on your website that highlights your company culture and automatically stays up to date with your latest job listings.
Social media integrations
Let the world know that you're hiring new employees by linking your social media platforms and automatically posting all jobs directly on LinkedIn, Facebook and Twitter.
Automation
Sourcing talent, scheduling interviews and evaluating candidates all take time. Automate your messaging, create bulk responses, allow for interview self-scheduling and use our pipeline templates.
That's just the start. Learn about all of GoHire's features.
Why choose GoHire?
Choosing the best talent acquisition platform isn't something you should take lightly. But we're helping you make the choice quicker.

At GoHire, we know all about the importance of hiring the right people. We also know that, as small business owners or managers, you don't really have the time to spend hours searching for top candidates. So, we've built talent acquisition software that helps you hire the best people with as little effort as possible. Our tools make it simple to create the most efficient hiring pipeline, specific to your exact needs.
No fuss, simple dashboard
We don't do complicated. Our simple, user-friendly dashboard ensures that anyone can easily figure out exactly what's happening. No experience needed. Simply sign up and start hiring in a matter of minutes.
Affordable, flexible monthly fees
Our Starter membership is only £58/$78 per month. With this, you can share up to three live job listings, link unlimited team members and create customisable pipeline stages. Plus, when you're not hiring, you can simply cancel your membership. We're all about flexible packages that work for you.
Advanced reports
Reduce your cost-per-hire with GoHire's advanced reports feature. Our talent acquisition software platform helps you evaluate and hire candidates better, reduce cost per hire and improve each hiring drive from inside our hiring platform.
Top class candidate experience
Successfully acquiring high-performing talent starts with creating a strong candidate experience. Talent acquisition platforms ensure that you don't skip a beat when it comes to regular communication with candidates. Plus, it helps you track hiring success and continually optimise your process.
Start hiring now
With GoHire, all you have to do is simply sign up and start hiring immediately. It just works—no unnecessarily long set-up processes.
The best applicant tracking system in the UK

"GoHire has improved our hiring process from the get-go. We can now free up time to focus on the things that matter, the people."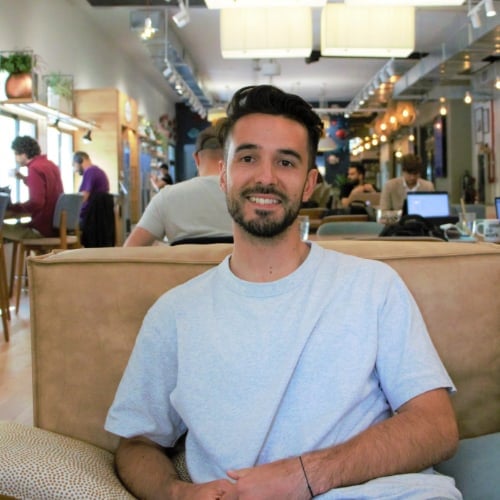 Sebastian Ibarra
Happiness Specialist

"We have a professional careers page that I can share with everyone. GoHire has solved our hiring problems and we couldn't be happier with it."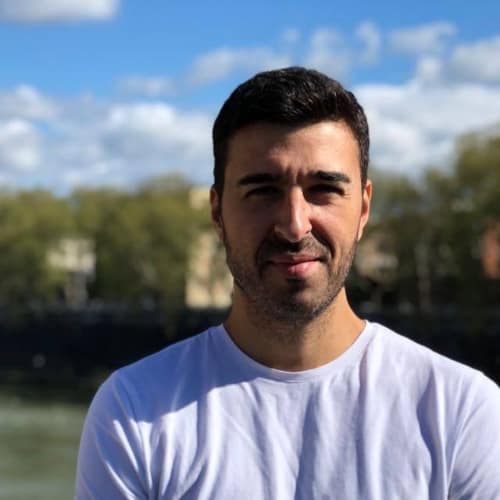 "GoHire helped us avoid the dreaded spreadsheet to manage our applicants. Its reasonably priced for its features instead of being priced because of the industry." "GoHire has improved our hiring process from the get-go. We can now free up time to focus on the things that matter, the people."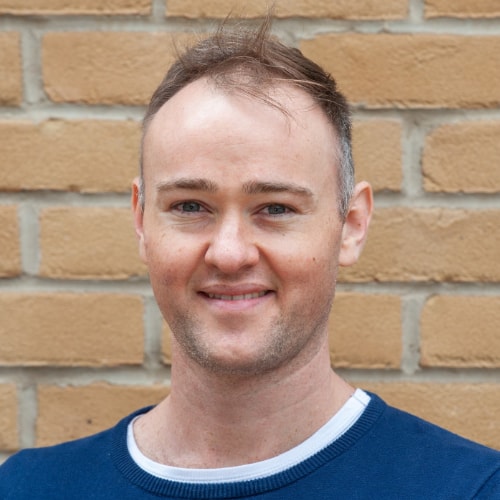 Luke Robbertse
Technology Operations Manager

"GoHire has made the task of posting a position almost effortless. Exactly what we were looking for."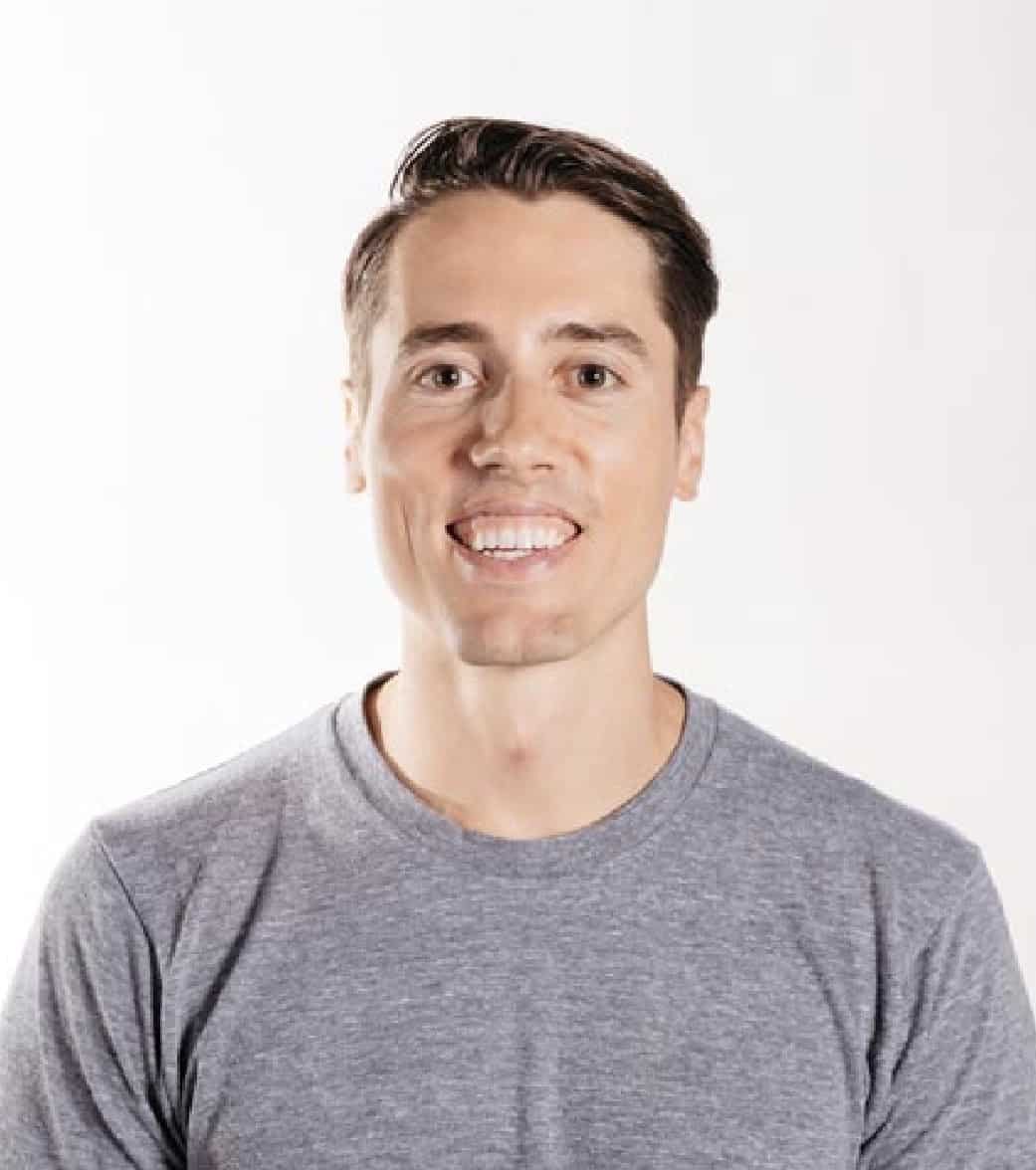 Get started with GoHire
Get started with GoHire and created a trusted hiring strategy loved by candidates and co-workers alike.