We analysed the top office locations in the UK to learn which is the best environment for startups and SMBs to grow their companies across the UK.
Our data revealed some very interesting insights. 📈
Sharon K. Ward writes in her latest book (Company Relocation Handbook) businesses cite five main reasons for relocating.
Labour and work force issues
The desire to reach new markets
Upgrading facilities or equipment
To lower costs or increase cash flow
Quality of life
There can be a multitude of reasons for making a move, most entrepreneurs will, at some time, consider relocating their business as a way to expand or to hire higher skilled staff.
Startups especially may be looking for ways to expand their business.
So, in this article, we've formulated the top 9 office locations across the UK for startups and SMBs.
Let's get started.
1. Cambridge Science Park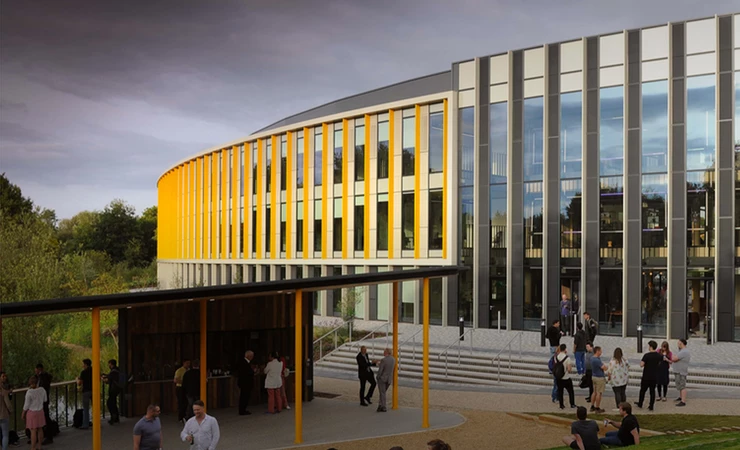 Cambridge Science Park is home to over 130 businesses ranging from divisions of the University of Cambridge to multinational companies seeking access to Cambridge's diverse talent pool.
Most companies here are working on life-changing technologies such as artificial intelligence, IoT, defense and connectivity.
The Park is now in its next phase of development with the opening of the Bradfield Centre - a 40,000 sq ft building, purpose-built to accommodate hundreds of researchers, inventors, start-ups and scale-up companies.
Further developments scheduled to come forward in the next 5 years include 360,000 sq ft of office buildings and a 40,000 sq ft Bio Innovation Centre as well as significant upgrades to the public realm, landscaping and transport infrastructure.
Cambridge Science Park offers a variety of on-site amenities and local links, including:
Cafes and restaurants, including local street food
Nursery
Gym and health club
Hairdresser
Beauty salon
Osteopath
ATMs
Free taxi service from Cambridge North station

Offering social events such as sports and fitness opportunities, arts performances and demonstrations, Cambridge Science Park becomes more than just a workplace, and makes this one of the best office locations for start-ups.
A variety of transport initiatives are in place as well as worker discounts to ensure that those on the Park get the most out of their time.
Situated just a 20-minute walk away from Cambridge North station, the Park is right in the heart of one of the country's most beautiful cities.
Cambridge itself has a diverse economy with strength in sectors such as:
Research & development
Software consultancy
High value engineering
Creative industries
Pharmaceuticals and tourism.
In fact...
Tourism alone currently generates over £750 million for Cambridge's local economy.
Cambridge Science Park office types include:
Private offices
Meeting rooms
Laboratories
Office suites
Plug and play offices
The level of top talent available for startups and SMBs in Cambridge is also a key advantage, making it easy for you to hire smarter and scale your startup faster.
For more information about renting an office at Cambridge Science Park check out the website.
2. York Science Park

York Science Park is situated on the University of York Campus, at the innovative hub of a prestigious heritage and science city, making this one of the best office locations for startups in the UK.
Being nestled among internationally recognised experts in their field, world-leading research projects and a diverse collection of engaged students, York Science Park offers the perfect location for your innovative businesses.
With its RICH and VIBRANT heritage, York is the natural home for collaboration and has a rich cultural, arts, creative and media community ideal for businesses to work together and grow.
With regular 20-minute buses from York station and the city centre, York Science Park is the perfect compromise to working in the city without the hustle and bustle.
From modern, stylish office space to specialist laboratory facilities, businesses based at the York Science Park benefit from all inclusive, flexible, short term agreements with a diverse range of business support services and a dedicated team on hand to manage any distractions.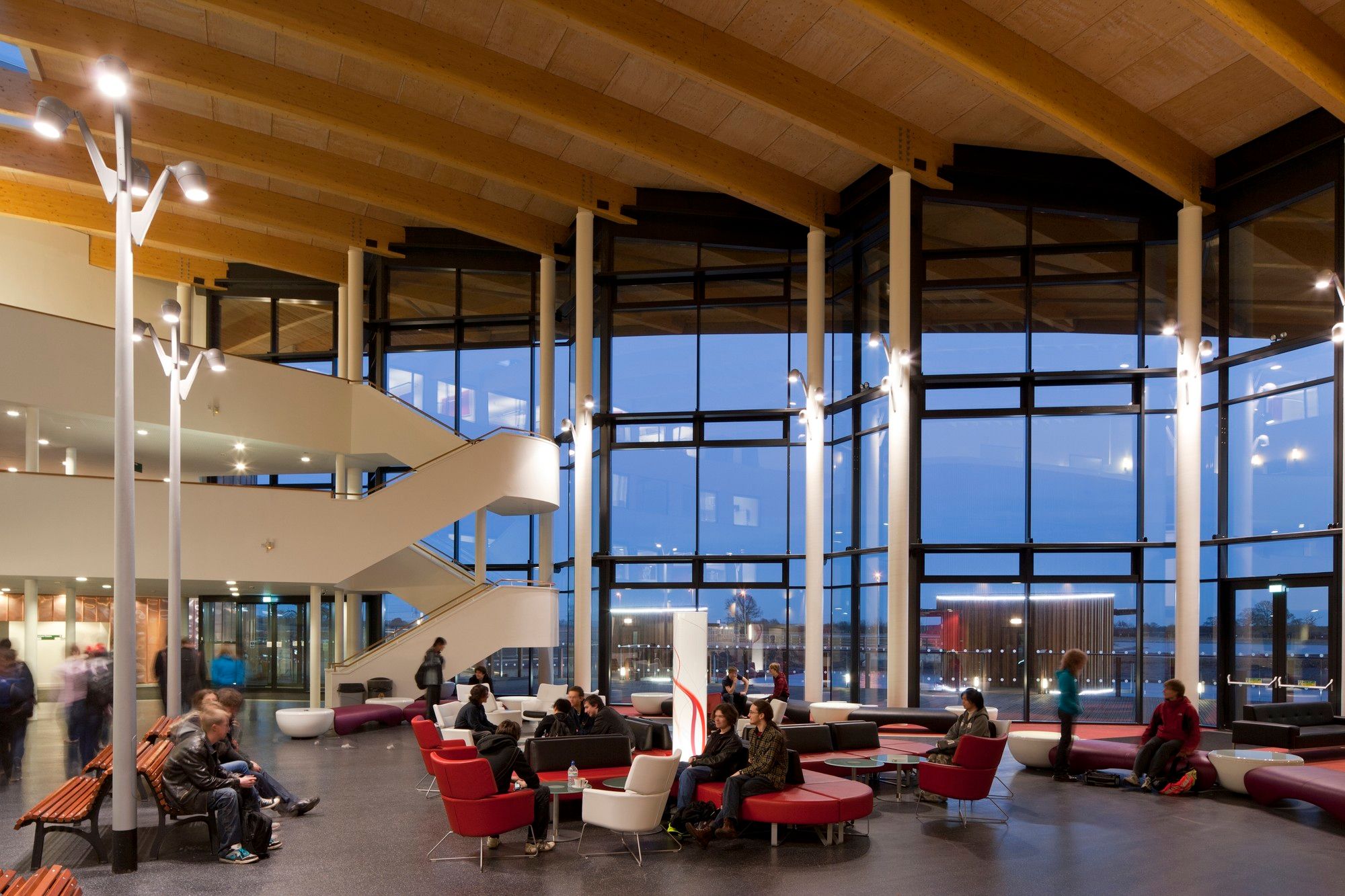 Startup office space in York
York's economy is based on the service industry, including health, education, finance, information technology and tourism. Tourism has become an important element of the city's economy, with York's visitors alone contributing £564 million to the economy and support over 19,000 jobs.
With five main centres supporting a variety of businesses for almost thirty years, York Science Park offers an innovative choice of relocation.
Office types available at York Science Park include:
Office Space
Lab Space
Co-working Space
Virtual Office

Suiting various needs and business sizes, prices start at £15 per day for use of York Science Park's offices.
Incredibly, there is a multitude of tech startups and SMBs in York like Rotacloud, The Embarking Group, and us... GoHire.
Renting startup office space in the UK really can be affordable if you look in the right place!
For more information about renting an office at York Science Park check out the website.
3. Oxford Science Park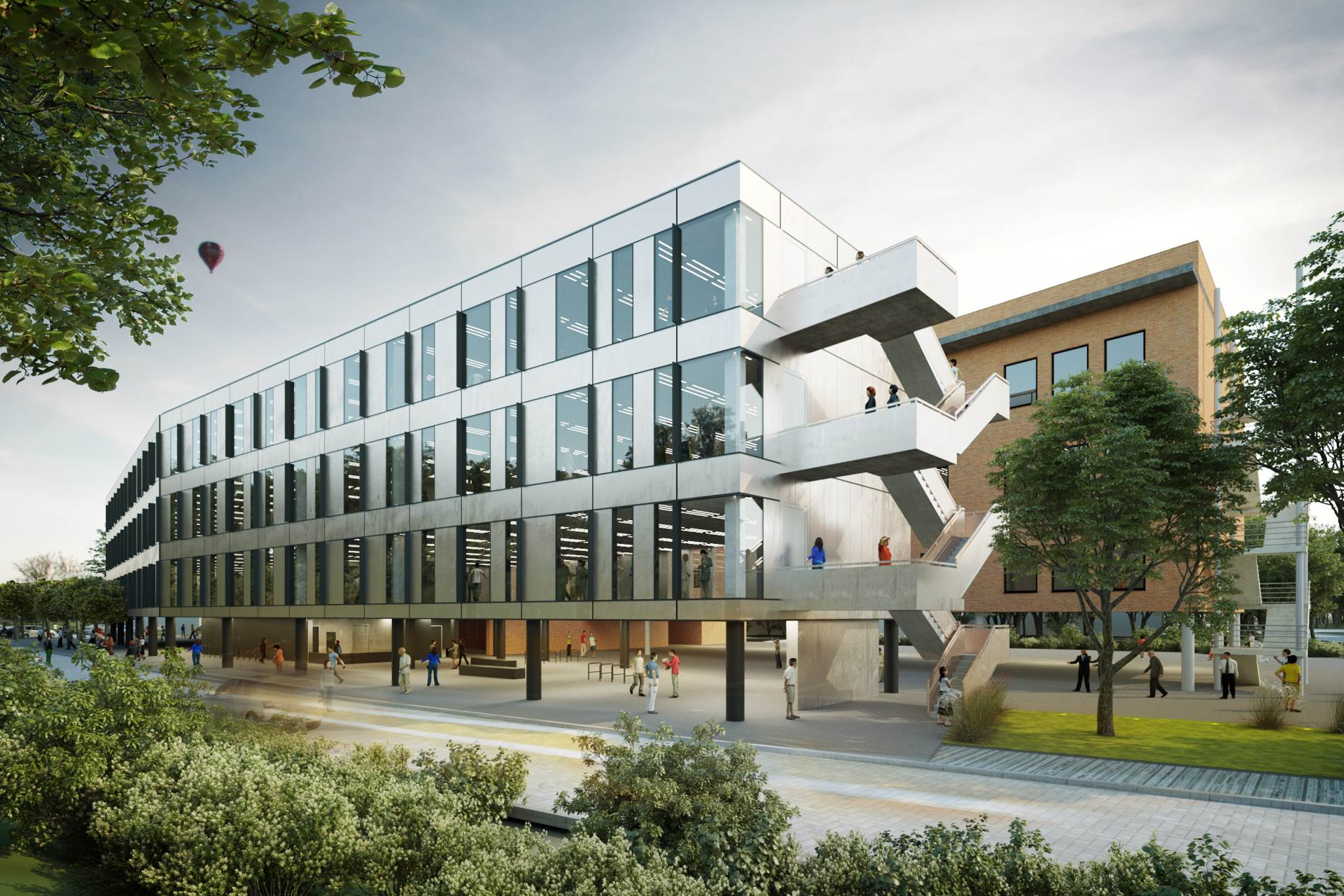 The Oxford Science Park is an influential science, technology and business environment and is home to more than 2,500 people in over 90 companies.
The Park has an atmosphere of discovery, innovation, and entrepreneurship amid 75 acres of beautifully landscaped grounds and state-of-the-art office and laboratory space.
A wide range of high-quality laboratory and office space is available at The Oxford Science Park, making this one of the best office locations for startups in the UK.
From startups to big businesses, in multi-occupied or self-contained buildings, the space for your company is available on a variety of leasing terms.
With the opportunity to design and build your own, bespoke office space on over 300,000 sq ft of further development space, Oxford Science Park becomes a particularly unique location.
Oxford Science Park has a breathtaking working environment. Two feature lakes, tree-lined avenues, and a wealth of hidden walks and seating areas allow for outside fitness and walks, or to simply relax by the river and enjoy the peace and quiet.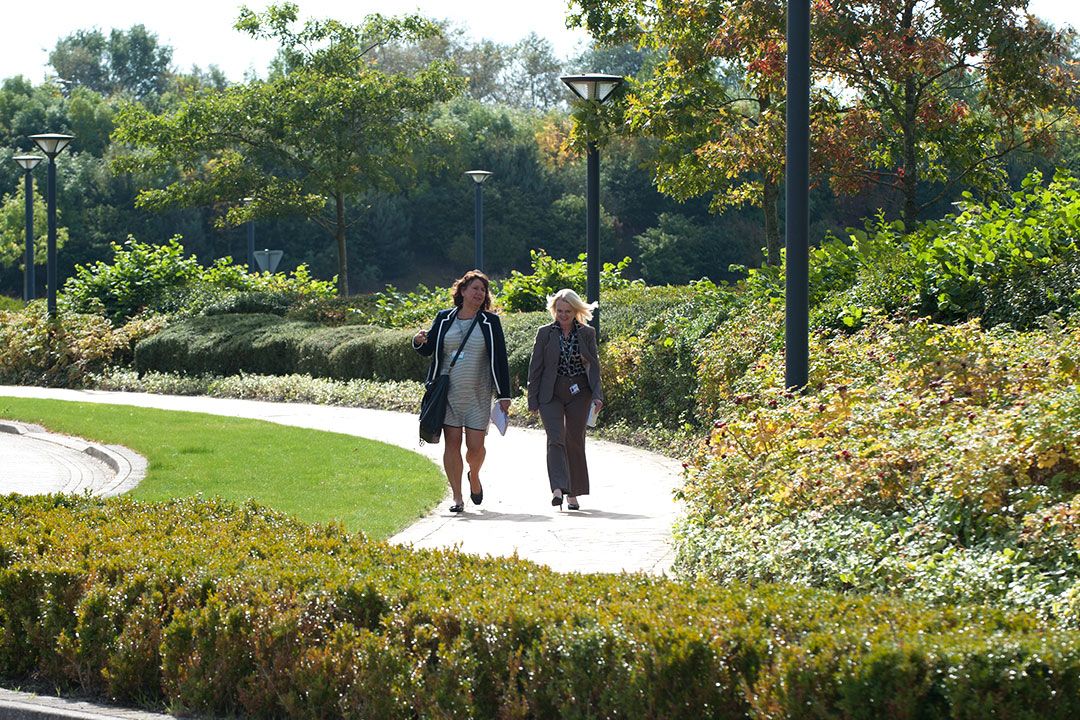 Built within 75 acres of enclosed grounds, the park is stimulating and enjoyable at any time of the year, with an abundance of natural planting and hard landscaping working together seamlessly.
The Sadler Building and The Magdalen Centre are the two food and beverage locations, both providing meeting room hire and free WiFi. They house the onsite cafés, and Sadler Building has a bar and brasserie.
And for busy parents, there's a children's nursery with easy drop-off and pick-up space, all set within our landscaped grounds.
There's plenty of access to nearby supermarkets, pharmacies, and retail parks. Plus various hotels and full fitness facilities. All ensuring that everything and everyone is catered for.
A wide range of useful amenities are available within a 10 minute walk of the park including:
The Park Club Oxford- Gym, Swimming Pool & Leisure Centre
Bowlplex Ten Pin Bowling
VUE Multiplex Cinema
The Aziz Express Restaurant
Oxy Oriental Restaurant
Oxford Kassam Stadium
Holiday In Express hotel
Hampton by Hilton Hotels
Startup office space in Oxford
Within a 10-minute drive, workers have access to supermarkets, Oxford Retail Park and Premier Inn, amongst others.
Oxford's booming economy includes manufacturing, publishing and science-based industries as well as education, research and tourism.
The presence of the university has given rise to many science and technology based businesses. The Oxford Science Park was established in 1990, supporting Oxford's reputation for being a centre of digital innovation.
Several startups are based at Oxford Science Park including:
For more information about renting an office at Oxford Science Park, check out the website.
4. Newcastle Helix (Coming Soon!)
Due to be fully completed in July 2021, the Newcastle Helix is a stunning business centre set in the heart of the North East.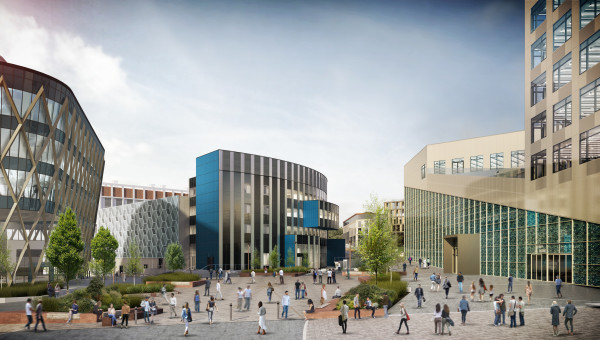 Newcastle Helix brings together industry leaders, businesses and top researchers in a new innovation community.
It is an example of sustainable urban development which combines prestigious commercial and residential space with first class research and education facilities in the heart of a flourishing city.
With five avenues, three cross streets and three beautiful new public squares, Helix deserves to be explored on foot.
The new streets and walkways celebrate the past and the future. Starting with the Blue Star Square, named after the famous Newcastle Brown Ale blue star.
With 11 buildings catering to various needs and the plans for over 450 homes to be built, the Newcastle Helix accommodates a collaborative ecosystem for public and private bodies that's unlike anything else in the UK.
Startup office space in Newcastle
The Newcastle Helix is set in the heart of the historic city centre. Just a stones' throw from the complex is the Central Station and Metro connections, Northumbria and Newcastle Universities, plus various restaurants and cafes, making this an ideal office location for start-ups.
Once the city that spearheaded the Industrial Revolution, Newcastle continues its legacy as a beacon of progress in a tech-driven world.
Today, the North East is the densest region in England for employment in the life sciences and healthcare sector, proudly hosting numerous research facilities – from the National Innovation Centre for Ageing to the Centre for Process Innovation.
Newcastle Helix offers a variety of spaces for modern SMB's and large businesses, with a range of offices, laboratories, lecture theatres and open collaboration spaces.
Renting your first office space in the UK? Why not look at the latest spaces in Newcastle?
For more information about renting an office at Newcastle Helix, check out the website.
5. Lochrin Square, Edinburgh
Lochrin Square provides the ideal professional environment for growing your business.
Keep your productivity high with superfast WiFi, attend a carefully selected networking event or spark fresh creativity in one of the creative meeting rooms. All of this in a beautifully designed space with friendly staff.
Sitting in the shadow of Edinburgh Castle – in the historic West End district of the city – Lochrin Square provides the perfect central location for your business, and is one of the best office locations for start-ups in the UK.
Surrounded by both classical terraces and modern structures, the building is located in a truly unique area.
Office space for startups in Edinburgh
With many fine-dining restaurants, Edinburgh Castle and Edinburgh's Gin Distillery right around the corner, it's easy to find something to do when you're out of office.
Dig into Edinburgh's creative scene with the many museums and galleries right around the corner.
Explore the historic city centre and its many beautiful landmarks straight from the office.
Haymarket rail station is just a 10-minute walk from the front door, and Edinburgh Airport is only 40 minutes away.
Edinburgh is the powerhouse of the Scottish economy, and is a long-standing prosperous part of Scotland and the UK. Science, technology, finance, education and healthcare are some of the highest employment sectors in the city.
Whether you need a few square metres or a few hundred square metres, Lochrin Square can provide you with an environment perfect for you and your team.
Settle in knowing you can access your secure space 24/7 – with full access to the Business Club. Plus, the contract terms are flexible and tailored to your specific needs.
The designer desks, tables, sofas, super-fast WiFi and informal meeting areas provide the ideal place for every business need. So even if you want a quiet desk, a meeting room, a lunch table, or a cosy coffee corner, Lochrin Square has all the spaces you'll need, available on a full-time basis or 5 days or 10 days a month.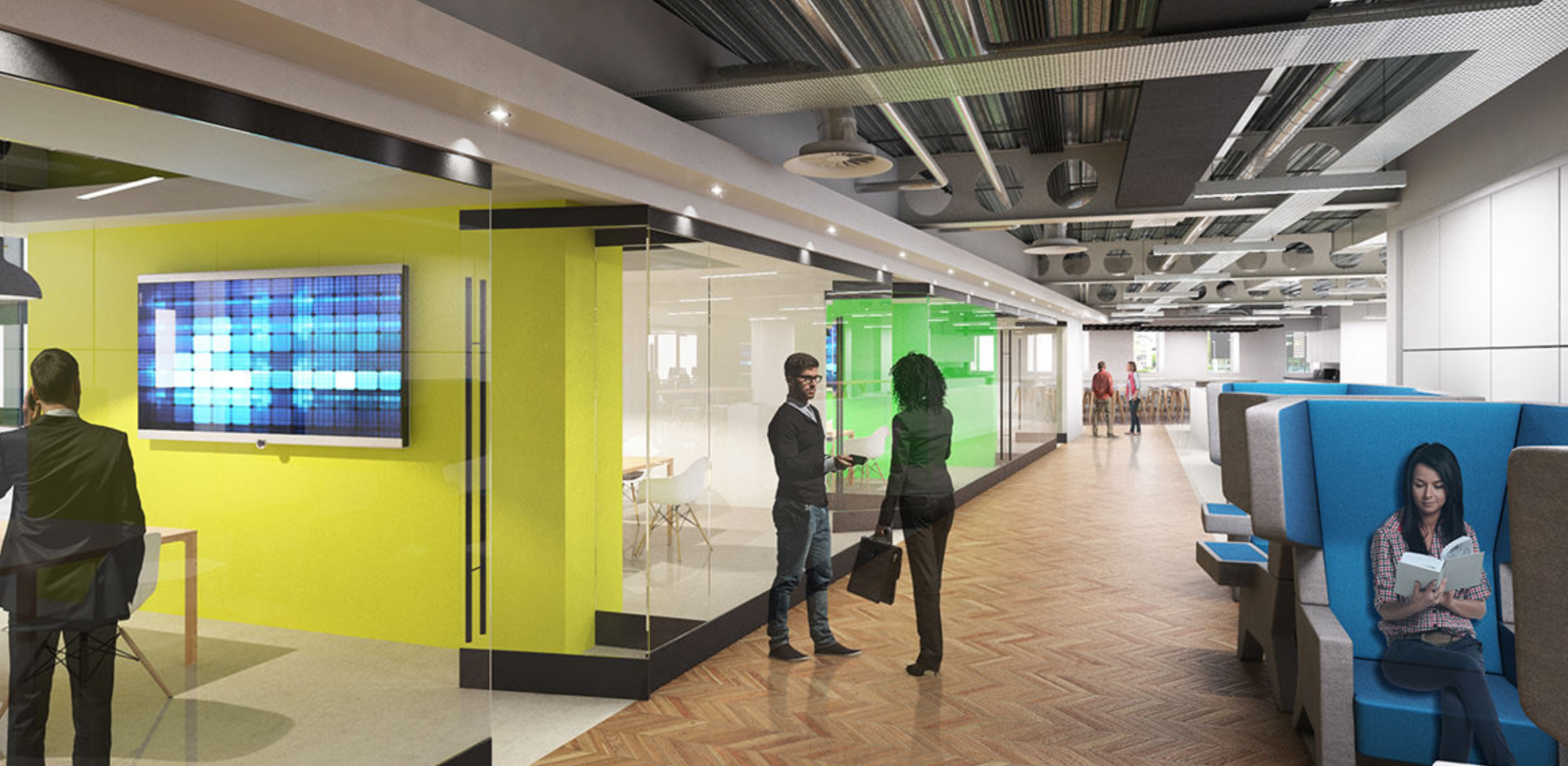 Sometimes, getting out of your everyday environment is just what people need to get their creative juices flowing, so meeting rooms are open to members and non-members.
With prices ranging from £188 per month, your business can thrive and flourish in an ideal space tailored to you. Renting your first office space in the UK couldn't be more simple!
For more information about renting an office at Lochrin Square, check out the website.
6. Uncommon, London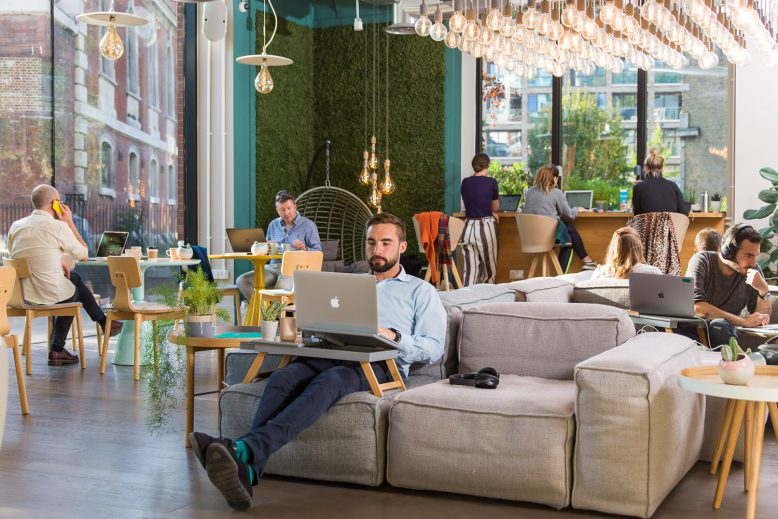 London's Uncommon workspaces provide a co-working environment where every detail is designed to inspire and energise. Work doesn't feel like work. when you're surrounded by creativity and character.
Creating a place that doesn't just feel physically comfortable to be in, but emotionally supports you too, boosting efficiency and reducing stress.
Uncommon combines the benefits of sound, lighting and the senses with a comfortable, ergonomic environment, to ensure you achieve the healthiest and most productive working day.
Office space for startups in London
Uncommon provides four workspaces in central London - Fulham, Borough, Liverpool Street and Highbury & Islington, making this one of the best office locations for start-ups in the UK.
With modern and distinctive decor in each space, you'll be spoilt for choice! Each has its own local amenities and transport links, allowing you to explore the heart of England's capital city.
Each location offers a co-working space, meeting rooms, a coffee lounge, private phone booths and showers, as well as bike storage.
On top of these, they each have their own individual quirks, such as stocked kitchenettes to cook from, a Zen garden and rooftop terrace.
Plus - each location is dog friendly. Who wouldn't want to bring their pooch to work?
Various networking events are also held at Uncommon, allowing you to meet and collaborate with other businesses and individuals outside of working hours.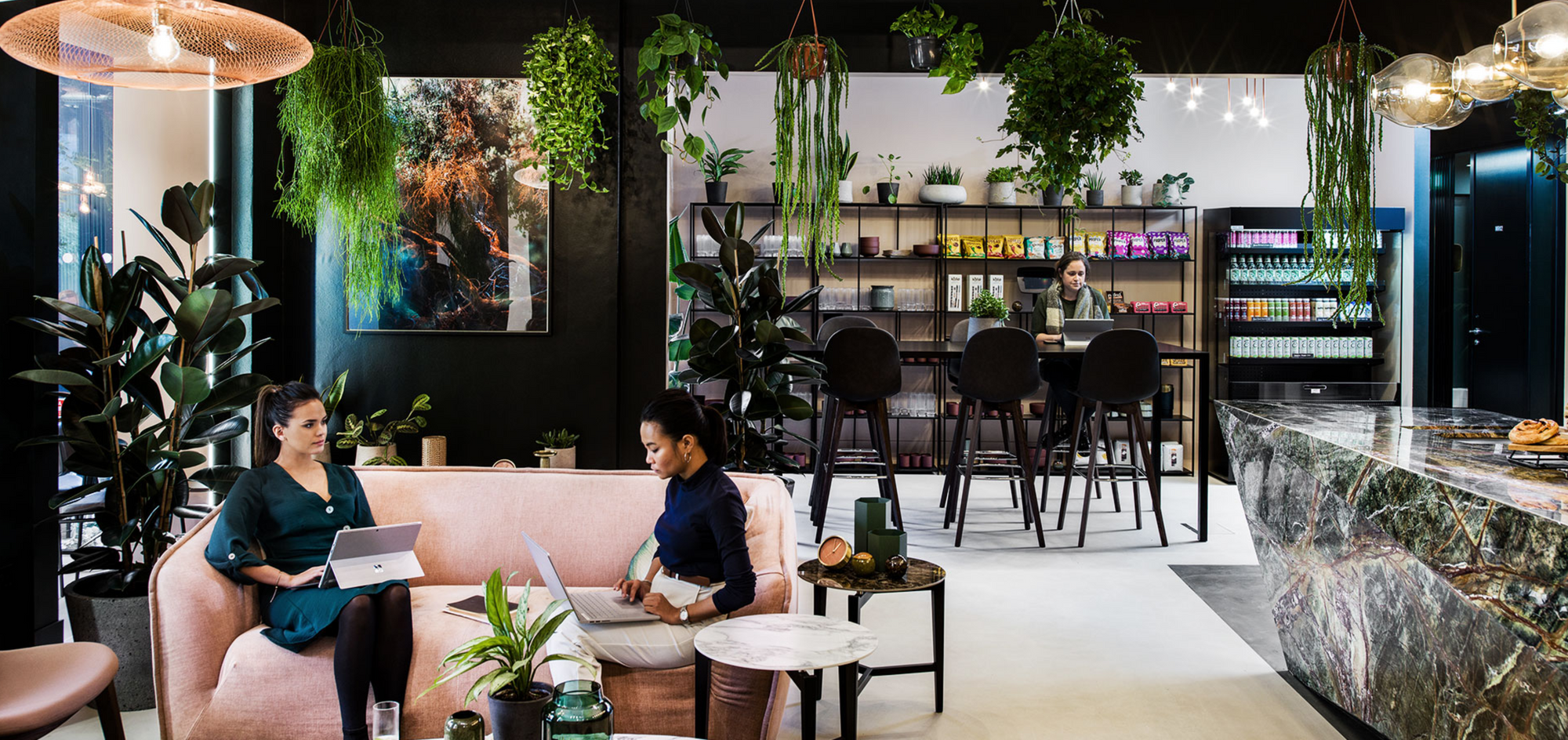 London has always been a commercial city and today enjoys the status of having one of the largest city economies in the world.
The city thrives in trade and commerce and has a vibrant culture seeped in commerce. It has a GDP of over £565 billion, which is about 17% of the UK's total GDP.

Renting your first office space in the UK is easy with Uncommon. Offering day and weekend passes, a Hot Desk, Dedicated Desk and Private Offices, Uncommon is ideal if you're on-the-go, freelance or just needing a perfect working space for your business. Day passes start from £20 +VAT.
For more information about renting an office at Uncommon, check out the website.
7. Brown Street, Manchester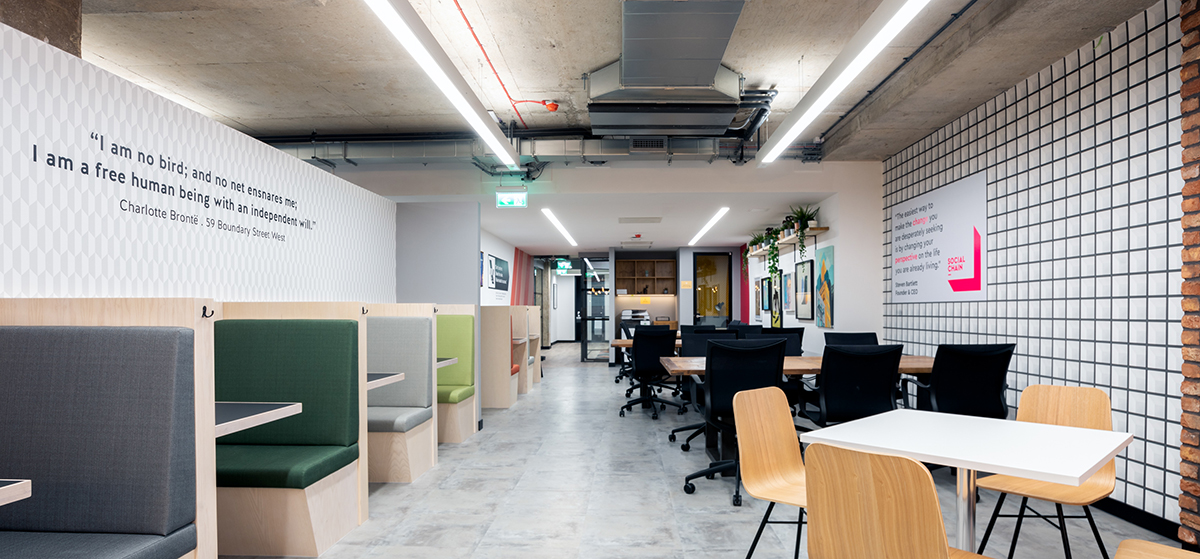 Situated in the brand new Core building, Manchester's Brown Street space hasn't gone unnoticed.
Situated right in the centre, just off of King Street, this unique workspace is just a short walk away from Exchange Square, Northern Quarter and The Arndale.
Set over two floors, it's bursting with natural light and quirky, modern design, with plenty of breakout spaces for idea generation and places to impress clients.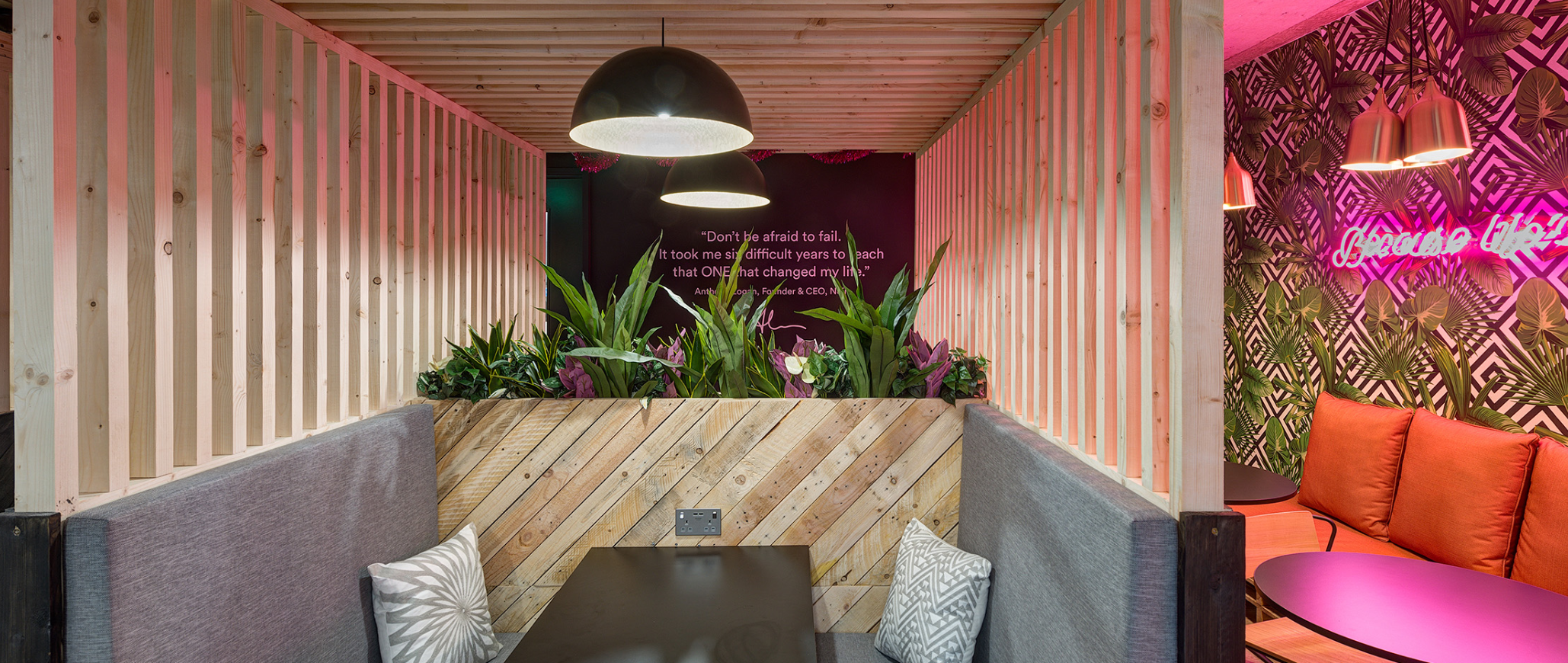 Memberships are designed to include everything you need to run your business, designed to increase engagement, happiness & productivity for you and your team.
For your business:
Flexible hot desking
Private phone booths
Fully equipped meeting rooms
Reception and mail handling
500 Mb WiFi
Private offices
Meeting rooms
For your team:
Free yoga and fitness classes
Unlimited coffee and snacks
Weekly breakfasts
Access to exclusive events and training
Food, drink and lifestyle discounts
Pet friendly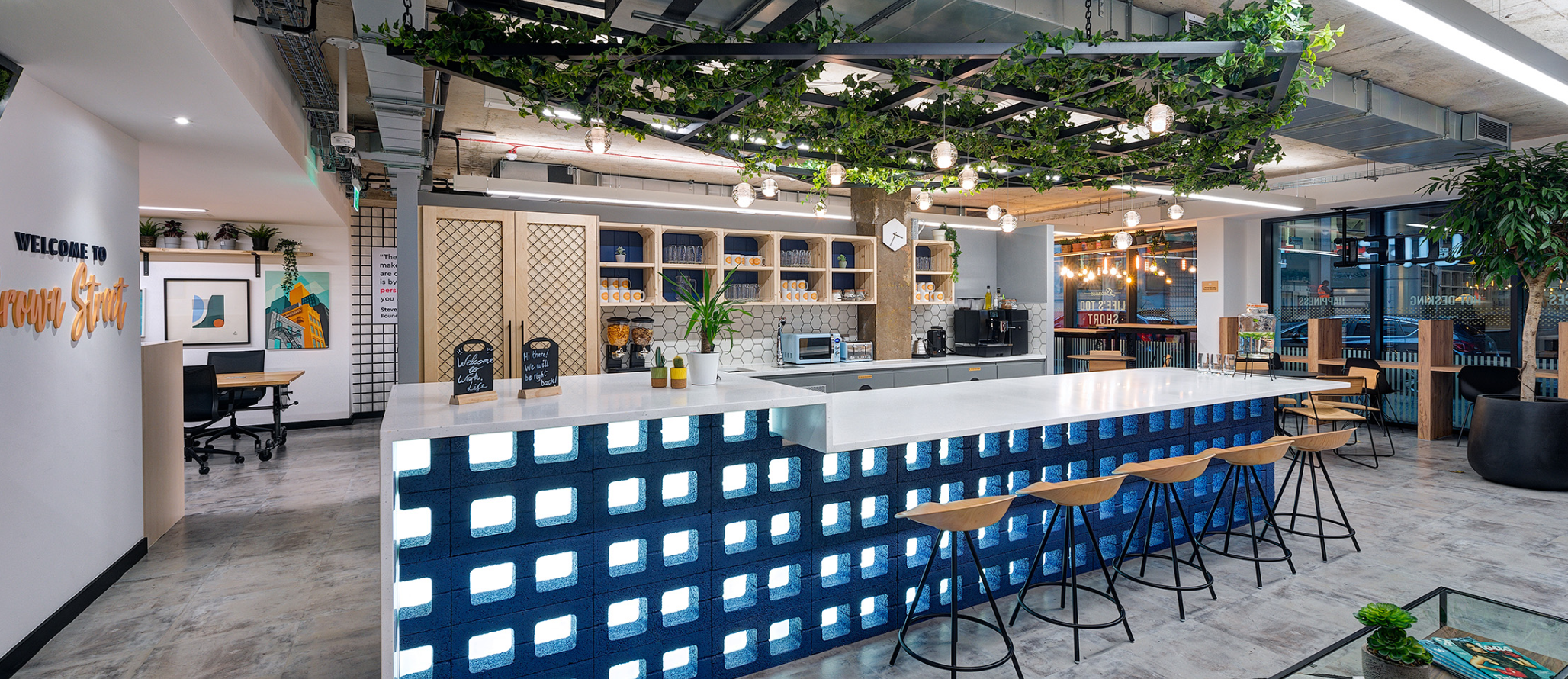 Office space for startups in Manchester
Brown Street is ideal for Manchester residents as well as commuters, with Manchester Victoria and Piccadilly Stations only 10-12 minutes walk away.
Manchester is rated as the second most globally influential city in the UK after London, with research and enterprise clustered around the University of Manchester, where research ranked as the third most powerful in the UK behind Cambridge and Oxford.
One of the most prominent industry sectors in the region is digital and creative, making this innovative workspace one of the best office locations for start-ups in the UK.
Brown Street offers three membership options; Flex, Local and Resident. Ranging from £3 +VAT per hour, these can be suited to yours and your business' needs.
For more information about renting an office at Brown Street, check out the website.
8. Engine Shed, Bristol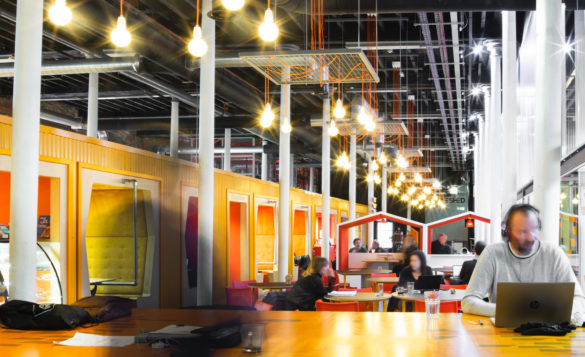 Housed on three floors of Brunel's original station, Engine Shed has a number of components that together create an exciting hub of activity where entrepreneurs, academics, students, and corporates can collaborate, inspire, and enable one another.
Engine Shed is an event venue, an office space, a facilitator, and a catalyst for change. The team runs projects to ensure our economy is inclusive, sustainable, and growing with an ultimate vision that it should be fit for the next generation.
Can you see why we chose this as one of the best office locations for start-ups in the UK?
Run by the University of Bristol in collaboration with Bristol City Council, Engine Shed showcases the strengths and innovations of the region by providing space, creating encounters, and running projects that inspire, enable, and challenge us all.
Engine Shed's most notable residents:
The Bristol Centre of SETsquared Partnership
boomsatsuma
TechSPARK
Boxworks
Home to 4 meeting rooms, 3 event spaces, 2 co-working spaces and 18 offices, and ideally situated next to one of the UK's most connected transport hubs.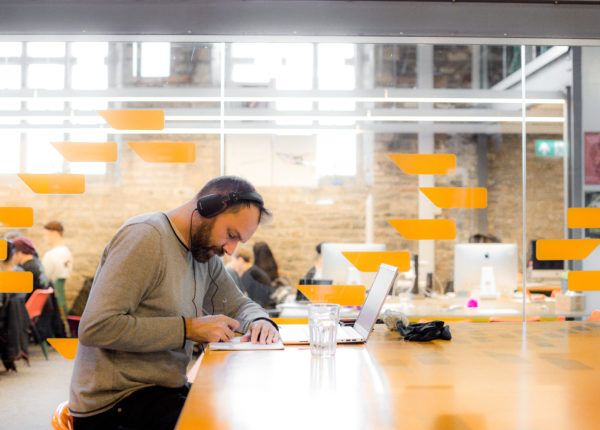 Engine Shed is one of Bristol's most iconic buildings and has suitable spaces to meet for a day, week or month, high-profile seminars, board meetings, training sessions or networking events.
Engine Shed offers mixed size offices for permanent tenants, flexible desks and co-working areas, and other bespoke facilities for scaling business.
Office space for startups in Bristol
If you are renting your first office space in the UK, Engine Shed is an ideal location. Beautiful historic boardrooms, innovative and quirky event spaces, and flexible co-working areas are just some of the benefits of working in Bristol's Engine Shed.
Engine Shed is located right next to Bristol Temple Meads railway station, with links to local, national, and international transport.
For more information about renting an office at Engine Shed, check out the website.
9. Tramshed Tech, Cardiff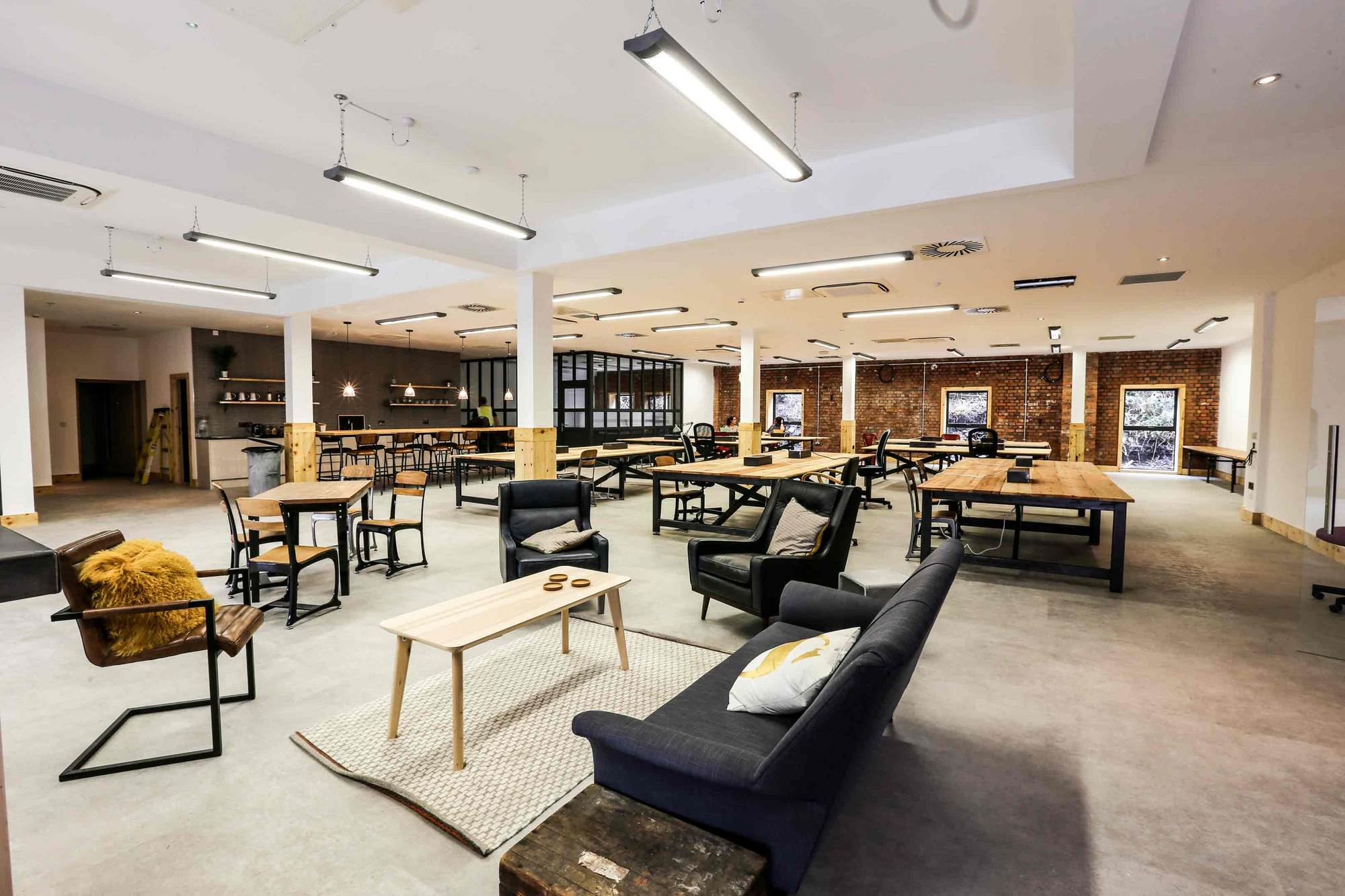 Designed to enable innovation through collaboration, Tramshed's co-working & office space brings together some of the finest tech & creative businesses in Wales.

Nestled in the centre of Cardiff, Tramshed provides a place where fresh talent can develop business ideas, as well as giving startups & established companies the platform to accelerate their growth through access to business & funding support.
Providing a modern workspace in a central location, this cycle-friendly complex is perfect for SMBs who are eager to grow their business.
As the capital city of Wales, Cardiff is the main engine of growth in the Welsh economy; the city has been developing as a significant service centre and economic driver for the wider south east Wales economy.
The city relies principally on the retail, finance, media and tourism sectors, and has been undergoing major regeneration since the late 20th century particularly in Cardiff city centre and Cardiff Bay.
Office space for startups in Cardiff
Located on the West side of the River Taff, Tramshed is less than a 10-minute walk away from Cardiff Central Station, the Principality Stadium and Merches Gardens, making this an ideal office location for startups.
With serviced office units and business support network you get all the great benefits of co-working as well as a private tenant kitchen, shower facilities and exclusive discounts across the Tramshed building.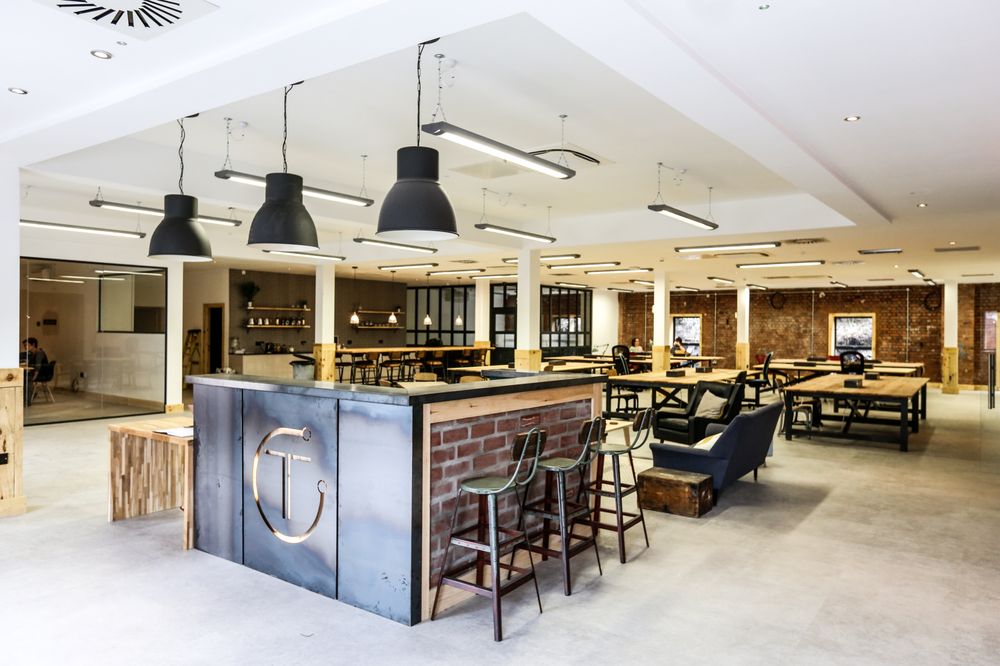 Membership to Tramshed's co-working space also gives you access to business support, community socials, industry events, discounts, a registered address for your business and even an app!
Offering part-time and full-time membership options as well as Day Passes, Tramshed is flexible and affordable for your growing company. Plus - your first trial day is free!
Prices start from £15 for a Day Pass.
For more information about renting an office at Tramshed Tech, check out the website.
Concluding The Top Office Locations For Startups In The UK
I hope you enjoyed my guide to the best office locations for startups in the UK.
Where is your startup located? Let me know by leaving a quick comment below right now.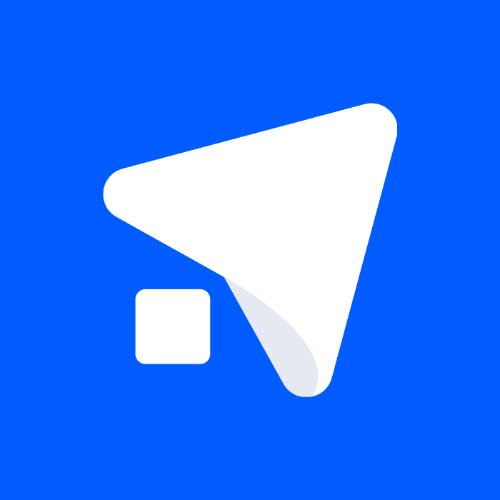 By GoHire
30 Dec 2019 · 11 min read
We are GoHire, a talent hiring platform helping you improve your hiring in less time, with less effort. Follow us on Linkedin and Facebook for more updates!