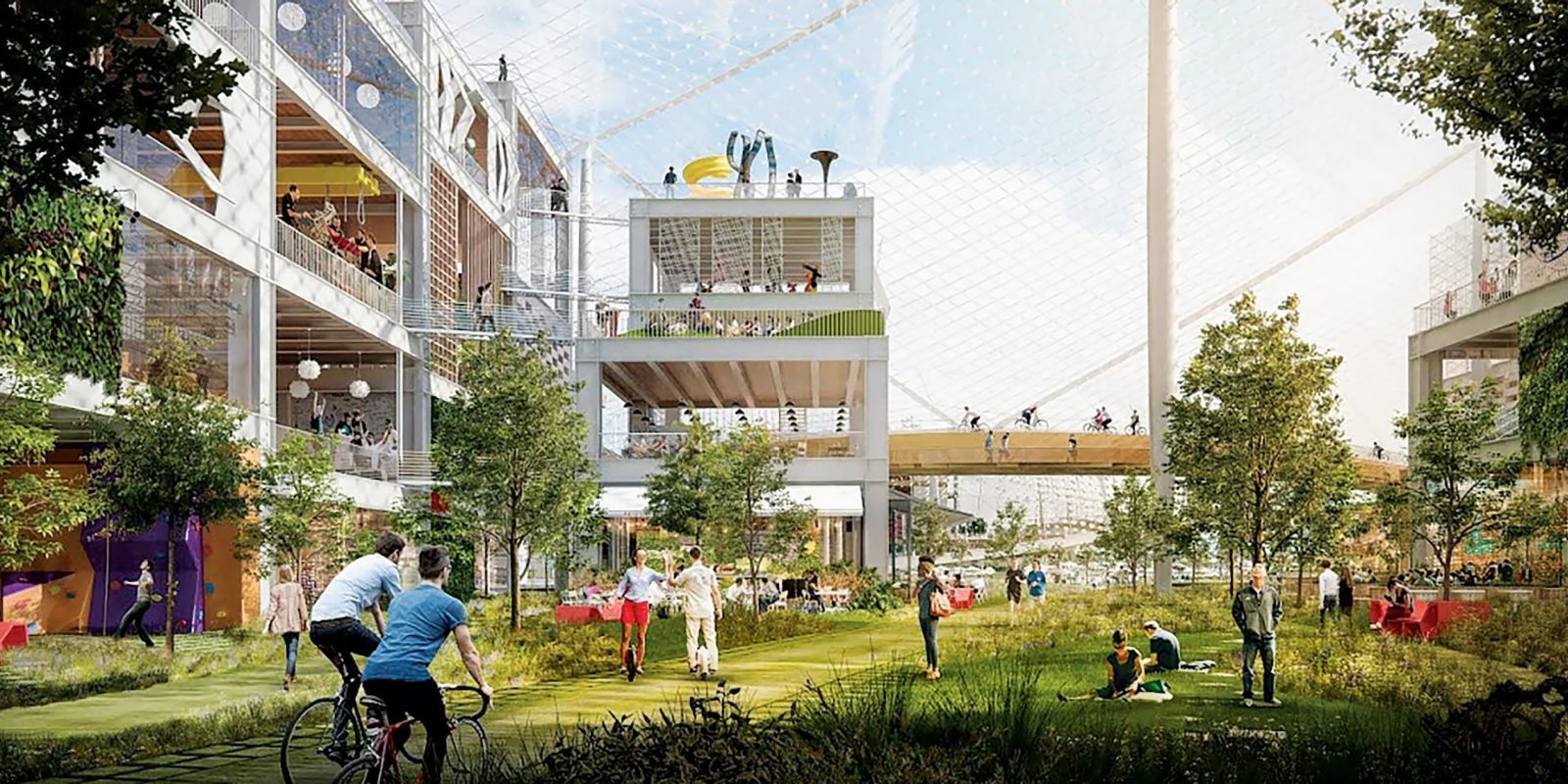 In this article I'm going to reveal 10 essential secrets you can use to help make your company a great place to work.
So, is your company a great place to work? Using this guide will make sure you're attracting the best employees, and preventing them from joining your competition.
Here are a few reasons why you should focus on making your company a great place to work:
Staff feel more valued
Generate more creativity - which leads to incredible opportunities
Happy staff are less likely to move to your competition - even for a higher salary
Treating staff as people leads to greater wellbeing
Greater wellbeing means fewer sickness days leading to lower business costs and higher productivity
Business leaders at some of the biggest corporations in the world already recognise the importance of investing in employee happiness.
Google and Facebook, with their infamous 'campus' headquarters, encourage staff to be on-site rather than at home because they love the environment and culture. Look at this example from Facebook's HQ: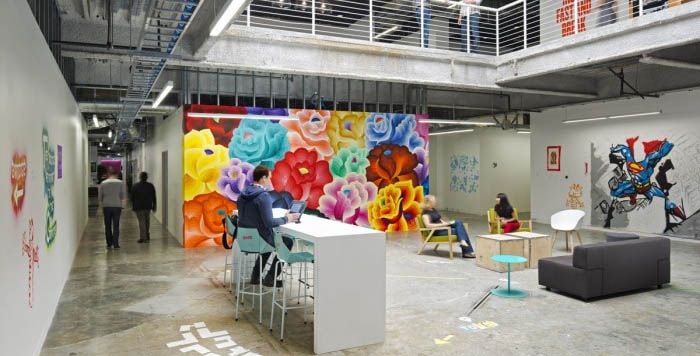 Cool right? In this type of office space, people spend more downtime with colleagues than in a typical office environment.
It's true, not everyone can afford to spend millions on their headquarters, but you can still create an office space that's innovative, fresh and stylish. Get creative!
Seems simple when you think about it, doesn't it? Happier employees mean better customer service. Sound good? Let's dive in and create a happy workforce...
1. Offer employees significant perks that your competition aren't offering
Ask yourself "What can you offer employees that your competition can't?". Sell, sell, sell your company to employees just as you sell your products to customers.
What are the great benefits working for your business? Why would top talent choose to work for you over someone else? Without offering something unique to employees, the very best talent will be unattainable. Perks can be simple things like:
A guaranteed free parking space in a city centre office
BBQ Friday's
Incentive-based commission
Quarterly holidays to be won
Remember, it isn't just the big headline-grabbing employee perks that will improve your talent acquisition. The small things add up to a better overall environment.
Free coffee? Providing free barista coffee is a common one - it's inexpensive, yet energises a workforce. Who doesn't need their morning java to get going?
Healthy snacks such as fruit will improve staff health, wellbeing, and reduce employee sickness rates. Everyone needs their five a day, right?
The point is that your critical employee perks can be physical, like coffee, or intangible, like career prospects.
Do you invest in employee training every year? What about incentive schemes? How do you generate loyalty with your employees as well as your customers?
Eliminate all the usual grumbles by pre-empting them with solutions, and staff will stay. Why not insist on taking a full hour for lunch, having dedicated parking, or free travel options - all the things that used to make you go 'oh, it's an OK job but...'.
Take a look at Innocent's office space in London, UK.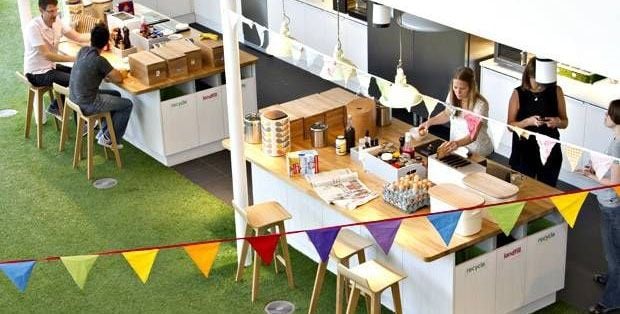 … looks good? They offer free smoothies too!
2. Hiring the right people creates a great work environment
When business gets busy, it's tempting to hire anyone. Bad idea!
What is the point in attracting the employees that just aren't the right fit for your company? If they have the skills on paper but their personality doesn't connect with your business ethos and characteristics, you'll create a bad environment. Nobody wants that!
Your staff and your workforce are a huge part of your product. If your workforce is socially and culturally integrated with each other, it produces an excellent working environment.
Also, consider how you want your business to be portrayed by your clients. Are you hiring people that will market your product well?
If you recruit people with common traits, you'll experience greater cohesion in the workforce, stronger team bonding, and more communication across the company. Before you start hiring people, consider the key personality traits you need.
Do you want to learn how to recruit new staff? Check out this article - How to Easily Recruit New Staff in 7 Simple Steps…it's a must read.
3. How to improve your company office space to improve productivity
Nobody wants to stare at grey cubicle walls every day, do they? It's the death of creativity.
It's a known fact that people spend more time at work than they do with their family. So how do you improve your office environment to compensate for this period spent at work?
Look at Google's office in Tel Aviv. This is a pretty creative workspace isn't it?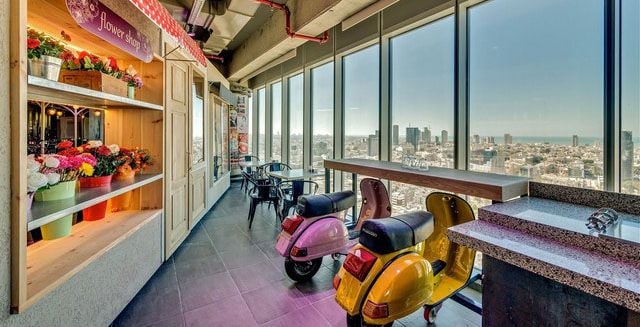 Even if you're limited by building rules or office size here's how to improve your working environment:
Add greenery. Plants improve air quality and are nice to look at.
Allow for window-staring where possible. Align desks as close to windows as you can, and allow your employees to benefit from natural light.
Social space and zones. Have a quiet zone for the non-music lovers, a radio zone for those who can't operate without beats, a networking zone, a meeting zone... you get the idea.
Hot desks. Let people choose where they work according to their working style.
Find room for individual pods. Pods are great for shutting off for an important call, reaching a deadline, and avoiding distractions.
Remove barriers! No more cubicle walls: encourage co-working spaces where people can see each other.
Have shared breakout space for impromptu meetings or lunch breaks. Stop people eating at their desks and encourage them to step away from their computers into real-world conversations.
What is your work environment like? Leave us a comment below and show us, we will try and help make it better.
4. Encourage employee creativity wherever you can
Think your business doesn't need creativity? Think again! Even the traditional industries need some creativity to promote wellbeing in the workplace.
As well as redecorating the office with some greenery, think about how time is spent. Do you have 'pitch hours' every week?
Allow anyone from the company to pitch any idea - be it about improving a business process, trying a new niche market, or designing a new product.
'Genius' hours are another great way to improve business productivity. Sounds weird, but let me explain:
In our world of digital distractions, people are more likely to be doing several things at once without their full attention.
Take away these distractions, suspend their immediate work task deadlines, and allow an hour to focus on their personal passion.
The time doing 'nothing' will turn into 'something', I guarantee it. Google is well-known for allowing time like this for staff to work on personal projects whenever they wish - and it's brought about some great results.
Taking time out from day-to-day tasks, away from computers, allows people to re-think their workload and find creative solutions to problems.
5. Encourage employee interaction and boost productivity
In a bid to improve communication and creativity, consider regular department swaps. Ensure everyone spends a week in another department. You'll see huge improvements in productivity.
Employee interactions are vital in boosting productivity. People tend only to interact with co-workers in their immediate team. Ensuring department communication encourages staff to get to know each other on a personal level, and will produce amazing productivity results.
Pixar Chief Creative Officer, John Lasseter agrees, "Technology inspires art, and art challenges the technology." A fresh pair of eyes means more questions will be asked. All it takes it one quick 'why?' to reveal problems that are otherwise built into daily life and accepted as 'just the way it is'.
In fact, major corporations go to great lengths to encourage employee interaction. By designing their headquarters in such a way that allows for productivity to flourish between teams.
At Pixar, it was Steve Jobs who saw this as a design problem, described by film director Brad Bird "The atrium initially might seem like a waste of space… But Steve realised that when people run into each other, when they make eye contact, things happen." It's this attention to detail that separates good companies from great companies.
6. Consider workations as part of the employee lifestyle
Nope, that's not a typo! It's a thing, and when you say it slowly you can probably figure out what it is. The theory of working whilst whisking your team off to exotic locations.
It's team building on a new level created by MailerLite. They have a global workforce, so most of the company works remotely.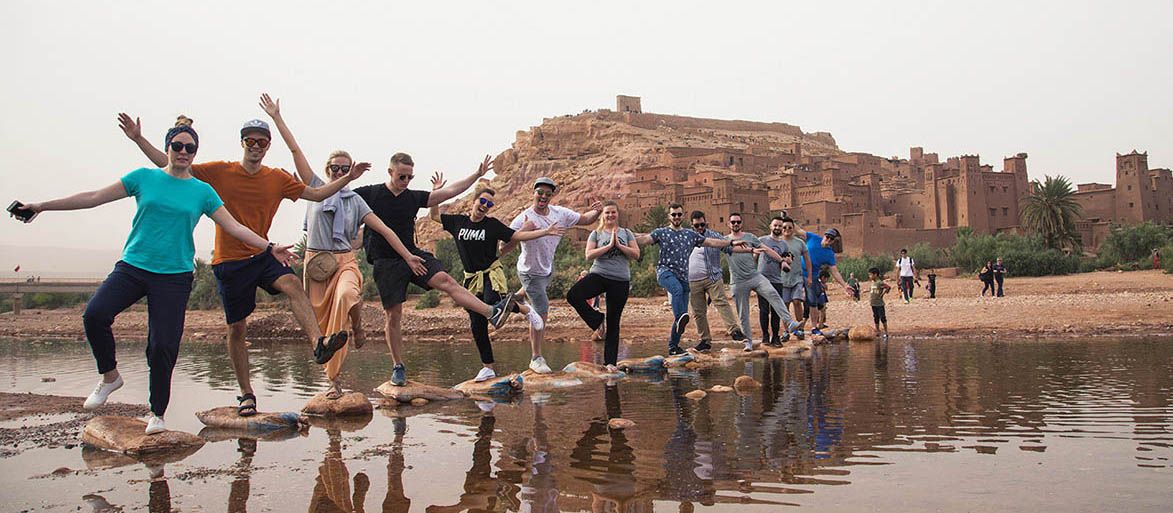 They seem pretty happy to me…
They've spent a summer in Bali, another in Mexico - visiting team members who live there and setting up temporary offices. That's right: they relocate their entire workforce for two whole months.
The change in location helps stimulate creativity, bond the team together, increase productivity, and provides memories for life.
It's this feel-good atmosphere that creates an emotional bond with a business - so your employees are more likely to stay put.
7. Allow flexibility in your employees working week
More and more employees are seeking flexibility in their working week. Whether that means being able to work from home, start and finish at different times, or even have extended paid sabbaticals.
More flexibility in the workplace enables staff to operate at their most 'switched on'. How often have you dragged yourself in at 9 am on a Monday morning but not managed to do anything useful until midday?
Working around the personal life of employees improves satisfaction, and lets them work at their best times - improving effectiveness and productivity.
If you can't afford to allow total flexibility of hours, consider changing the working day to allow for some benefits that other businesses won't have. Simple, but effective.
8. Let employees use the tech they love
With so many different technology options available to us these days, it's hard to know which to implement in the workspace. It's easy: let people choose their tech.
Some might prefer to work from a tablet, others a laptop, while some like good old desktops mixed with a connected smartphone.
Bring Your Own Device (BYOD) has so many benefits when it comes to productivity:
It becomes a habit to 'just email Brad quickly about that idea' and half an hour later you've emptied your inbox and minimised your to do list... all while making Sunday roast.
9. How to make sure your staff are getting plenty of holiday time
Staff don't take holidays for two reasons:
They feel guilty for doing so 7% of us, apparently 🤔
There's no staff cover, 8%
It's not just staff who are responsible though, employers with bad planning are the main reason. 17% of people lost their vacation days, because of employers last year.
Holiday time is essential to productivity, employee satisfaction, and retention rates. Virgin is a great example of a company that has recognised the importance of regular breaks from work, with its unlimited holidays scheme.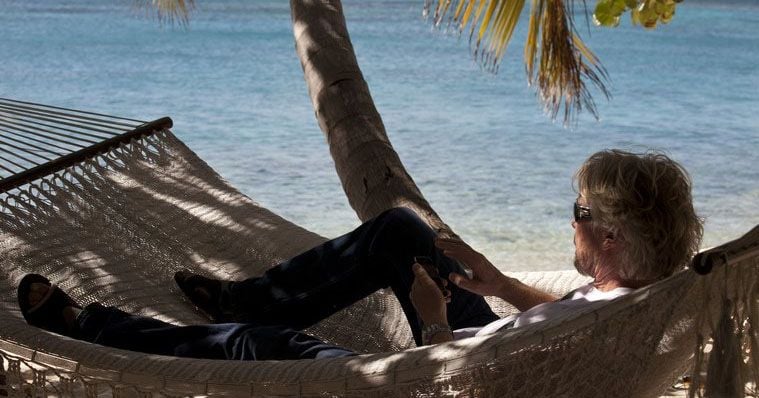 It's not just Richard Branson who gets to have all the fun at Virgin!
Any member of staff in the scheme can take any number of days off in the year - as long work get's covered. Surprisingly, this hasn't led to a drop in productivity.
In fact, teams are more communicative, happier, and more efficient.
The responsibility for the individual to plan their workload and communicate with team members before their holiday means staff are more proactive about their time off - and feel they 'earn' it instead of it being a statutory right.
10. Encourage employee feedback, listen, and take action
Giving employees perks are great... but if you don't listen when they have something to say, you're going to be waving goodbye to your top talent.
Employee feedback is essential to ensure you're delivering on your promises to them of a creative, positive, efficient, and happy workplace. Give your staff a voice.
Employee feedback surveys such as TinyPulse allow you to capture real-time satisfaction and engagement levels, identify trends, and analyse problems before they become significant issues.
In fact, 65% of people feel they don't get enough feedback, but they'd like it (even if it's negative). 😊
It helps people feel valued, engaged, and as invested in their future as they are. Adding up to happy, motivated workforce who work hard and improve your business.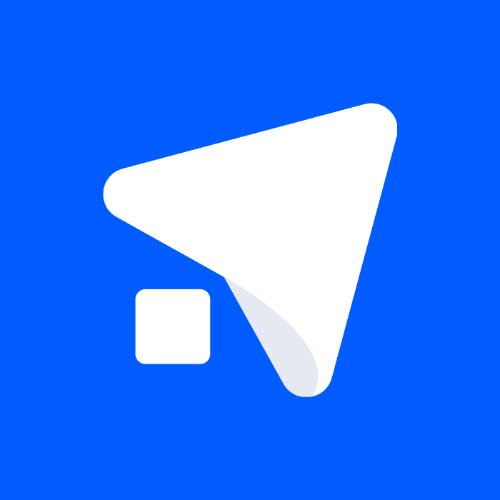 By GoHire
3 Apr 2019 · 7 min read
We are GoHire, a talent hiring platform helping you improve your hiring in less time, with less effort. Follow us on Linkedin and Facebook for more updates!