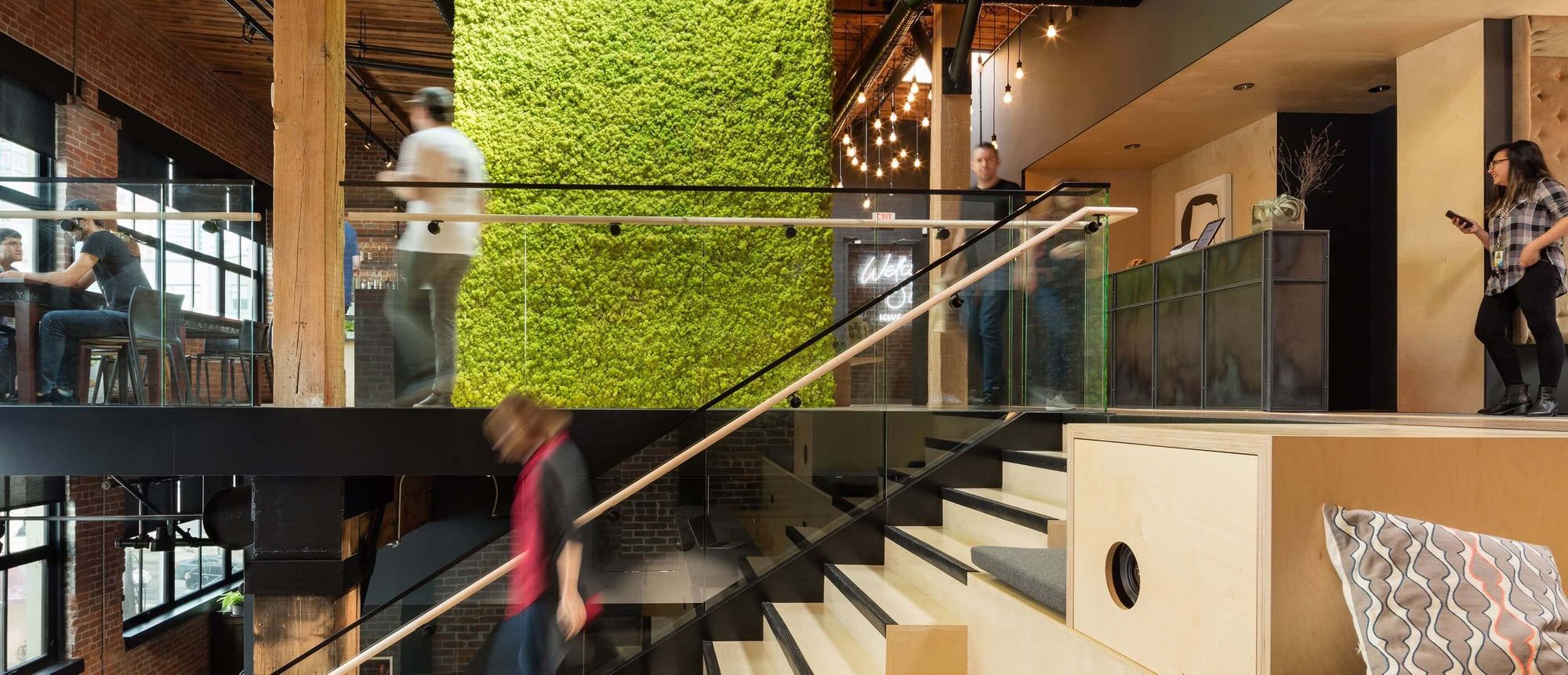 You need to revamp your careers page. Now.
No... seriously!
Why?
A careers page is just a place to list vacancies, right?
WRONG!
A careers page is the perfect place on your website where you can really show off your employer brand.
After all, you're not going to receive applications just from the job description alone.
Top candidates want to know why they should apply to your company.
What can you offer them?
What are your company values?
What is it like working for you?
Why should they choose you over your competitors?
Why is a good careers page important?
Attract top candidates
Creating a good careers page for 2022 ensures that you attract the best possible candidates for your roles.
Being clear on your company, your available positions and what you require from the candidate is a sure way of getting the best talent.
Sell candidates on your company and beat your competitors
Use your careers page as an opportunity to one-up your competitors.
Research your competitors' pages and make sure you are stronger in the information that they lack.
This may be the one thing that makes a candidate apply to your company over theirs.
Create a good candidate experience
Candidates want ease of use and a streamlined job application.
60% of job seekers will quit filling out an application due to its length or complexity. (G2.com)
Making your application simple, whilst including all the information a candidate needs, creates a good candidate experience.
In fact, check out GoHire's Complete Interview Checklist article, it gives you a complete run-down of what to include in your job descriptions and applications.
Here are the fourteen best examples of careers pages for 2022
1. Slack
Slack is a platform that offers a professional, user-friendly space to communicate and engage with others, replacing the outdated use of email for communication.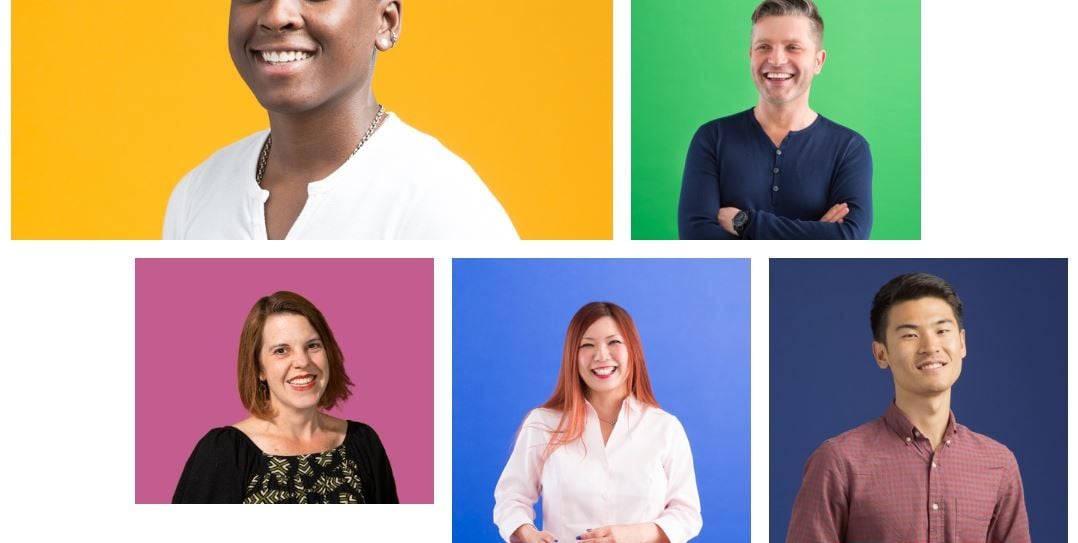 Slack also offers a great example of one of the best careers pages.
Maintaining their employer branding; the colour scheme remains bold and bright, much like their company.
Their company values are introduced, along with their main missions and goals as a business and an employer.
Before the list of available positions is shown, Slack offers their company benefits - a useful trick to persuade candidates to apply and a shining example of how to design a company careers page.
Revealing the list of available positions, jobs are separated into departments for ease of use, and clearly show the job title, location and link to apply.
To learn more, check out Slacks careers page here.
2. Zoom
Zoom is the leader in modern enterprise video communications, with an easy, reliable cloud platform for video and audio conferencing, collaboration, chat, and webinars across mobile devices, desktops, telephones, and room systems.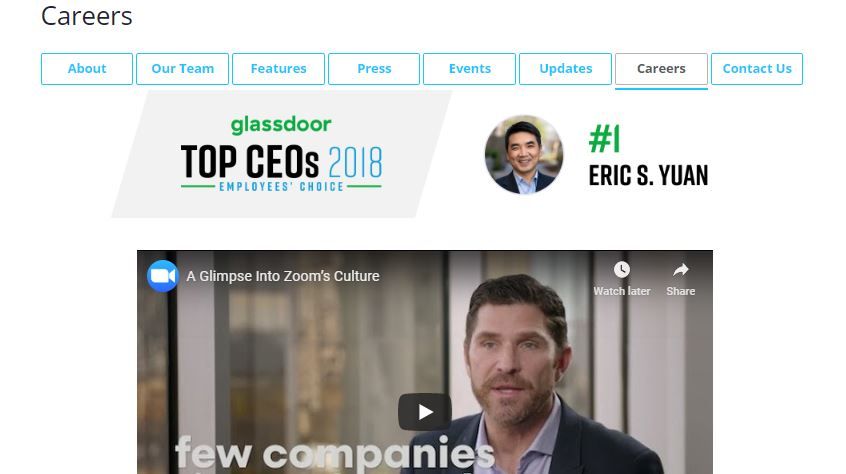 Their careers page is simple, and yet utilises their company's prime selling point: video.
Including something visual such as images or video can greatly improve and increase the applications received.
Candidates will want to see that your company can work with and use a variety of media, and many prefer to learn about a company through video rather than text.
Zoom's careers section also allows easy access to more information through different tabs, to ensure candidates make an informed decision about a position.
To learn more, check out Zoom's page here.
3. Iress
Iress are a technology company providing a leading financial platform, providing financial advice, trading and market data and investment management, as well as help on mortgages and pensions.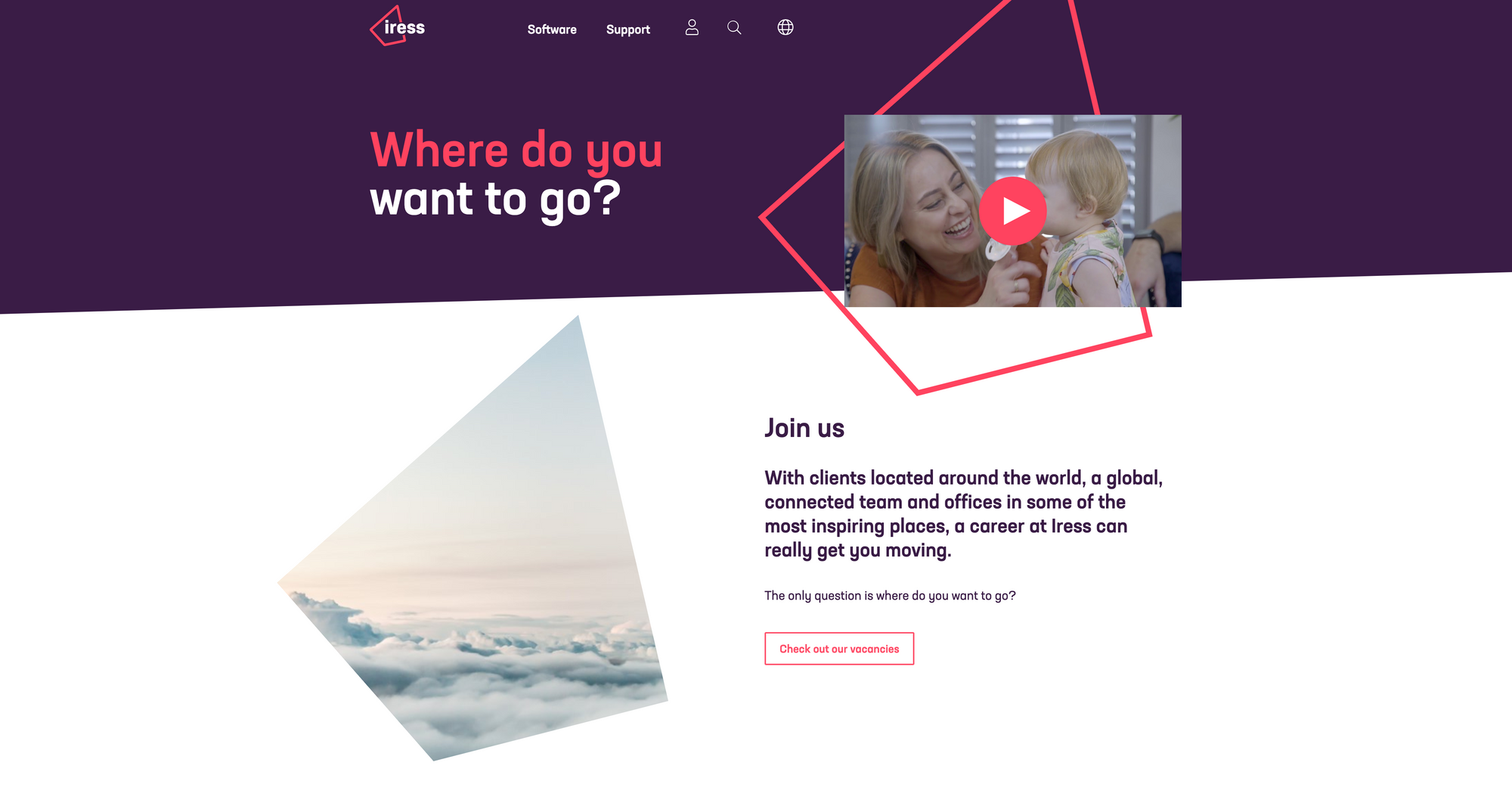 Iress's careers page is quirky and unique - using their stylish graphics to highlight key information. It's an example of one of the best careers pages.
Just like Zoom, Iress have utilised videos on their careers section to inform and encourage candidates.
Iress also use employee feedback and highlight key benefits of working for the company, as well as providing links to blog posts and more information.
The link to available vacancies is easy to follow and provides candidates with useful filters and categories to find the job most suited to them.
To learn more, check out Iress' careers section here.
4. Plan.com
Plan.com are a telecommunications company providing businesses with a variety of multi-channel communication, such as mobile tariffs, desktop phones, broadband and software such as Office 365.
Everything you need for your business to run efficiently.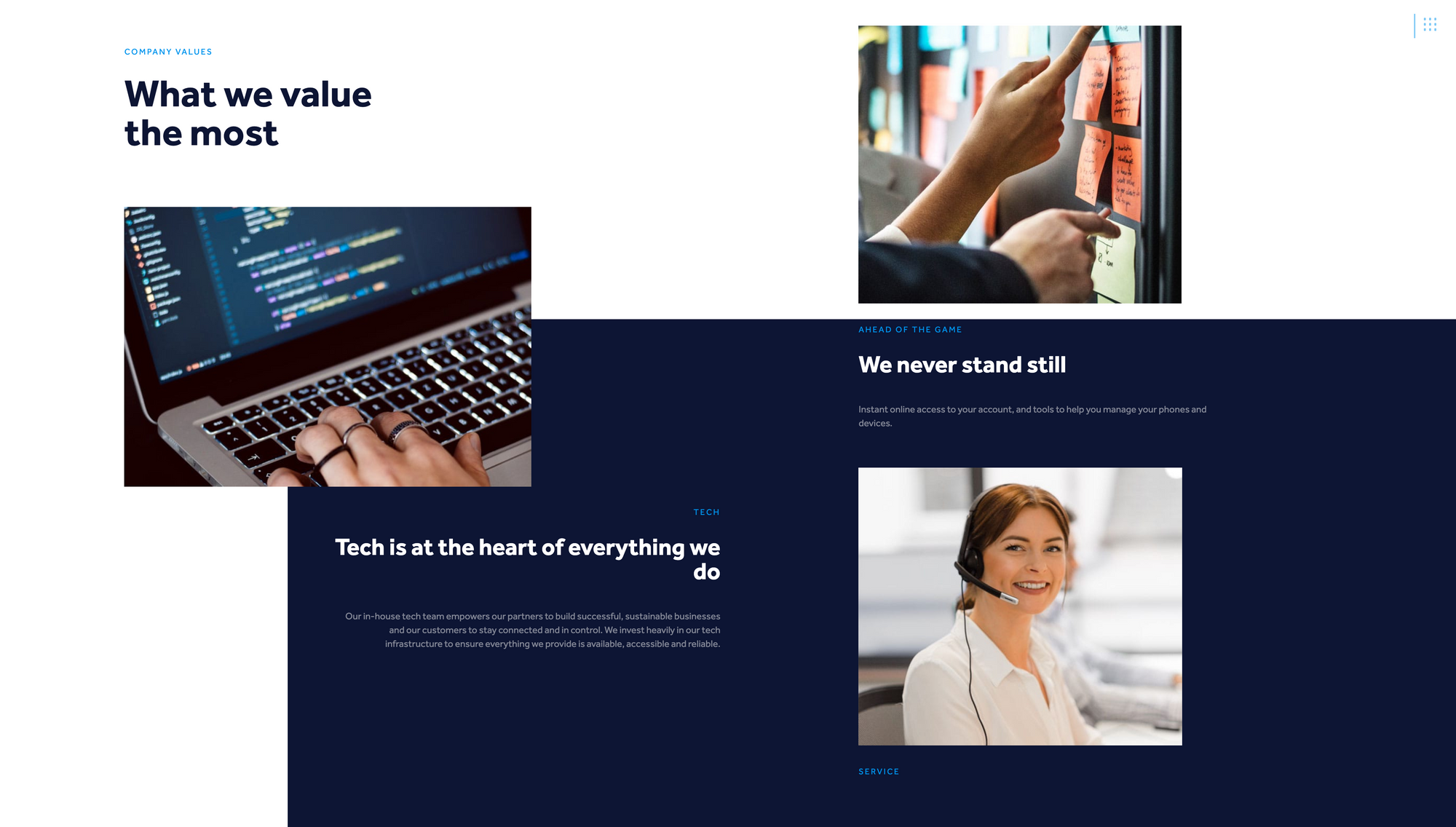 With bold graphics and images on their initial landing page, Plan.com offers an example of a great employment section with all the information any prospective candidate would need.
Their hiring page is very informative, including their company values and mission, awards, customer services, company governance and employee benefits. Plan.com shows you exactly how to design a company page.
Sometimes less is more, but Plan.com have designed their page in an intuitive and organised way to ensure candidates get all the information they need without being overwhelmed.
To learn more, check out Plan's jobs page here.
5. Spotify
Audio streaming platform, Spotify, is an example of a forward-thinking, innovative company, and their hiring page is no less dynamic.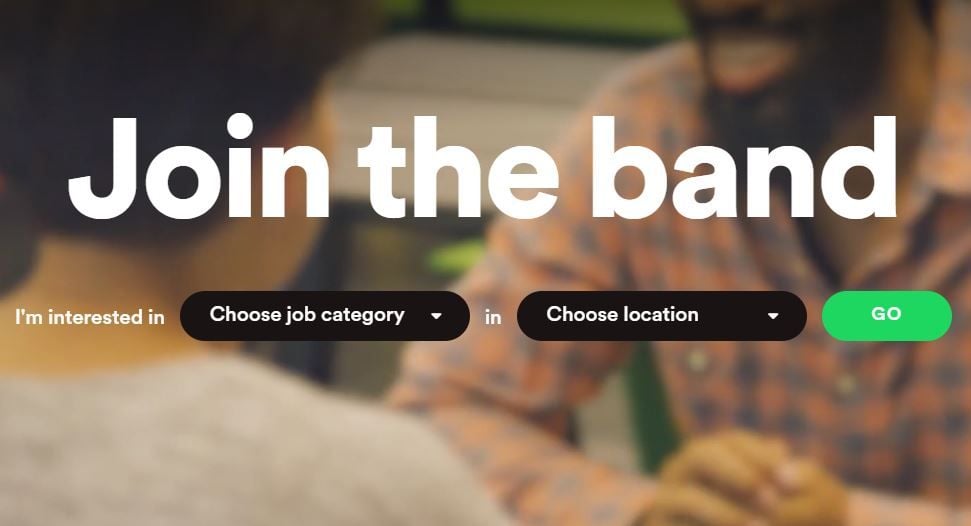 Spotify highlight exactly how to design a company careers page, by managing to maintain their employer branding by using the same graphics and design found in their app.
Spotify is a recognisable and leading music company, hence why their careers page contains a minimal amount of information regarding the company, and focuses more on the visual aspects.
This can be a downside however, as information on company values and culture has to be found within the job descriptions.
Regardless, their careers page is engaging and creative, factors that a company such as Spotify should be utilising, making this an example of an awesome careers page.
Their available positions are categorised by department and location, making their page accessible and user-friendly.
The page also engages with perspectives from Spotify's CEO, which is important to prospective candidates wanting to learn more about the foundations of the company.
To learn more, check out Spotify's careers site here.
6. Quint
Quint is an operator of fintech businesses founded in early 2009. Quint uses proprietary technologies to power a portfolio of leading online fintech businesses in the consumer credit sector.
Deemed an 'epic place to work', Quint is another company that makes use of video on their careers page.
The video contains real employees giving an insight into life at Quint, providing viewers with a realistic view of the company.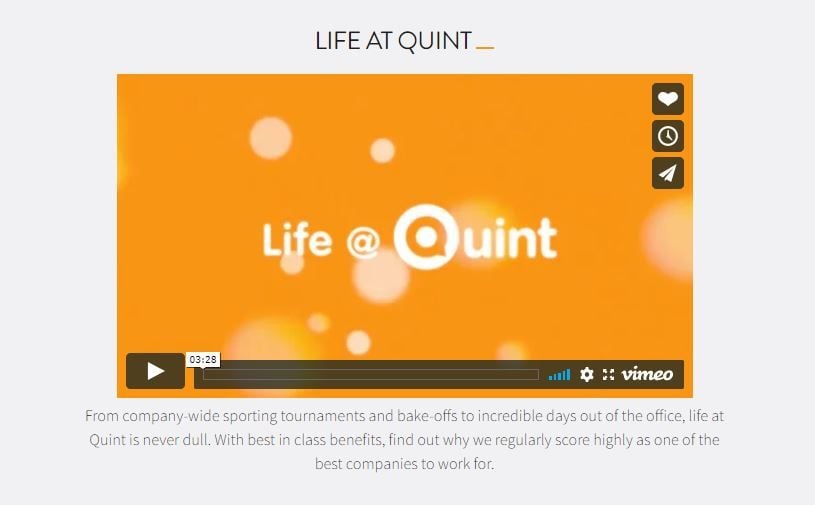 As well as great graphics, Quint boasts a hefty list of company benefits, images from company events, charity work, and not to mention a generous number of awards under their belt.
Leading into their core company values, Quint takes about their company 'family', which immediately is a great hook for a prospective candidate.
Ultimately, Quint offers a simple yet informative employment page, highlighting their growth, success and their dynamic and homely company culture.
To learn more, check out Quint's page here.
7. Beyond
Design company, Beyond have used their expertise with a variety of clients to produce a well-organised careers page for 2022. Their clients include Warner Bros., Google, Virgin and Just Eat.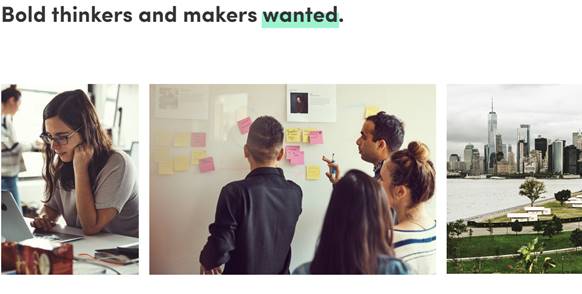 Beyond's page is not as informative as some we have already mentioned, yet its design and layout makes it a perfect example of a clear and concise page.
Keeping it short and simple, Beyond mention their core values and mission as a company, as well as their commitment to being an equal and diverse employer.
Beyond's available jobs are categorised into their three offices in the UK and US, so candidates can clearly see where their most suited jobs are located.
Jobs are highlighted with a short brief outlining the position which is extended once clicked on.
Although not as informative as others on this list, sometimes less is more. Beyond manage to provide a well-designed, concise careers page that informs and entices their candidates.
To learn more, check out Beyond's page here.
8. Refinery29
Refinery29 is the leading media and entertainment company focused on women with a global audience footprint of 249 million across all platforms.
As a women's media company, Refinery29 have changed the way content and storytelling speaks to and represents women, always sparking the conversations that matter most.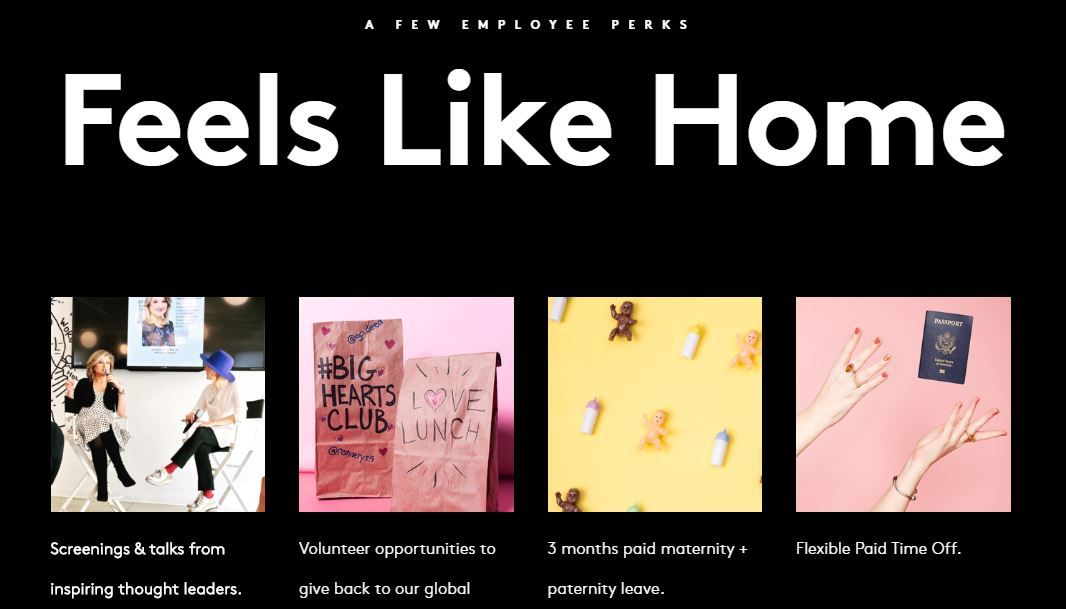 Refinery29's careers page is a shining example of an inspiring careers page which represents their workers as well as their work.
Leading their page with their company mission gives prospective candidates a solid outlook of the company's drive and potential, allowing candidates to generate an opinion of the company and their application.
Using real images from their portfolio of work as well as their employees makes it known that Refinery29 are a genuine and inclusive company, showing a diverse range of offices, locations and employees.
Employee benefits are showcased well, along with the heading 'Feels Like Home', presumably taken from Madonna's 'Like a Prayer', highlighting that Refinery29 is a successful, female-led business.
This is such a unique aspect and shows perfectly how to design a company careers page for 2022.
The design and layout of their page is user-friendly, with their available jobs made clear and informative.
To learn more, check out Refinery29's careers section here.
9. Voltlines
Istanbul-based transportation company, Voltlines, undertakes the personnel transportation for companies, reducing the workload of the driver, passenger and employer.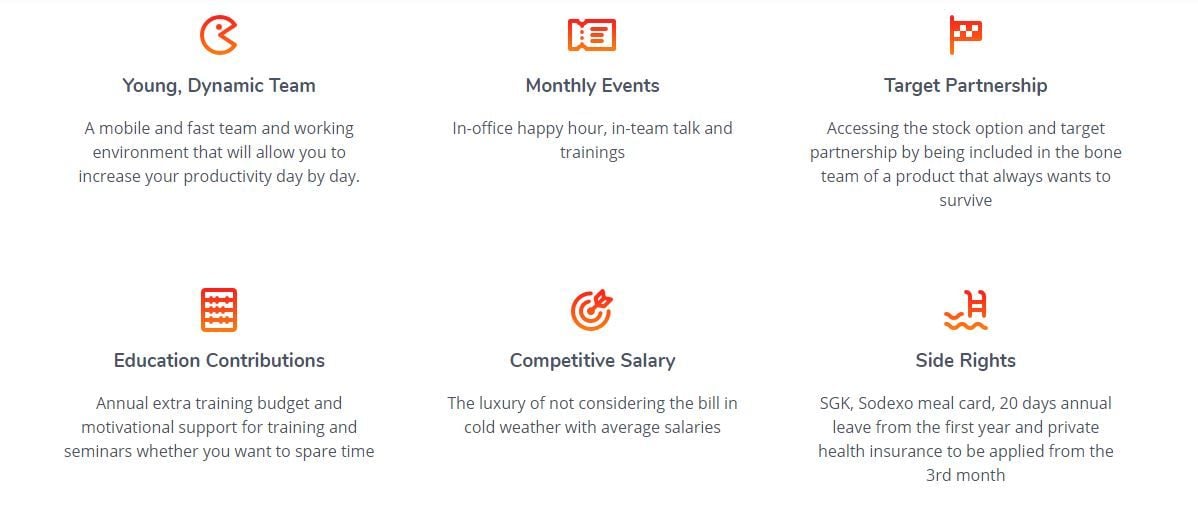 Their straightforward careers page highlights the main benefits of working for Voltlines, as well as a brief overview of the company.
Their open positions are listed with following links, which also include a clear location and date for which the job was posted.
Voltlines then add something that none of the previously mentioned pages have. They include details of the application process.
Highlighting the main points of the application process is a big deal for a prospective candidate. It may be the make-or-break for their application.
Their company vision is then highlighted along with their plans for the short, medium and long term - another thing not mentioned by anyone else thus far.
Voltlines manages to express all the relevant information in one simple page, creating a useful and motivating page.
To learn more, check out Voltlines' careers site here.
10. Stashbee
Since 2016, Stashbee have been building a platform that connects people who have unused space with people who need it for storage and parking.
Their unique platform continues to grow, and has earned them a 4.8/5 rating on Trustpilot.
Stashbee's webpage design and graphics make their careers page so easy to understand and read through.
Their available positions are listed with location and posting date and are followed up with another link to expand.
One pet peeve that I have is a job description that is embedded in a company's careers section.
Having the ability to link to and read a job description separately feels much more organised and straightforward.
The only thing I would improve with Stashbee's employment page is the information given about the company.
Very little is presented in terms of benefits, company culture and values unless shown on a job description.
Just a little bit more information could go a long way.
To learn more, check out Stashbee's careers site here.
11. Transferwise
Transferwise are an innovative money transfer company that aim to build a world where money has no borders.
They aim to build new ways to make moving money as easy as possible, as fast as possible, and as cheap as possible. And new products that let people and businesses take advantage of them.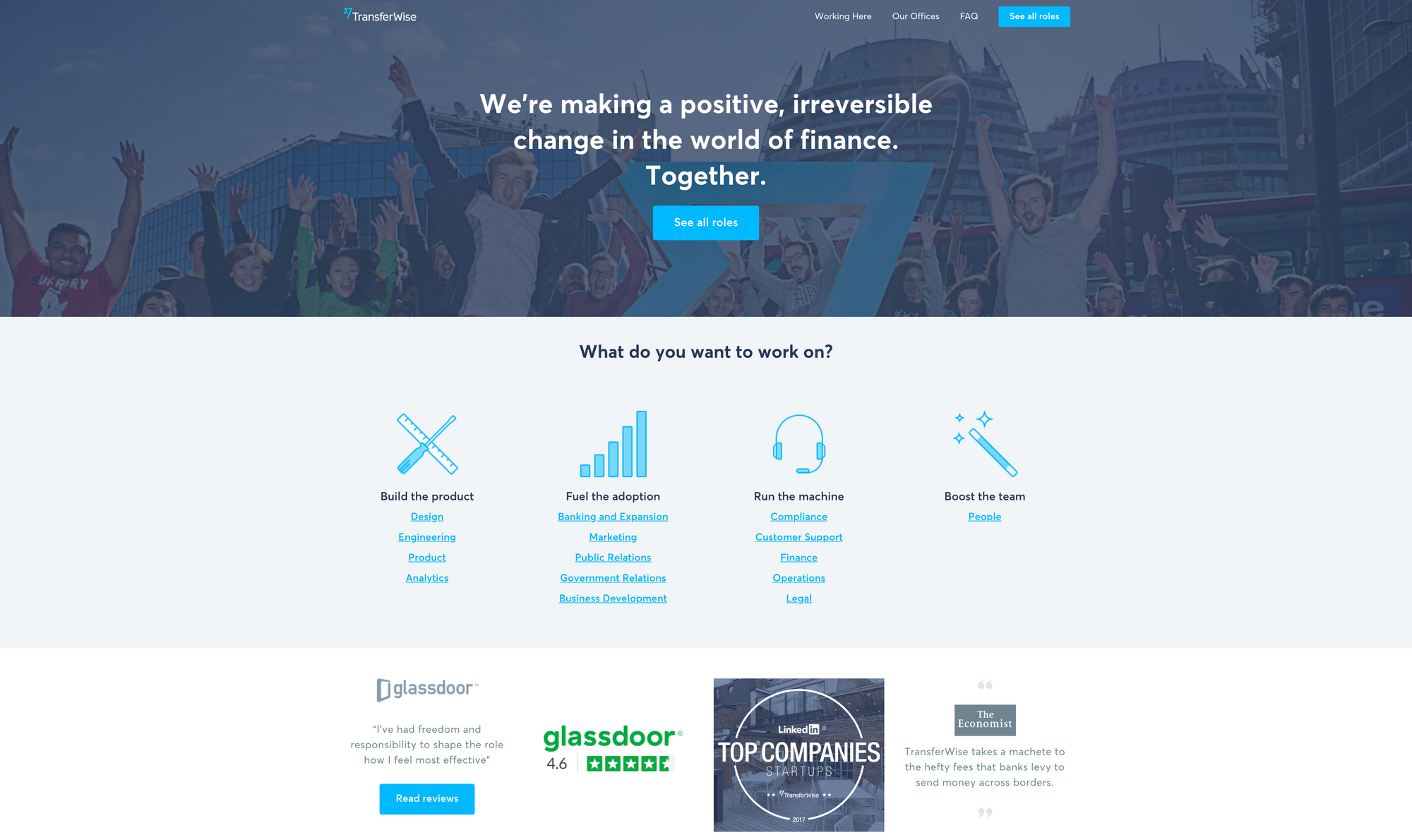 Transferwise's inspiring careers page is full of information about the company, their values and where a prospective candidate would fit in.
Jobs are categorised into departments to make it much simpler to find a suitable role. These are then separated into locations.
Reviews from Glassdoor and Linkedin are also highlighted. This is an important aspect that all companies should engage with as it shows a true outlook of the company.
Transferwise also dedicate a section of their hiring page to their offices, showing the benefits of each office and its location - another great addition that could swing the candidate to apply.
The page itself has a simple layout that engages with images, video and the company's branding.
To learn more, check out Transferwise's careers section here.
12. Wistia
Wistia is the company behind an innovative video creation software that helps customers to boost their brand and improve their online content.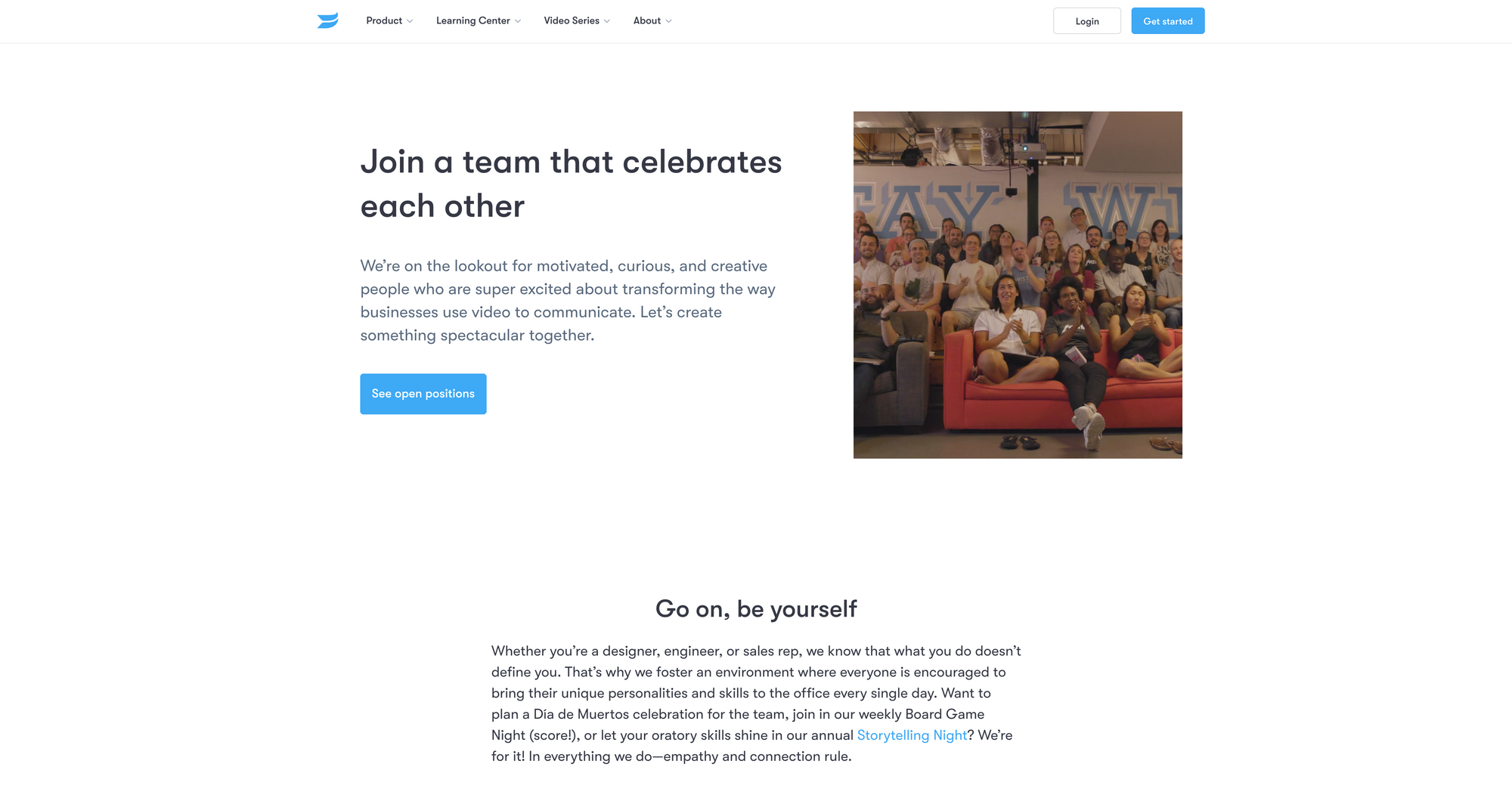 It's no surprise that Wistia utilises their own content in their careers page, from GIFs to full video, their product is certainly sold to the candidate - a useful aspect when thinking about how to design a company page.
Their company values, culture and mission is clear and proudly presented, with quirky, informal headings to make the information really stand out.
Wistia's company benefits are clearly listed, providing candidates with a variety of incentives to apply for a position.
Again, their available roles are categorised by department, making their page clear and concise for the reader.
To learn more, check out Wistia's page here.
13. Customer.io
Customer.io strengthens the relationship between subscription businesses and their customers by sending meaningful messages at the time they're most likely to be engaged.
With Customer.io, send targeted emails, push notifications, and SMS to lower churn, create stronger relationships, and drive subscriptions.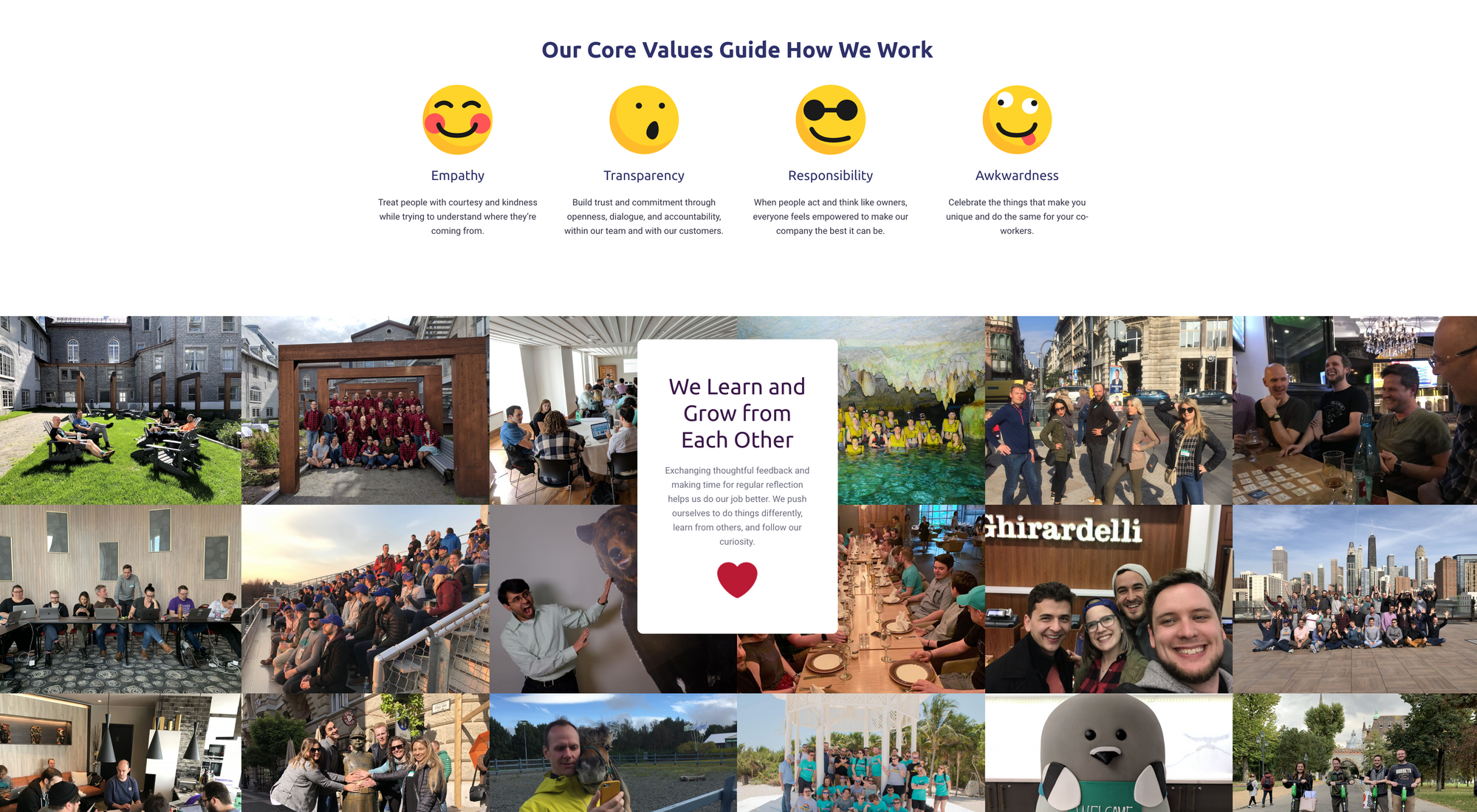 Customer.io's careers page is bold and innovative; it's an example of a great career page.
An important aspect of the page is the number of images of real employees. This, like previously mentioned companies, puts them at an advantage to their competitors by offering the reality of their work culture.
Core values are highlighted with emojis, showing the fun and informal nature of the company.
As well as providing details of company benefits, they also provide links to company news, allowing any prospective candidates to discover more about the company.
Finally, Customer.io explains how they offer flexible working for their employees, which is a very important aspect to many candidates in the present job market.
Customer.io gives an example of a top hiring page that is driven by its employee-first values and family feel to the company.
To learn more, check out Customer.io's page here.
14. Amplitude
Founded in 2012, Amplitude offer a product intelligence platform that enables their clients to build better products for their customers.
Tracking over 7 trillion user actions every year, Amplitude help digital product and growth teams instantly understand user behaviour, build engaging experiences, and grow their business.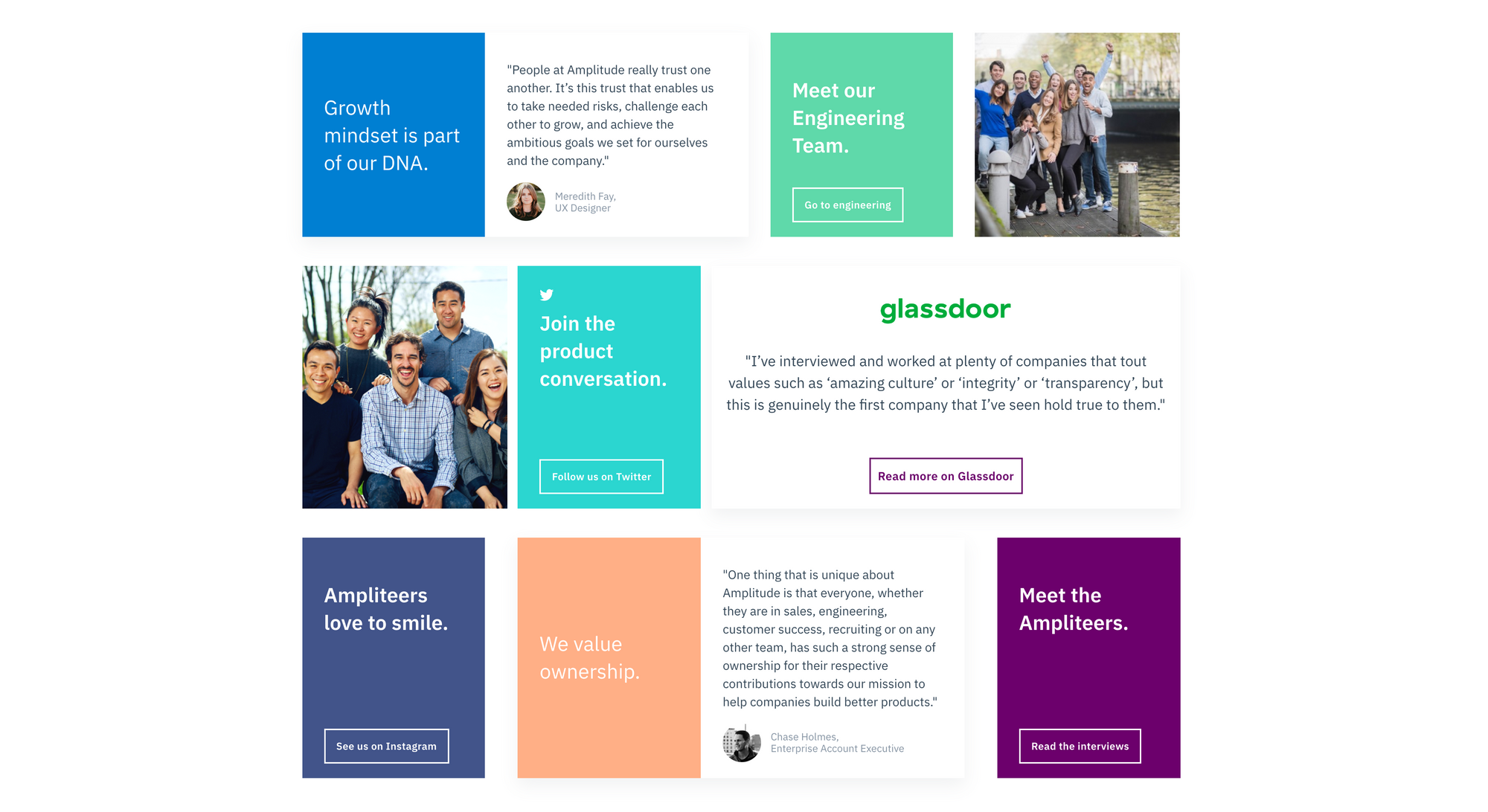 Amplitude's enticing careers page is decorated with intriguing graphics, and bold headings to really help their information stand out.
Amplitude highlights their passion and drive as a company straight away, enabling them to put the succeeding information under this umbrella.
Utilising a vital tool, Amplitude add Glassdoor reviews and employee feedback onto their page, providing a real-time view of their company culture.
Amplitude also highlight a little quirk - calling employees 'Ampliteers'. This creates a homely, community-led tone for their company, which is a great advantage against their competitors.
Their various company benefits and office locations are listed before linking the user to their available positions.
The layout is ideal for an jobs page, with clear direction to more information and the progress of the page.
To learn more, check out Amplitude's page here.
Key Tips for a Top Careers Page
I hope these 14 inspiring careers pages give you the push you need to improve your own careers page in 2022.
Now I'd like to turn it over to you:
The number 1 tip from this article, be sure to make your careers page clear, concise and engaging - with an incredibly simple application process.
Let me know if you need help with your careers page and employer branding by leaving a comment below right now. 👇