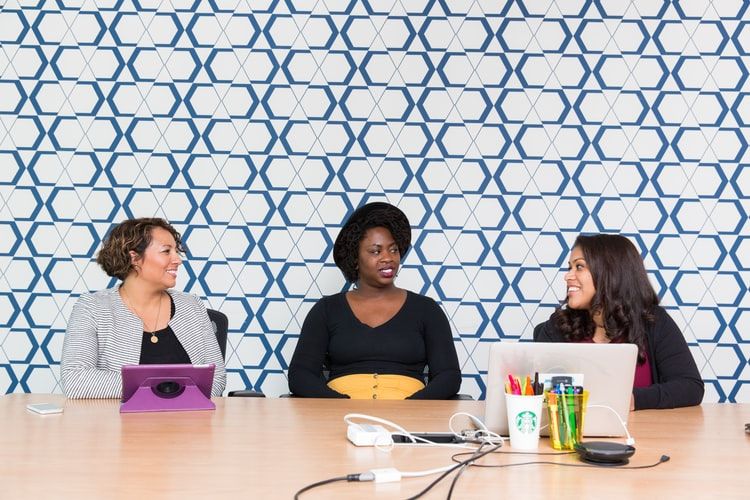 The startup interview process is stressful, right?!
It's hard enough preparing to interview candidates when you've got so much going on, especially for SMBs.
That's why we've created the complete interview checklist for employers and startups to get you ready for your next hire!
Prospective candidates will be hunting for a job with the best startup, and as an employer, you'll be looking to hire the best talent. This is particularly important for startups, who have to compete quickly and fiercely. It's crucial that you bring onboard exceptional talent right from the start if you want to scale at speed.
Remember... You are what you attract.
If you have an unorganised startup interview process, the probability of taking on a bad hire will increase.
Candidates being interviewed will form an opinion about your company based on their experience during the interview process; so you'll want to create a positive experience for them, especially if you are a brand-conscious company.
Continue reading our complete interview checklist for employers to see how you can improve your hiring process and filter out bad hires!
The 3 Stages of the Startup Interview Process
Pre-interview: this is what happens before the interview takes place, including your prep and initial communication with potential hires
Day-of-interview: this is obviously the day you hold your interviews and involves meeting potential hires in the right place at the right time and ensuring everything runs smoothly
Post-interview: this is the follow-up process, which involves giving the good news to successful candidates and letting down unsuccessful ones gently
All the to-dos fall within these stages. We'll go into detail later on in the piece, but here's a quick breakdown of what you can expect in the startup interview process:
Prepare your interview procedures
Write a worthy job description
Communicate with candidates
Assemble your hiring team
Prepare your interview questions
Schedule the interviews
Conduct the interviews
Answer candidate questions
Assess candidate interviews and debrief
Create a shortlist
Inform candidates of your decision
Pre-Interview Employer Checklist
1. Preparing Your Interview Procedures
Much like other areas of business, interviews require preparation and standard procedures to follow.
For any employer, the first part of an interview checklist needs to be about SOPs, or Standard Operating Procedures.
SOPs ensure that all team members know what they have to do, how to do it, and what is expected of them.
You don't have to be an expert in writing SOPs. Simply picture the beginning and the end of the interview process.
Write an outline of the entire interview process from start to finish
Cross-check with your team, colleagues or hiring managers
Publish and distribute to your colleagues
2. Writing a Worthy Job Description
Most businesses tend to reuse their job post templates, with many outlining their generic requirements like a 'team player' or 'self-starter'.
These are not helpful elements of a job description, which is why we've included this important step in our interview checklist.
Careful thought should be given to who you would want to bring on board as an employee. When discussing with your hiring team, you should carefully assess these aspects:
What is the primary reason for hiring the candidate?
What problems will the new hire solve?
What are the knowledge, skills, and competencies needed to fulfil the role?
What are the required and preferred qualifications?
Is a background check necessary? (If so, it should be clearly stated in the job description.)
How long will the onboarding and training processes take?
GoHire gives you access to over 700 free job description templates, as well as allowing you to create your own. Take a look now with a free 14-day trial.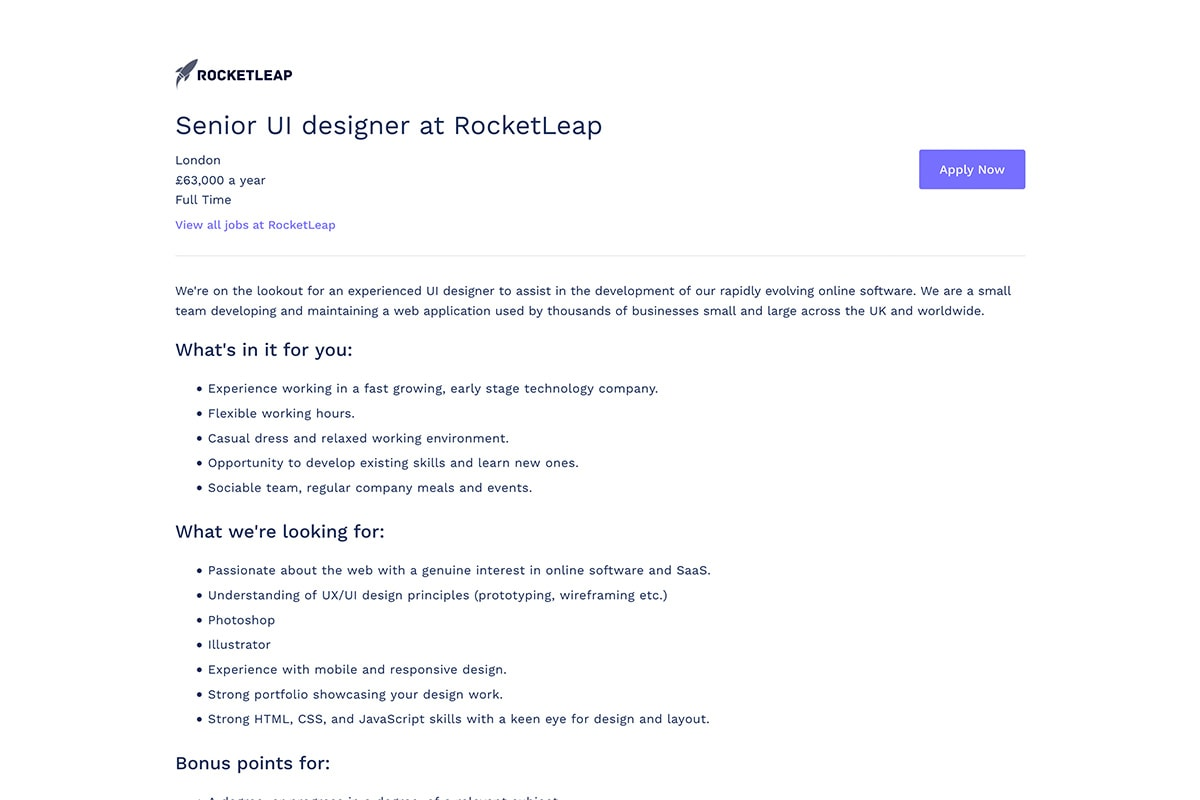 3. Communicating with Candidates
Email is the most common method of communication within an organisation.
However, sending individual emails to each candidate is time-consuming and can result in inconsistency.
Using email templates is an integral part of our complete employer interview checklist. Ideally, you should be creating email templates based on every scenario. Even before you post the job requirements across different channels.
We recommend that you create email templates primarily for these three scenarios:
Once a candidate's application has been received
Scheduling an interview with a candidate
Post-interview feedback or outcome
Providing candidates with timely and regular communication will not only ensure a consistent hiring strategy but provide a positive experience for your candidates.
Read more about how GoHire can help you improve your candidates' experience when hiring.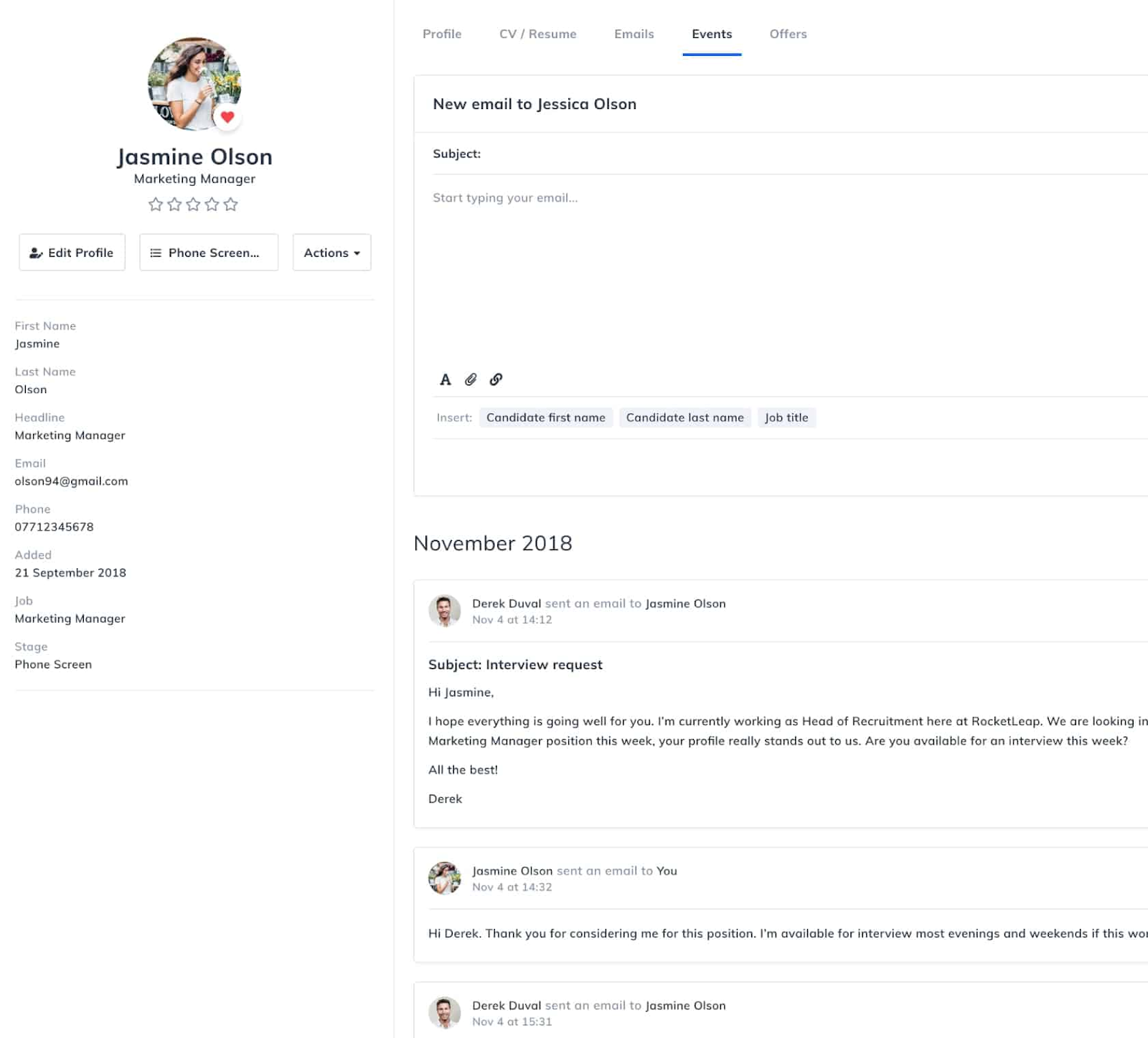 4. Assembling Your Ultimate Hiring Team
Once you are crystal clear about the job requirements, you will need to decide the team members who will be interviewing top candidates.
This is an important part of the complete employer interview checklist and is one area that your success will come from.
You should divide the interviewers into two categories: Veto Voters and Courtesy.
Veto Voters are hiring professionals who have the authority to decline a candidate at any stage of the interview.
Veto Voters have to meet the following criteria:
Have a clear understanding of the role being hired for.
Understand what is needed to succeed.
Has a track record of hiring good talent.
The Courtesy interviewer is simply a contributor to the interview process. It is likely that they will not have a lot of experience as an interviewer, and their input will not affect the final hiring decision.
Training should be given on how to handle interviews, questions to avoid, how to score a candidate and the boundaries that must be set.
The interviewers should also be aware of any legal requirements when conducting interviews.
An initial meeting with your assembled hiring team is an essential part of our interview checklist for employers; everyone involved must understand the interview process and be clear on their roles.
A concise crosscheck should be done with the team to discuss the questions they are going to ask. This avoids the same questions being asked multiple times.
Better yet, you could prepare a list of questions and assign it to the interviewers beforehand.
5. Preparing Your Interview Questions
This is where the interview checklist gets juicy!
Researching questions online is a simple way of finding those suitable for the candidates you'll be interviewing with.
Shortlist the questions you think will help you assess the skills and culture fit of your candidates and discuss with your hiring team.
With GoHire, you can pre-screen candidates with interview-style questions from various templates.
Make sure each candidate is treated equally. Ensuring the same questions are asked to every candidate will allow you to assess them fairly.
You can use the STAR method to create behavioural questions. STAR stands for situation, task, action, and results. You can use the following format to write these interview questions:
Identify a challenging situation the candidate may come across.
Identify the task they would need to complete.
Identify what action should be taken to accomplish the task.
Identify the ideal results.
6. Interview Scheduling
If you've set up email templates, you can use this to confirm the interview schedule with the candidate.
In your email, inform them about time, location and a method of contact for them to get in touch if necessary.
It may also be helpful to inform the candidate of the length of the interview. Both interviewers and interviewees should have a clear idea of how long it will take to complete the startup interview.
To save yourself and your candidates a bunch of time and effort, and improve the candidate experience, try using an interview scheduling tool.
This will help to tick off a few tasks at once from your complete employer interview checklist.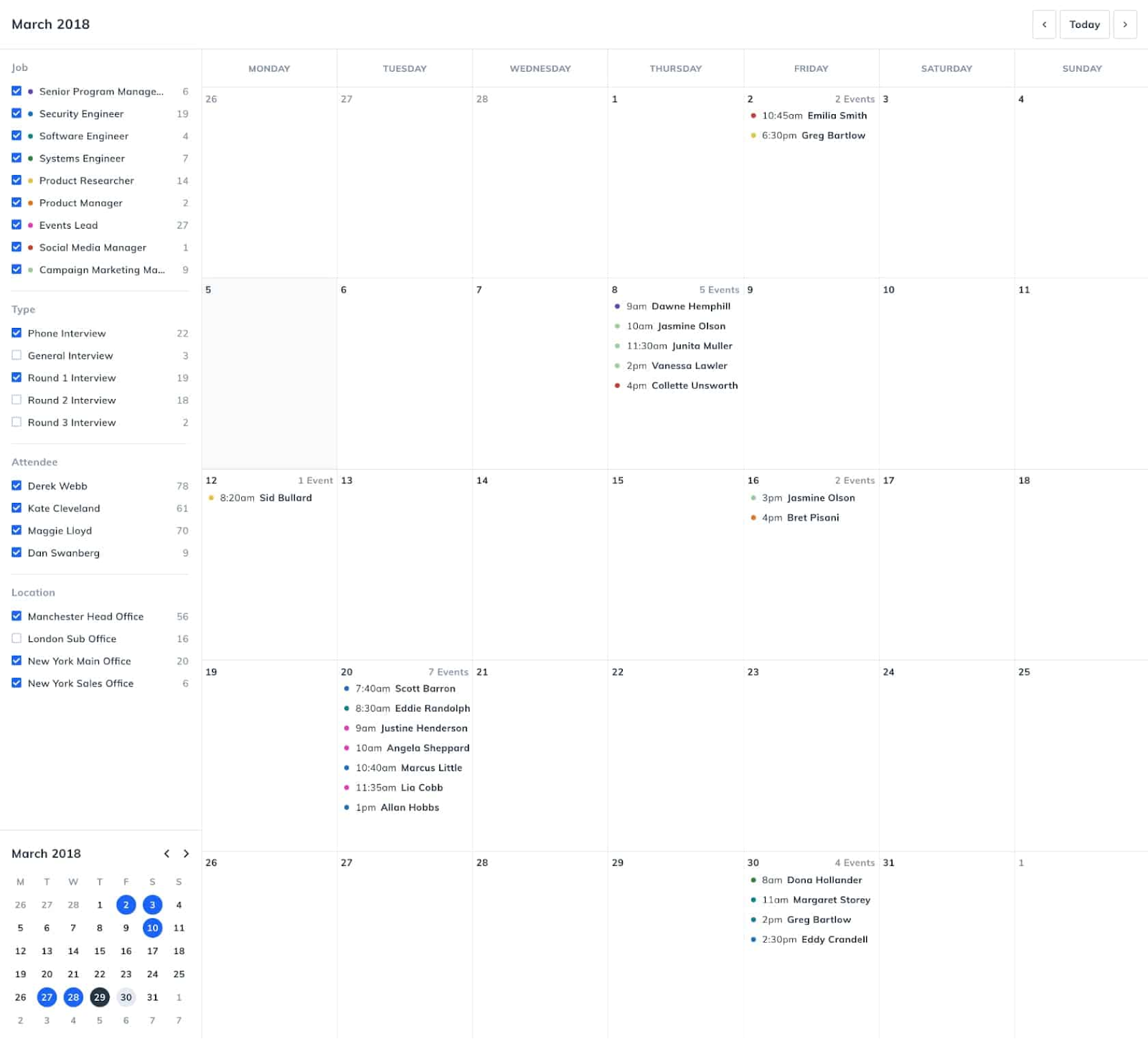 Day of Interview Checklist for Employers
7. Conducting the Interviews
It's finally time to hold the interviews. It helps to have a structure in place so that you stay on topic and provide each candidate with a similar and fair experience.
Take your list of interview questions with you as well as a scorecard or a notebook to take down any notes.
As well as uncovering whether the candidate is capable of doing the job, make sure you check to see if they'd fit in with the company culture and how they hold themselves in the interview (remember that people will be nervous, though, so they might stutter or fumble over questions - this is totally normal in the startup interview process!).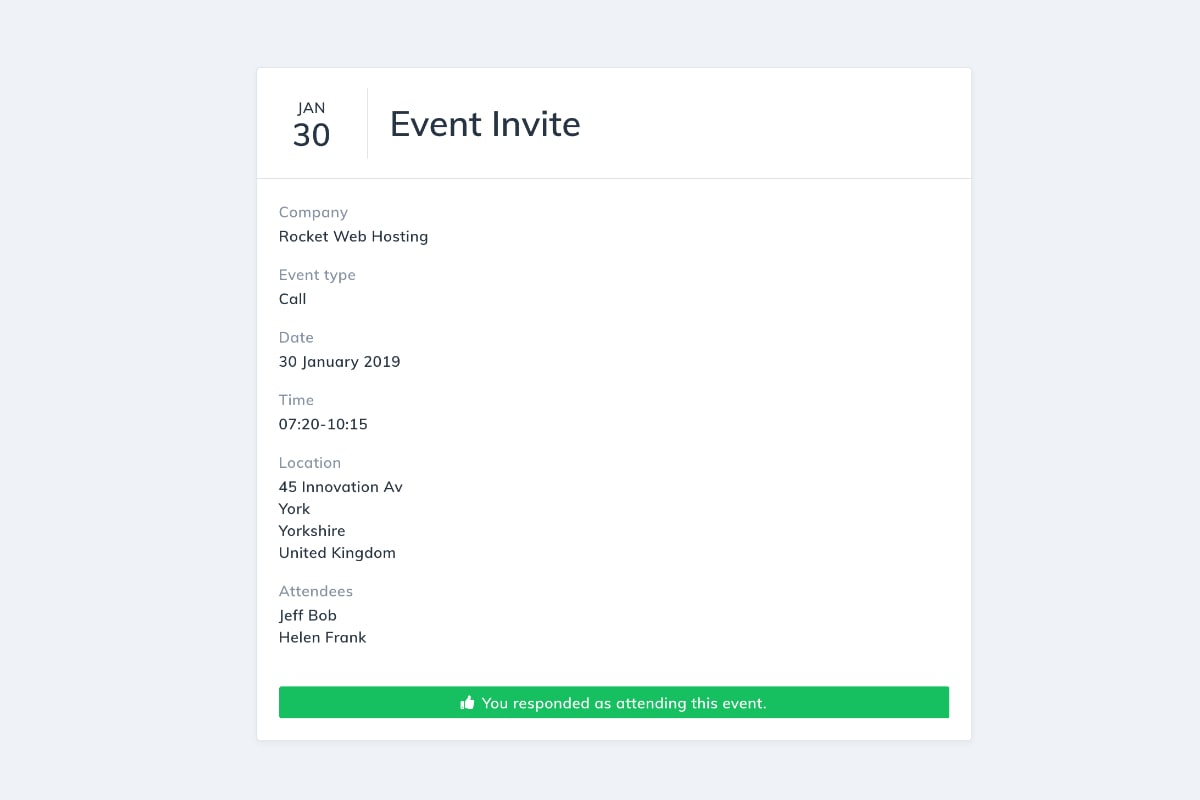 8. Answer Candidate Questions
On the day of the interview, make sure someone is available to attend to the candidate and address any questions they may have. This will put the candidate at ease and help them to prepare for their interview.
The candidate will aim to arrive on time and so should all the interviewers. Not only will this give the interviewers time to review the candidate's resume, but will also provide a good first impression for the candidate and improve their interview experience.
9. Assess Candidates and Debrief
Once the interview has concluded, every interviewer should be encouraged to complete a candidate evaluation form while the details are fresh in their mind.
The interviewers should compile complete assessments and share the outcomes with each other and their employers.
It is recommended to use candidate evaluation software such as GoHire to centralise the documents and manage them in the future.
A decision should be made as soon as possible as to whether the candidate should be moved to the next stage. Informing the candidate by when they should hear back will also add to their positive interview experience.
This is a good time to debrief with your hiring team to see what worked well and what you might want to improve in the next round of interviews.
Post-Interview Checklist for Employers
10. Creating a Shortlist
Once the interviewing period is complete, a team meeting should be held to discuss who the top candidates are and create a shortlist. This should be based on the assessments you filled out straight after the interviews and the criteria you had for job role.
If this takes longer than expected, inform the candidate of the delay.
52% of job hunters say a lack of response from employers is their biggest frustration, so it is vital that candidates remain informed to ensure their experience is positive.
11. Informing Candidates of Your Decision
By now, the startup interview process will have revealed who the top talent is and it's time to let them know they've made the cut. The fun part is giving successful candidates the news, but remember that you also need to gently let down those who weren't successful.
When informing candidates of your final decisions, you should have a feedback process in place to explain why the unsuccessful candidates didn't make it and be available to answer any questions they might have about improving their future chances. Again, this can be done with ease using GoHire's email templates.
By following this complete employer interview checklist and with the help of GoHire, you can streamline your hiring process.