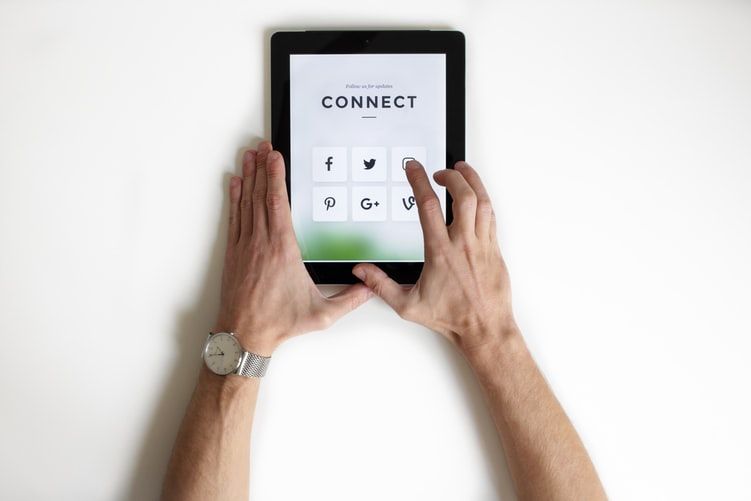 In this article, I'm going to show you how to use social media for recruiting in a simple 7 step formula. Social media has become a great place to search and discover the talent of tomorrow; you need to start learning how to do it right.
Look at the number of people on social media and their usage:
These are incredible numbers, so no matter the skills, history, or experience you are looking for in your next hire, you can be pretty confident that they will be a user of some form of social media.
1. There's a lot of social media channels, but which should you choose?
When you're heading out on the journey of social media recruiting, it's important to know which path to take.
Perhaps the reason so many recruiters never get started on the journey is that there are just so many paths to choose from. That's why we're starting here.
There is no wrong path to take, but each social media channel has it's unique strengths and weaknesses when it comes to recruiting, we'll go through them later.
To choose the best social media channel to hire on, it's simply a matter of matching up those characteristics with your recruitment goals.
Are you using social media for candidate sourcing?
The most obvious choice is LinkedIn - the site where candidates upload details of their experiences and skills; everything that makes them employable! Fantastic, right? LinkedIn can be a goldmine for finding and sourcing talent.
Yes, other social networks like Facebook and Instagram have more users. But how engaged are those users with job searching?
It's so important to optimise your LinkedIn profile, to attract potential candidates. Your headline is searchable, so add something like "We're hiring!" at the end. Take a look at my LinkedIn profile…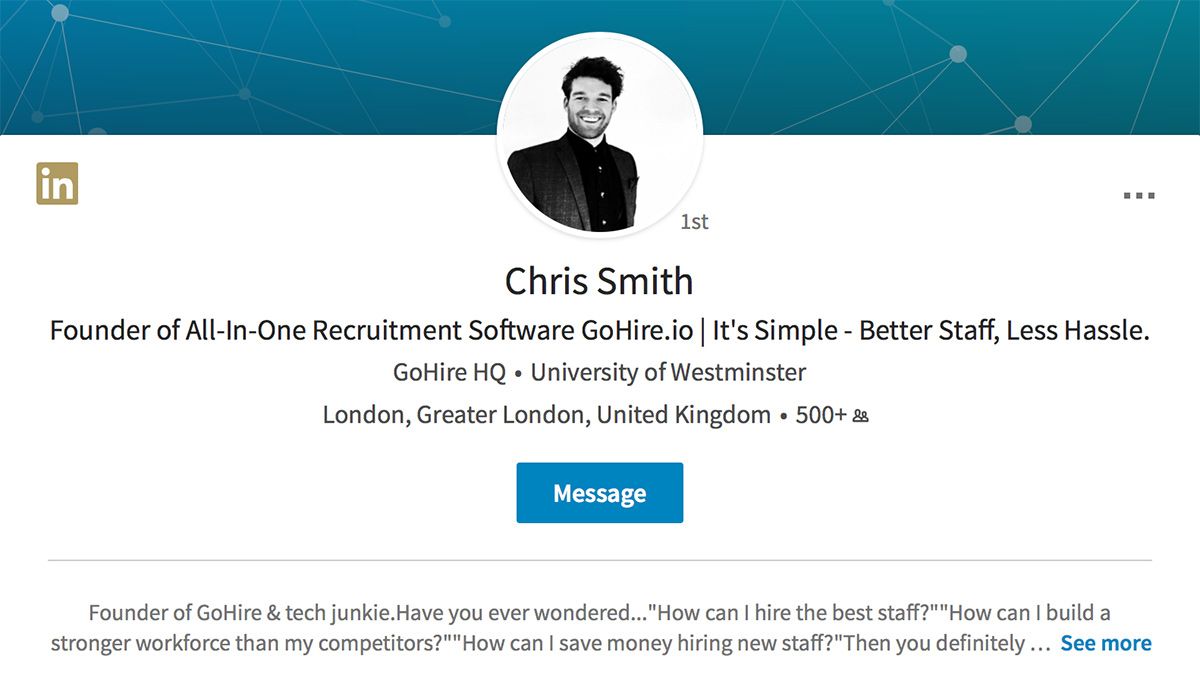 Then there's Facebook, with 84% of Jobseekers having a profile, Facebook is often there to provide the answers.
Though the content you can see will usually be limited, Facebook offers a broad indication of how people project themselves to the wider world - not just by the people they want to employ them!
Twitter offers much the same insight, only fewer people make their profiles private. You won't be able to see much more information than Facebook offers, but you can see who they're engaging with - are they an influencer in their respective field?
Another great tool you can use to target specific keywords like 'Web Developer' or 'Publicists' is Followerwonk. Software used a lot by social media experts for analytics, but can be very useful for recruiters too.
Become an influencer and attract more attention
Not sure what an influencer is? If your recruitment drive is more about getting your name out there and having the candidates come to you - you'll need to be one.
Building social media influence means getting involved in groups, forums and discussions; show yourself to be an expert, forward-thinking employer and the applications will come flooding in.
Once again, Facebook, Twitter and LinkedIn are great options, but also think about where the market is less saturated.
Get creative and make a real name for yourself on Snapchat or Instagram. Define the purpose of your recruitment drive before you take the first step.
From there, you should be able to figure out which social media channels can do the best work for you.
2. How to make your company more attractive to applicants
How many companies use social media? Almost all of them, you say? You might be surprised to learn that the real answer is almost none. Sure, nearly every company going has at least one social media page.
However, an incredible number of these pages lie dormant, as nobody takes the time to update them.
Today, updating is everything. To be an attractive company to work for, your page has to keep up with the game, and as frequently as possible, stay ahead of your competition.
Did you know? 50% of job seekers now look at a company's social media before their website.
Someone who has something insightful to say about trending topics, or even creating trending topics yourselves - hashtags are incredibly useful!
It also means having great content on your page. Take this example of drinks company, Innocent, and their Pinterest page.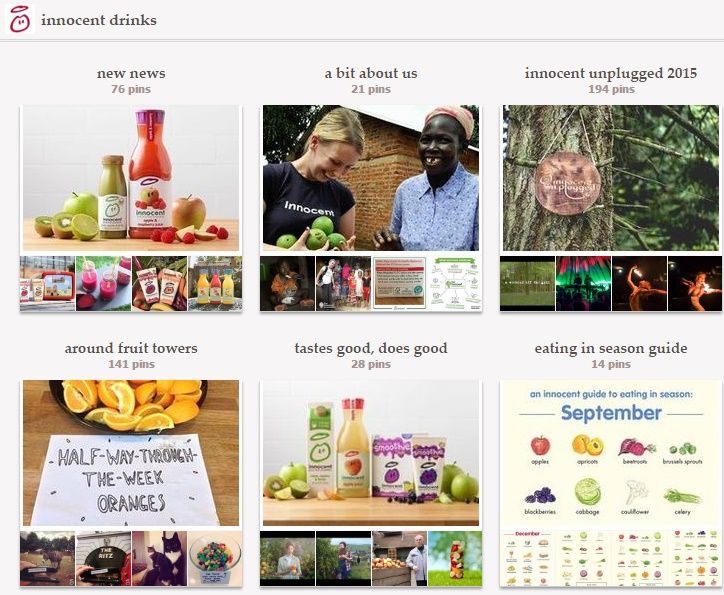 Note the colours, engaging photography and smiling faces - particularly beneath 'A bit about us' - doesn't this look like a fun, attractive place to work?
Lessons can be learned from Innocent's engagement with people who comment on their content - prospective employees or otherwise.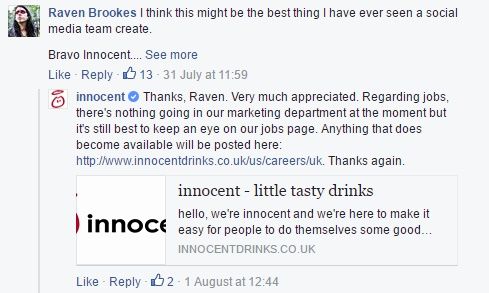 This Facebook exchange is evidence that great social media content makes people want to work for you, and provides you with a window to link to your careers page - a link seen by over half a million Facebook followers.
You must be active on social media and keep engaging your followers.
In review, here are the 5 keys to dominating on social media.
1. Colour: Bright, distinctive images, particularly in profile pictures and cover photos.
2. Varied content: If you can say something through a video, photo or infographic rather than words, do it!
3. Engage with your audience: If someone praises you, thank them! If somebody complains, resolve it. If someone asks for a job - you're doing it right.
4. Keep on trend: Update your content regularly, discuss things that aren't necessarily related to your company, but will attract the right kind of attention.
5. Stay human: Post content about yourself and your colleagues; there's no better way to show that you're a great company to work for than having your employees shout about it!
3. Harness the power of social media groups
It's all well and good posting to broad audiences on social media - the more people who see your post, the better, right?
Well, not necessarily. When you're recruiting, you want candidates that are relevant to the job. To find candidates of a certain calibre, try posting to smaller audiences.
Facebook and LinkedIn groups are increasingly popular ways of recruiting, and with good reason.
On LinkedIn in particular, you'll find potential candidates in groups working together and sometimes competing to show off their expertise. There's no better place to find that most valuable of things: an industry influencer.
It's simply a matter of searching LinkedIn for the right group in the right area. Once you've found that pool of talent, it's up to you to get involved in discussions, advertise the role you need filling or directly approach the people you want.
With Facebook, it's not all that different. Let's say you're looking for Law graduates in London; just start searching and you'll find a group for it.
The difference with Facebook is that the approach is not quite as rigidly professional, but still a very useful tool for finding the right people.
Check out this London jobs group below; it has over 67,000 members. The potential reach of these groups is phenomenal.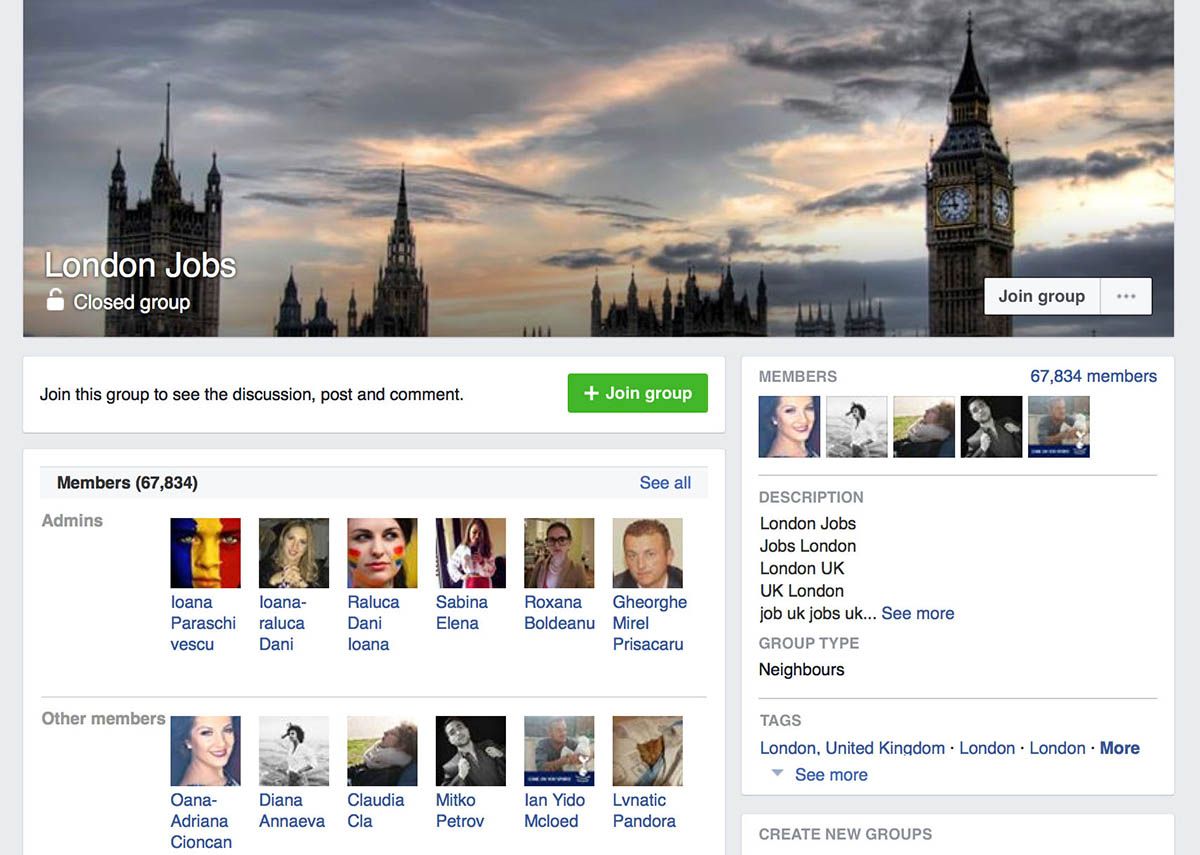 Did you know? An incredible 81% of job seekers want to see opportunities posted on Facebook career pages.
In a nutshell, groups are ideal for narrowing your search to the specific audiences you want and sourcing the best candidates.
Use groups wisely, and people will be flocking to your social media pages to check out your latest job opportunities.
4. Search and source the best candidates
So far, you've learned a few general rules, tips and tricks that apply across all social media, which is perfect for helping you discover it's possibilities and define your objectives.
When you have optimised your social media accounts for improving applicant conversions, you're ready to knuckle down and do some serious candidate sourcing. LinkedIn, in particular, provides an excellent example of how you can do it.
Advanced candidate sourcing
In your LinkedIn account, you'll see a search bar at the top centre of your screen; don't be too hasty to click straight into that, though.
At the end of the search bar, you'll see the word 'Advanced' - that's the tool that's going to help you find fantastic candidates.
You'll be presented with this advanced search window, offering you a range of fields for you to specify the kind of candidate you're looking to recruit.
'Keywords', for example, can help you find real experts in the field you're recruiting for. Let's say you want to hire an SEO specialist; any candidate worth their salt will have SEO featuring prominently in their profile.
If you're willing to upgrade your account, that final column also has some useful options. 'Years of experience' is always handy if you're specifically looking for a seasoned pro or a hungry young go-getter, while 'Company Size' can help you find the perfect person for a start-up or multinational firm.
Better still, using an upgraded account in conjunction with groups allows you to source candidates solely from a pool of experts and influencers - and we know how fantastic those candidates are, don't we?
5. The most optimum times to share your jobs across social media
Did you know? 80% of all Facebook's users check their account early each morning?.
What does that tell you? There are certain times of the day when social media usage, engagement and activity spikes, which for you as a social media recruiter is invaluable knowledge.
A blog from the social media experts at Buffer outlines the optimum times to post across social media. This chart gives greater insight as to which times are best to post on Facebook.
Do you check your phone when you wake up in the morning? The majority of Facebook users do the same.
Mornings in particular preferably before 9am are the perfect time to share your posts.
Early afternoon is an excellent opportunity to post as well. Not surprisingly the weekend and the days leading up to the weekend encourage a higher level of engagement.
Early afternoon when people have their lunch breaks and 7pm to 10pm when people leave work, go home and chill out are also ideal posting times, check out the best times below.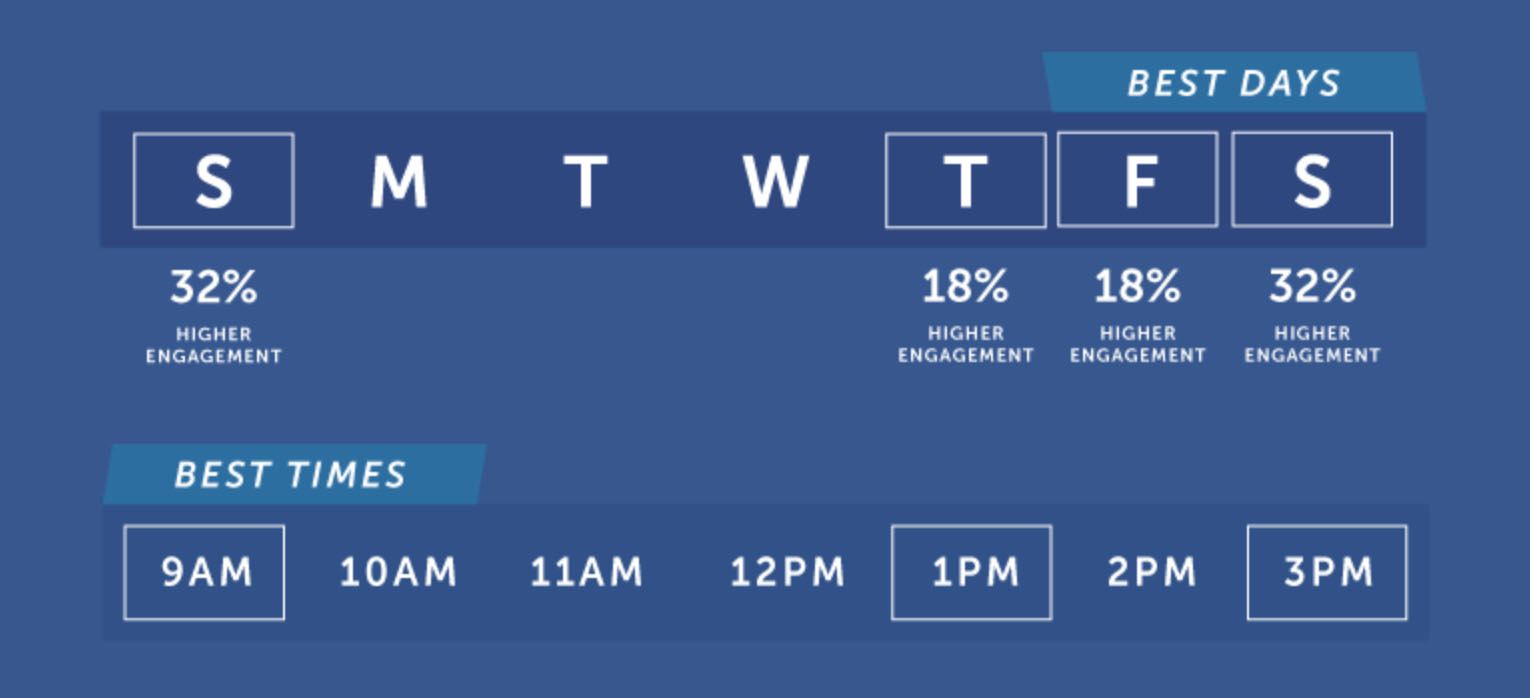 Are these posting times universal across all social media channels?
In the case of LinkedIn Tuesdays, Wednesdays, and Thursdays are the best times to post between 8:30am and 6pm.
Twitter surprisingly, weekdays during the day between 12pm and 3pm are the best times to post.
When evaluating times to post to social media, you must be aware of time zones...
Where are you based?
Where are your followers from?
When will they be checking out their social media accounts?
The audience and reach for each company is different, so testing out different times and social routines with your followers is a must.
There are some useful tools out there, such as Buffer and Hootsuite, which can help you schedule your social media posts to show up at the right time.
It's worth getting specific with your social media planning - a meticulous and punctual approach will certainly pay dividends in attracting the best applicants for your jobs.
6. Are you experimenting with other media sources?
Did you know? Video is the fastest-growing means of communication on the web? Yes, that's right, it is. Had it crossed your mind to make use of video in your recruitment strategy?
We've talked a lot about the 'Big 3' social media channels, Facebook, Twitter and LinkedIn. But social media can be and should be about so much more than just updating 3 accounts.
Video is only growing in popularity; you've got to make use of it! The likes of Instagram, Vine and Snapchat are perfect for sharing employee referral videos.
No one's expecting CGI spectaculars or Nobel-prize worthy photos; but in the world of recruitment, an amusing little video or image can go a long way.
It's much easier to visually communicate what you're looking for in a candidate, what kind of job they might be doing, and what kind of place they could be working in.
Sell sell sell your company to applicants!
Marriot Hotels, for example, have set up a dedicated careers page on Instagram @marriotcareers it's a great example, check it out.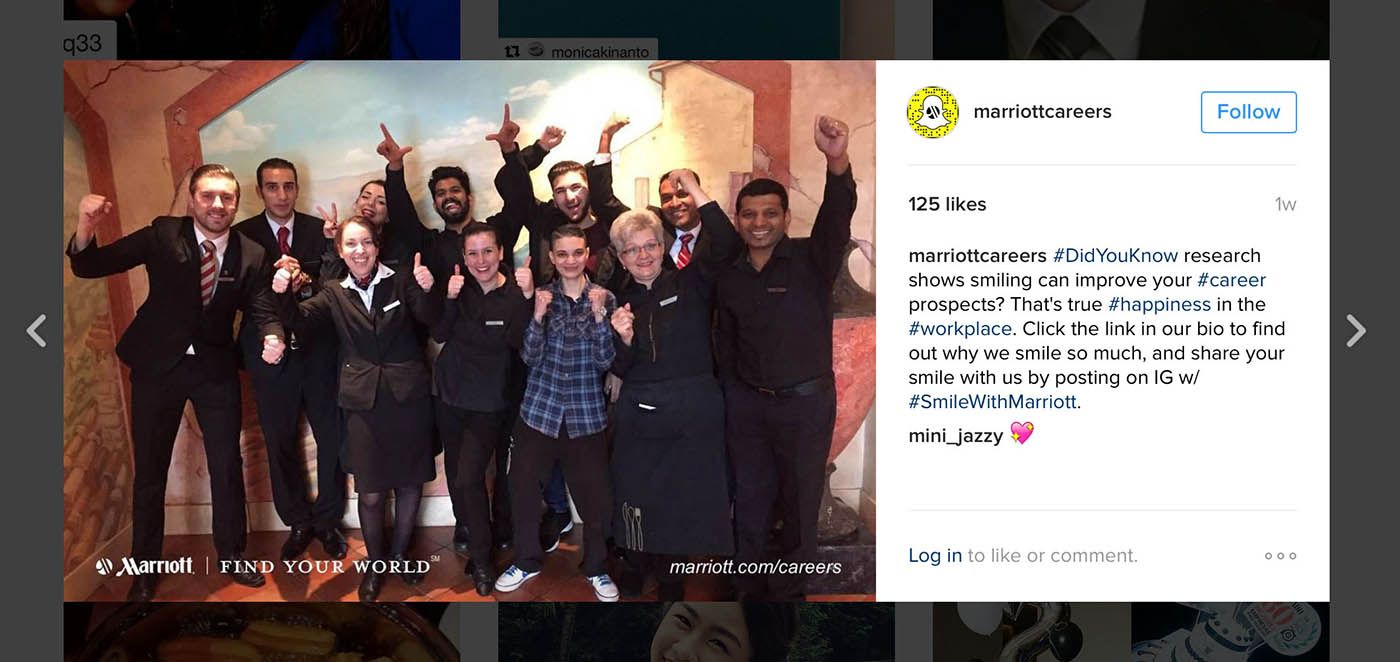 Now we've established several fundamental rules of social media recruiting, nail down a strategy, keep updating and perfecting it, and you'll be sourcing the best candidates in no time!
7. The final stage to becoming an expert social media recruiter
Reading this article, you'll have learned all the essentials to becoming a social media recruiter extraordinaire.
Now you know just how powerful it can be, you've got no excuse.
Before we send you off on your social media journey, here are the 6 key rules to always keep in mind!
1. HAVE A STRATEGY: Don't just use a social media platform for the sake of it; have a plan if you want to see serious rewards!
2. STAY RELEVANT: Make sure each of your social media profiles is regularly updated with fresh, attractive content and be sure to interact with your followers!
3. TARGET THE RIGHT AUDIENCE: Your social media won't appeal to everyone all at once; get involved in groups to source the best candidates.
4. BE PROACTIVE: Don't wait for applicants to find you - make the most of sourcing tools, particularly on sites like LinkedIn.
5. TIME IT RIGHT: Be sure that you're posting on social media at peak times if you want to cast your recruitment net as far as possible.
6. EXPLORE DIFFERENT OPTIONS: Facebook, Twitter and LinkedIn are great. However, explore other social media platforms and alternative ways to spread your message to improve your applicant conversion rate.
Conclusion
Social media recruiting has become an essential tool for finding and hiring top talent in today's digital age. With the ability to tap into a vast pool of candidates and engage with them in real-time, social media platforms like LinkedIn, Twitter, and Facebook offer recruiters unprecedented access to potential candidates.
To make the most of social media recruiting, it's important to have a clear strategy in place, including identifying the right platforms to use, creating engaging job postings, and actively engaging with potential candidates.
By following the tips and best practices outlined in the ultimate guide to social media recruiting, recruiters can find and hire top talent more efficiently and effectively than ever before.
What is social media recruiting?
Social media recruiting is the process of using social media platforms like LinkedIn, Twitter, and Facebook to find and attract top talent for job openings.
How effective is social media recruiting in finding top talent?
Social media recruiting can be a highly effective way to find top talent, as it allows recruiters to tap into a vast pool of candidates and engage with them in real-time.
What are the best social media platforms for recruiting?
The best social media platforms for recruiting will depend on your industry and the type of job you are hiring for. LinkedIn is generally considered the top platform for professional recruiting, while Twitter and Facebook can also be effective for certain industries.
How do I measure the success of my social media recruiting campaigns?
To measure the success of your social media recruiting campaigns, you can track metrics such as the number of applications received, the quality of the candidates, and the cost per hire. You can also use social media analytics tools to monitor engagement and reach.