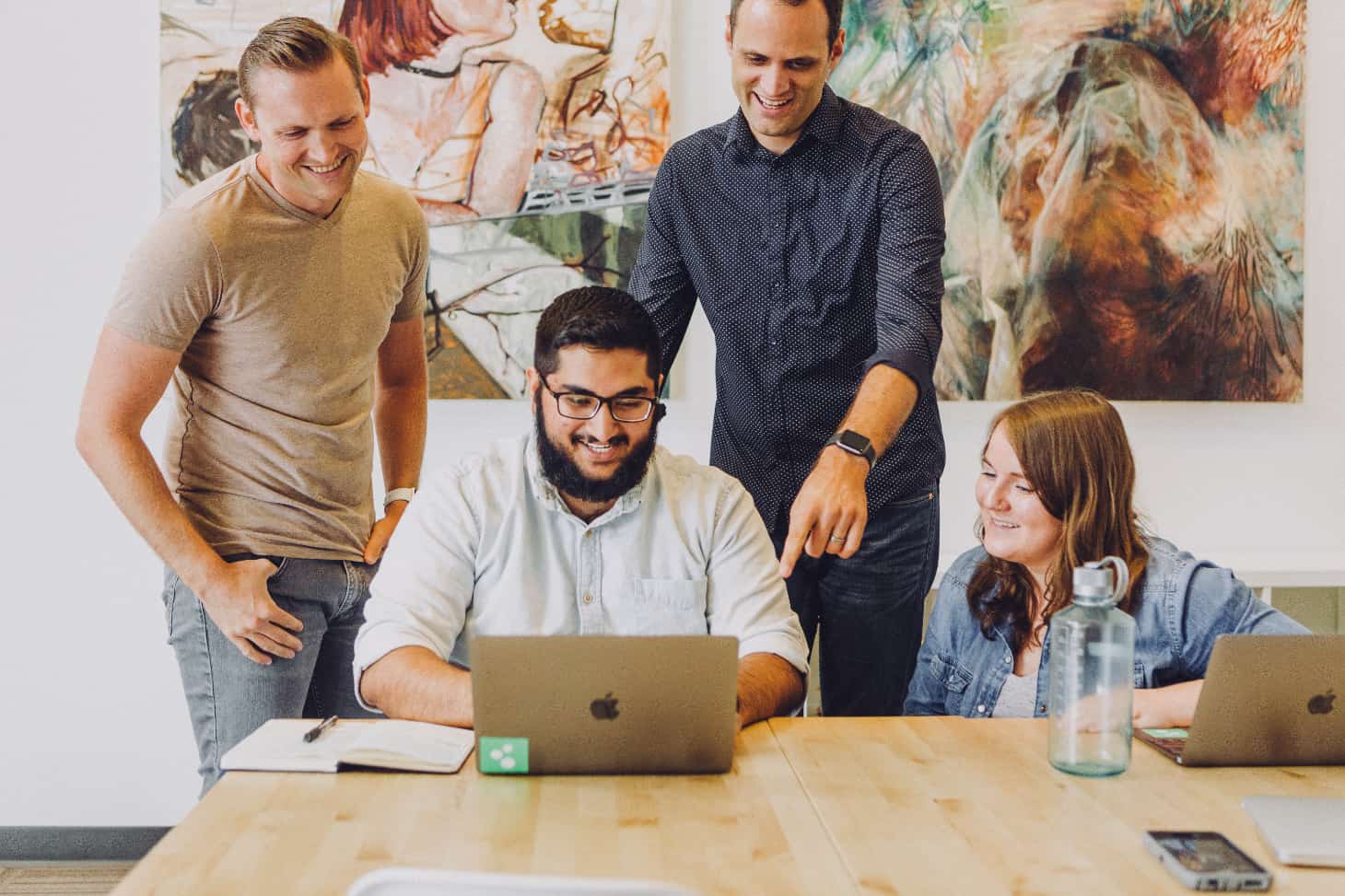 If you're anything like me, remembering all your passwords is as likely as winning the lottery.
Sure, I've tried to come up with creative ways to remember them – writing them on post-its and sticking them in random places around my house (my dog's always had a thing for eating post-it notes, so that didn't end too well).
Setting up alert reminders on my phone (which always ended up sending alerts at inopportune times, like right before a meeting. Ooops!), but I knew deep down that if we really wanted to get organised and protect all GoHire employees, I needed something more secure than a post-it note or an alarm clock, so we started using a password manager.
A password manager is basically an app that stores all your usernames and passwords in one secure location. It's encrypted with military-grade security so that no one can access your data without the proper authentication.
Also, the best part, they offer you convenience; you only have to remember one master password, and it will automatically fill in the rest of your information for you when needed.
Here's a list of the top 200 worst passwords ever… some absolute crackers.
So no more post-it notes stuck in random places, no more alarms going off at the most inconvenient times – just one easy way to store and protect all your passwords.
Who knew password management could be so simple?
Here's a snapshot of the 3 best password managers for SMBs:
Bonus: Want to check out more software for SMBs? See the 7 best SaaS tools for SMBs.
Why do SMBs need a password manager?
For SMBs like GoHire, a password manager is your cybersecurity's BFF.
It can store all of your passwords safely and securely, so you and your team don't have to remember them all.
Think of it as having the ultimate combination lock to keep your data from prying eyes.
With a password manager, you won't be overwhelmed by multiple lengthy passwords, nor will you suffer from the dreaded "password forgotten" syndrome.
Not to mention, no more writing down those complicated combinations on sticky notes.
Plus, when you're using a password manager, you'll know that if there ever were a security breach at one of your accounts, only that one account would be affected instead of all of them.
Are password managers secure?
Now… let's talk security.
Most password managers should have bulletproof security, at least PBKDF2.
Did you know? PBKDF2 (Password-Based Key Derivation Function 2) is a key derivation function that is used to generate cryptographic keys from passwords. It was invented by cryptographers to make it much harder for hackers and malicious actors to access your data.
In other words, PBKDF2 adds an extra layer of protection against those pesky cyber villains. So the next time you log into your account or enter credit card details online, you can be sure that your information stays safe and secure with PBKDF2 - just like Batman protects Gotham City.
It's important to remember that even though PBKDF2 provides an additional level of security, it's still not 100% foolproof.
Regarding pricing, the answer to 'How much should a password manager cost for a business?' depends on your organisation's size and how many users you need to manage.
Smaller businesses or early-stage startups might be able to get away with free versions, but at larger SMBs where data security is paramount, investing in a good password manager could pay dividends in the long run.
It may seem like a lot upfront if you have a lot of people, but in reality, you're getting peace of mind knowing that all your passwords are safely stored and managed in one secure place.
What key features do SMBs need from a password manager?
There are several key features you should look out for with any password manager, either on this list or others, you come across.
First up is a secure vault to keep all your passwords safely locked away.
Then, you'll want an easy way to manage and organise your passwords—maybe with the ability to store notes or other personal information alongside them.
Security… we touched on this above, but absolutely vital.
Cross-browser and device support, so it works across everything you use.
And finally, you'll need a reliable autofill feature to make accessing those accounts a breeze.
So, here we go...
1. 1Password
1Password is the ultimate password manager, making it easy to generate, remember, and store strong passwords.

With its intuitive interface, you can quickly create and manage secure passwords for all your online activities without the hassle of forgetting or losing important details.
Plus, it has one-click access to your favourite websites and apps and unlimited data storage for all your digital creds.
Thanks to 1Password's stellar security features, such as two-factor authentication and end-to-end encryption, you can rest assured that your information is safe from would-be cybercriminals.
Here are some key features with 1Password:
1. A single master password for all accounts: Forget about trying to remember dozens of different passwords. With 1Password, you only have to remember one master password – making it easy and secure to access all your sites.
2. Secure Backup: Your data is encrypted and stored in the cloud, so you never have to worry about losing important information if your device is lost or stolen.
3. Secure Sharing: 1Password makes it easy to securely share individual passwords or entire vaults with anyone you choose. And, since all of the information is encrypted, not even 1Password can read what you've shared.
4. Two-factor authentication: This added layer of security helps ensure that only you can access your sensitive data, no matter where you are – giving an extra peace of mind.
5. Cross-platform support: Whether you use Windows, macOS, iOS, Android or Linux – 1Password has your back. Syncing passwords across all your devices, so you'll never be without the information you need, no matter where you are.
Pricing: 1Password has 3 different business pricing plans, starting from £1.60 per user with their Team's Starter Pack.
Grab a free trial on 1Password.
2. NordPass
NordPass is another good option for choosing a password manager for your business.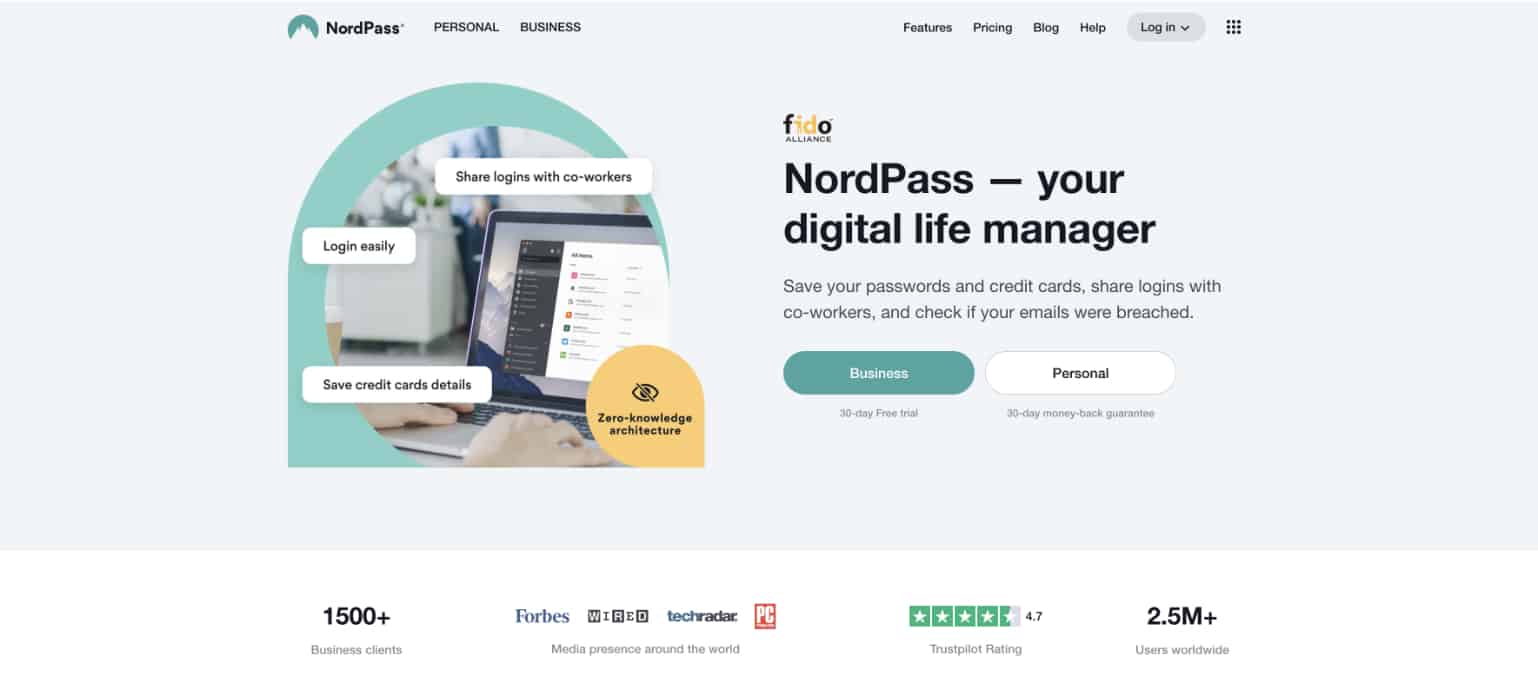 It has very similar features to 1Password.
You can think of NordPass as your own personal digital bodyguard.
It's like having a trusty sidekick there to ensure your passwords and personal information are secure and always ready.
With NordPass, you can relax knowing that all of your data is protected with military-grade encryption so no one else can access it. Plus, NordPass offers easy and convenient features like password generation, auto logins, and sharing passwords securely with colleagues.
NordPass comes with some excellent features.
You can give your team members access to specific folders and files while protecting them from unwanted intrusions.
With NordPass, you can also set up two-factor authentication to ensure that only authorised teammates access sensitive data.
Here are some of our favourite features on NordPass:
1. Customisable Security Levels: The adjustable security levels allow you to tailor your experience according to your individual needs and requirements. Whether you're a casual user or an IT security professional, you can rest assured that your data will be safe with NordPass.
2. Secure Sharing: Easily share passwords with friends and colleagues in a secure way. NordPass' intuitive sharing feature ensures that you can safely share confidential information without compromising security.
3. Automatic Password Generator: Forget about thinking up strong passwords - let NordPass do the hard work for you! Its powerful generator creates tough-to-crack passwords that can be used across multiple accounts.
4. Dark Web Monitoring: NordPass scans the dark web to ensure that third parties don't sell or compromise your data. Its advanced algorithms quickly detect any suspicious activity and alert you immediately if something is amiss.
5. Cross-Platform Compatibility: Access your passwords anywhere, on any device! Whether you're using a Mac, PC, or iPhone.
You can get started with a free trial on NordPass here.
Pricing: NordPass has simple pricing for business where it's paid per user, up to 250 users, at £3.59 per user.
3. LastPass
LastPass, trusted by Patagonia, Hootsuite, and Harvard University, to name a few, has 33+ million users and 100,000 business users.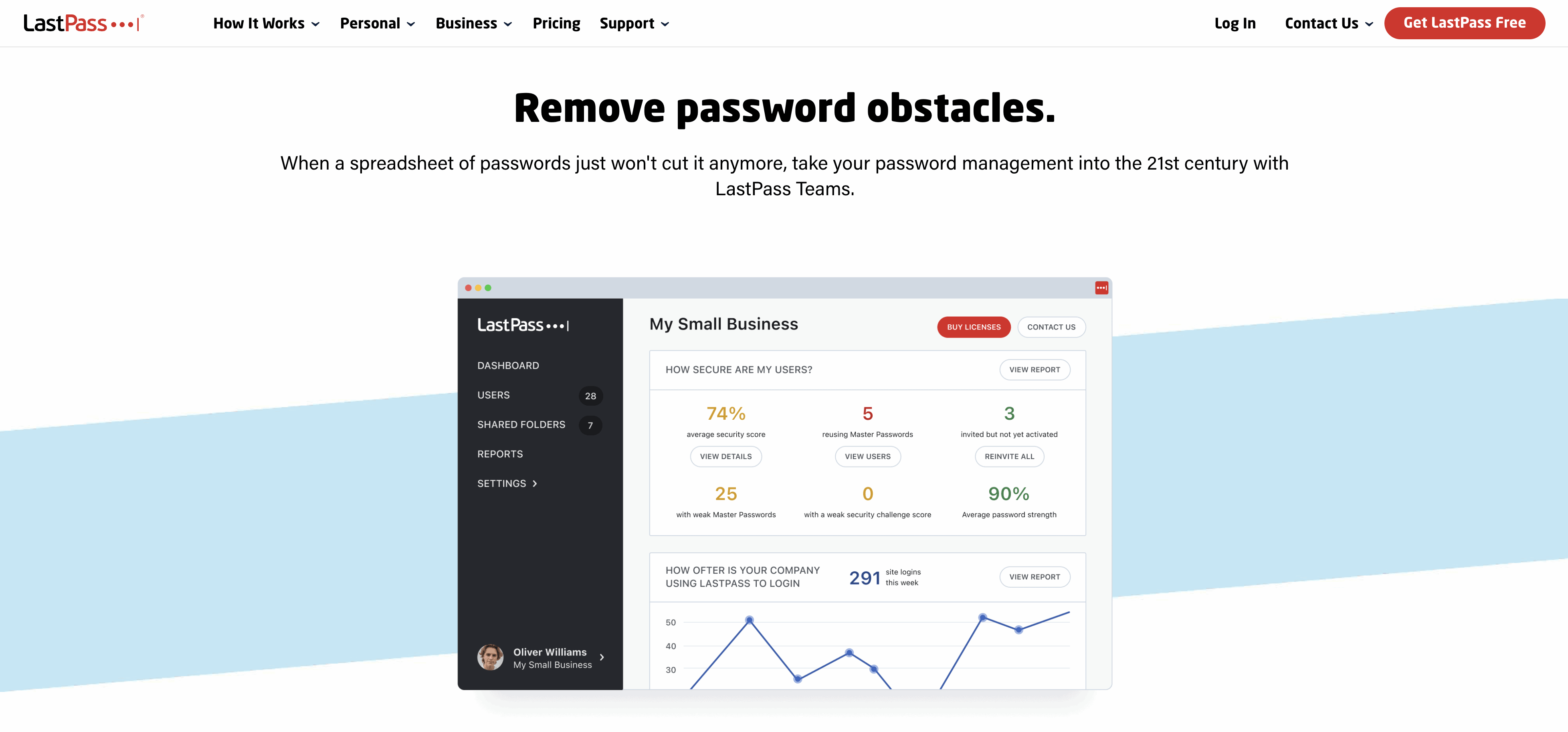 All password managers on this list will tick the boxes you need to secure your business passwords.
Specifically, it's like having a super-powered memory with LastPass, except you don't need to remember anything— LastPass does it for you.
It will securely store all your passwords and login details in one place, so you remember one master password. Plus, you can access your data from anywhere, on any device.
LastPass makes life simpler and keeps your information safe.
If you need more convincing about the power of Lastpass, then here are just a few of its best features:
1. Autofill: When remembering usernames and passwords, we all know how hard that can be. With LastPass, gone are the days of trying to recall those complicated characters. LastPass will autofill information for you, so all you have to do is click.
2. Secure Sharing: Lastpass allows users to securely share passwords with trusted contacts without worrying about your data's safety and security. This feature eliminates the need for lengthy password resets or inconvenient emails back and forth while also making sure that your data stays safe.
3. Multi-Factor Authentication: Lastpass is serious about security and, as such, has built-in multi-factor authentication to keep your data extra secure. With this feature, you can use 2-factor authentication to verify your identity when logging in to the app so nobody else can access your account.
4. Password Generator: If you don't want to create a complicated password, LastPass can do it for you. With their built-in password generator, you won't have to worry about thinking of a secure yet memorable password ever again.
LastPass is an essential part of staying safe and secure online. With its great features, you can keep your data safe and sound without the headache of manually entering or forgetting passwords ever again. Get LastPass today for a simpler, more secure life.
Get started on LastPass with a free trial.
Pricing: LastPass has straightforward pricing for businesses, starting from £3.40 per user, with annual billing.
BONUS: Dashlane
Dashlane Password Manager is a great security tool for businesses, like the others on this list, who don't want to forget their passwords and keep them safe.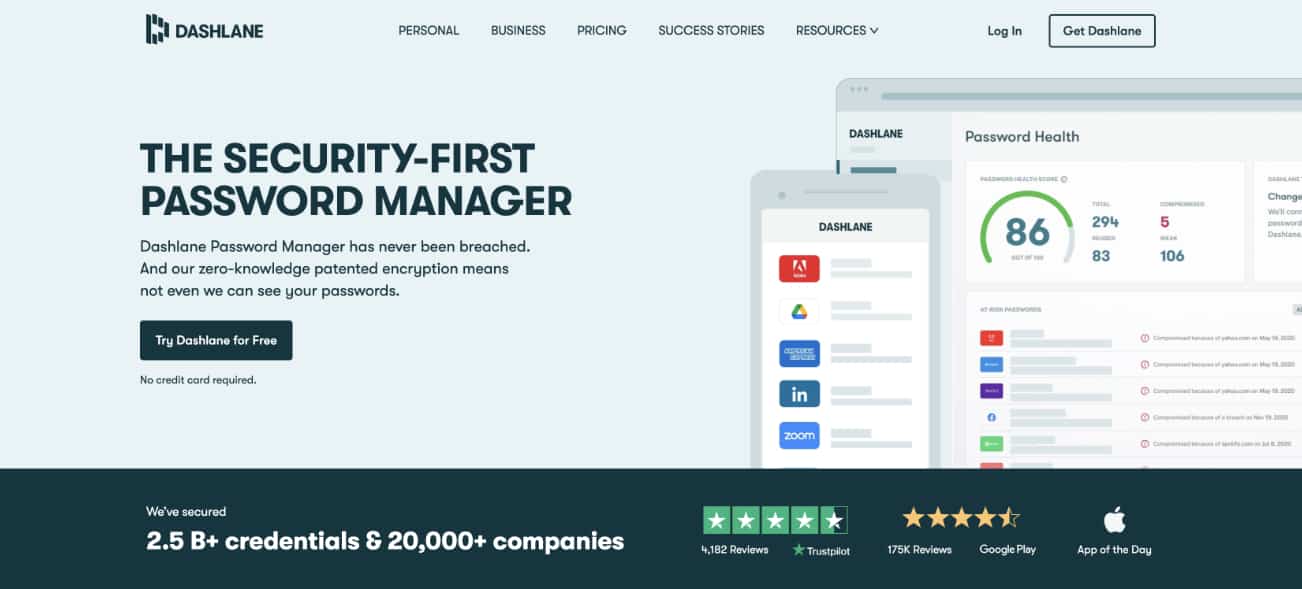 Not only does it store your passwords securely, it also auto-fills forms and logins on websites so that you don't have to do any tedious remembering or typing yourself.
Plus, with Dashlane's unique features like Security Alerts that notify you when a website has had a data breach, Two-Factor Authentication support that adds an extra layer of security to your account, and a Breach Report feature where you can check if any of your stored credentials have been exposed in a public data leak – you'll always be one step ahead in the world of online security.
Here are some of their best features:
1. Password generator: Dashlane's password generator does all the work for you by automatically creating and storing unique passwords that are impossible for hackers to guess.
2. Dark Web Monitoring: Don't worry about the security of your accounts when using Dashlane — their dark web monitoring feature actively scans the dark web 24/7 and notifies you if any of your data shows up there.
3. Secure Sharing: If you have multiple people who need access to an account or passwords, Dashlane's secure sharing feature makes it super easy to send and receive important information without compromising security.
4. Autofill: Autofilling forms can be such a time saver. Dashlane's autofill feature quickly fills out online forms with your personal information, so you don't have to waste time filling out the same information every time.
5. Digital Wallet: Last but certainly not least is Dashlane's digital wallet feature which stores all of your credit card and payment details in one place for added convenience.
Pricing: Dashlane, like 1Password, has 3 different business pricing plans, starting from $2 per user with their Starter plan, up to 10 users.
Final thoughts...
Whilst we have rigorously tested 1Password (we use it here at GoHire), NordPass, LastPass, and Dashlane, many other options exist. However, we do recommend these as the best password managers for SMBs.
Choosing a password manager should be fun.
With so many options available, you can try to find one that suits your needs. You could go for the classic option, which offers basic features like password generation and storage.
Or opt for something more modern with two-factor authentication and cloud synchronisation. Maybe you'd prefer something with an extra layer of security, such as biometric authentication or encryption-at-rest. No matter what type of password manager you decide on, there are several key factors to consider before making a final choice:
1. Price: How much money are you willing to spend? Do you have a budget in mind? Some password managers offer free versions, while others may require additional payments for certain features.
2. Features: What features are most important to you? Are there certain features that will give you an edge, such as password strength indicators, automatic form filling, or alert notifications?
3. Ease of use: Is the software user-friendly and intuitive? Can you quickly learn how to navigate through the program without needing to take a class first?
4. Compatibility: Does the software work with your current operating system(s)? Does it support multiple devices and web browsers? How secure is the app when used on mobile devices?
5. Support: Is help available if you have any issues or have questions about how to use the program? Many password managers offer FAQs, tutorials, and (human) customer service to troubleshoot any technical problems.
Finally, we recommend reading user reviews and checking the company's website for more detailed information before making your final decision. With so many options out there, it's important to find a password manager that suits your needs.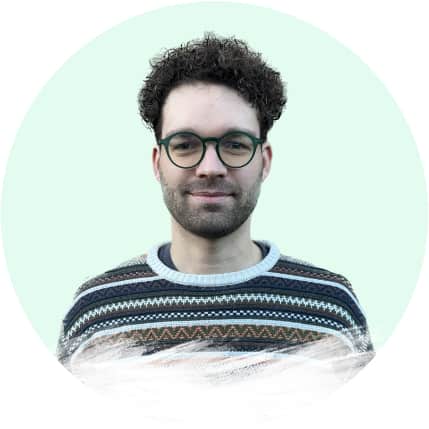 By Chris Smith
15 Dec 2022 · 8 min read
Founder of GoHire, dedicated to simplifying hiring for SMBs across the globe. Passionate about tech, SaaS, business, and recruitment innovations. Always up for a chat about the latest in our field. Let's connect!