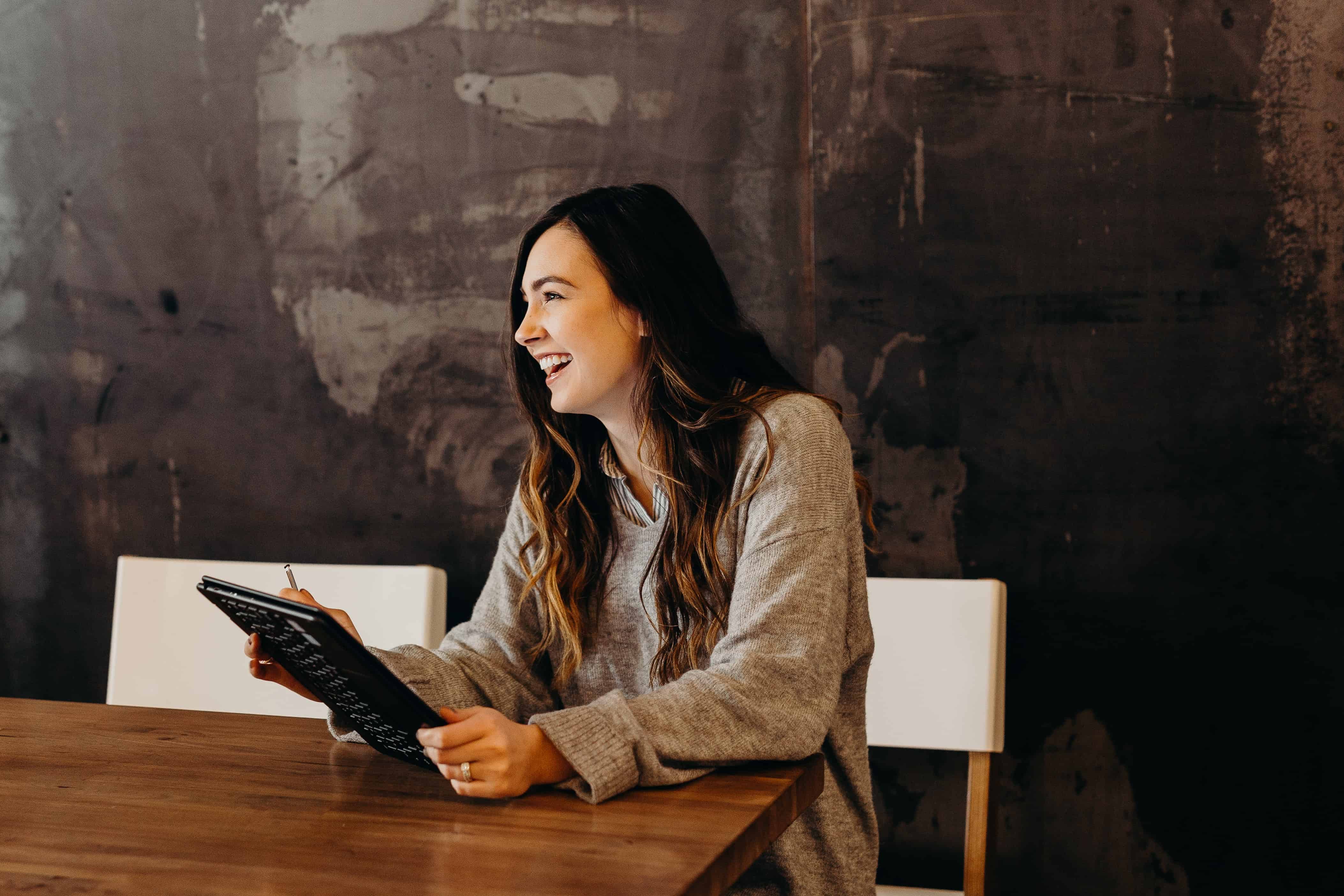 Take a look at your browser; how many tabs are pinned?
They're hidden off-screen, I know it.
You have your 173rd google doc open, and you can see 1 pixel of blue, but we all still persevere with it… WHY?
FOMO!
We don't use slang terms often at GoHire, but it's necessary.
If you need help closing some tabs, check these tips.
As business leaders, techies and generally just nerds, we have a severe fear of missing out on that shiny new piece of software that keeps popping up in our social feed.
We're not sure what it is.
We're not sure what it'll do for us.
And we definitely don't NEED it.
But, hey, there's a free trial button, so why not.
We're living in a free trial maze.
We've spent a lot of time at GoHire reducing the amount of software we use.
Not to cut costs, although that's always nice, we found using too much software created both an onboarding overhead and a reliance on these tools that wasn't backed up with data.
So, we wanted to share some of the software we use daily and why we think they are the best software platforms for startups to use right now.
Want HR-specific software? Check out the 5 Top HR Tools for Fast-Growing Startups.
To give you a quick overview, here are the 7 top SaaS tools every startup should be using:
Asana

- For project management
Slack - For better team communication

GoHire

- To hire and grow your team

Baremetrics

- To measure progress
1Password - To secure your team's passwords
Grammarly - To keep tone and voice consistent

Close

- To streamline your sales pipeline
Plus, some bonus tools to check out at the bottom…
1. Asana - The best project management software for startups
As you grow as a startup, project management becomes essential.
Not just within product and engineering teams but business-wide.
Why do we use Asana?
We use Asana for any task that needs to be completed, any projects we're building, or any campaigns we're running. We use it to track every bug we're fixing.
We use it to align our OKRs across GoHire so that every task we create aligns with our broader objectives.
By the way, you can grab some free OKR templates from Asana here.
Asana gives us complete transparency across every task and every objective.
A ticket is created and assigned to the right person for everything that needs to be done and completed within a timeframe.
Someone has ownership of every task.
Nothing gets lost.
What would we do without Asana?
We would have no ownership and no task tracking.
We could use a different tool; we have tried others.
Other project management tools try to do everything and succeed at nothing.
Asana is a perfect project management tool that works well for us and will work well for most startups.
We've also used Flowsana in the past to automate some of the workflows in Asana.
Most automation tools on Asana are paid features, so Flowsana helped us keep costs down.
2. Slack - The best communication software for startups
A good communication tool, particularly for remote businesses, is crucial.
Being able to share ideas with coworkers really quickly can enhance overall productivity.
Without having a dedicated tool, emails are the default.
There's nothing wrong with emails; they're certainly not dead.
But the types and amount of data we need to share have grown significantly over the last few decades.
The speed we need to communicate has radically changed, too.
Waiting 30 seconds for your inbox to refresh just isn't going to cut it.
Why do we use Slack?
We have a rule at GoHire, Asana for tasks and Slack for communication.
Slack is great for discussions.
You can share anything.
Files, any type and most sizes.
Code 🤯
Ideas.
Your screen, on a huddle.
Then, when the discussion is over, everything gets thrown over to Asana into a ticket for a team member to complete.
Honestly, when we started using Slack, it was limited.
Many of the key features we use on Slack today didn't exist; we could chat with coworkers. At that point, the argument for Slack was difficult, other than it's cool, and I like the Ta-Da message tone.
It's grown as the user's need has grown.
It's grown when technologies have improved.
What would we do without Slack?
There are alternatives.
Microsoft teams have an incredibly strong user base.
However, we are so ingrained with Slack, onboarding team members is simple, and it's just how we communicate - we don't do internal emails, like most startups.
3. GoHire - The best hiring software for startups
50% of all startups fail within five years.
Hiring is, of course, an essential growth driver in any startup.
It's pretty simple.
Get hiring right, and you'll grow.
Get it wrong, and you'll become an unfortunate statistic.
Why do we use GoHire?
You can use other hiring tools; we didn't create this article to sell GoHire to you.
We use GoHire to hire everyone, end to end.
We built it for startups and SMBs because we suffered the pain of hiring as a startup.
It simplifies the hiring process and makes it efficient for us to hire whilst we have thousands of other things on our to-do list.
It does the work for us and helps us hire the best people.
We use multi-site job posting to maximise reach, a careers widget to show off our brand to candidates, automated actions to automate boring tasks, reports to analyse success and hire better, and so much more.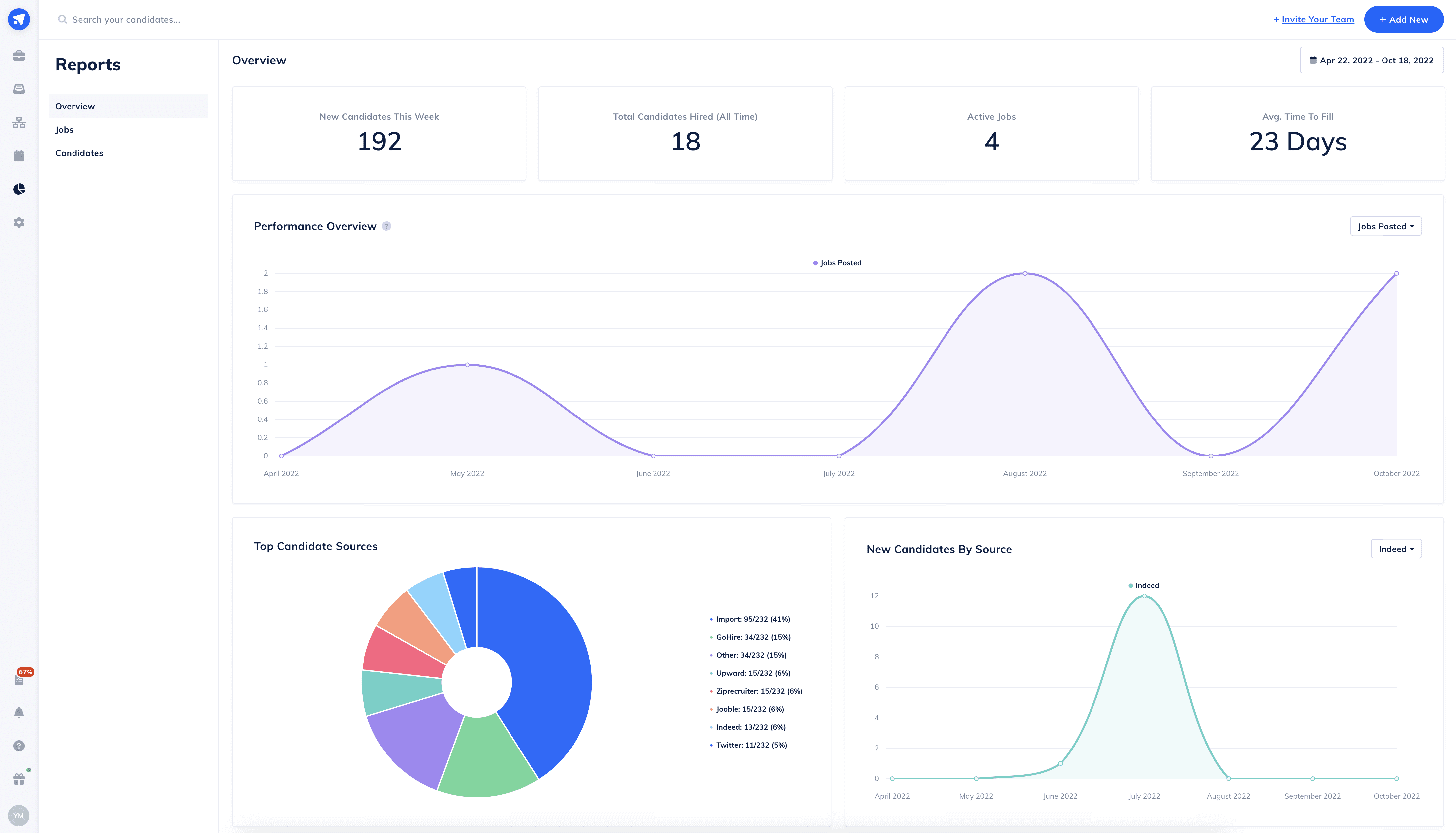 What would we do without GoHire?
Without GoHire, we would not be able to hire effectively.
We would waste huge sums on bad hires. Check these hiring stats.
And hiring would consume so much of our time.
We are constantly hiring and always on the lookout for great people.
Our careers page keeps attracting top candidates; even when we're not actively hiring, we always add to our talent pool.
We can publish a job today, and within the next 2 or 3 days, we can have over 100 highly qualified candidates ready to send video questionnaires to or schedule interviews and so on.
4. Baremetrics - The best subscription analytics software for startups
Subscription analytics is a fairly new one for us.
We've looked to get set up with a tool like Baremetrics or Chart Mogul for a while.
Why?
We want full visibility over our recurring revenue metrics.
We have Stripe, an internal admin system which queries our database and pulls those queries together in a nice interface or raw database queries to check any data we need.
We could query our database now to check how much churn we have this month, but looking back over the last 12 months, for example, becomes very time-consuming.
The problem we've had with our database is looking both back and forwards.
In Stripe, because we have a very deep integration, we'd never get a true picture for things like ARPU because its month is calculated singularly.
Why do we use Baremetrics?
With Baremetrics, we now get a complete picture of all financial metrics.
We get much greater granularity for key data and lifetime value; for example, we can check what LTV was yesterday or 97 days ago if we need to.
Anyone in the team can check it too, so our success team charged with keeping churn low can check their progress in real-time.
So, we do not need to run database queries and use a spreadsheet to input data to track everything.
We do not need to code our own metric dashboard.
We can find real opportunities for growth really quickly.
And, we can look back, see what decisions we've taken have worked, and make better decisions moving forwards.
What would we do without Baremetrics?
We would go back to querying our database.
Which is absolutely fine.
But why settle for fine if you don't have to?
Try Baremetrics for free here.
5. 1Password - The best password manager for startups
81% of data breaches are due to poor password security.
49% of employees add a digit or update a character when they're requested to update their password.
66% of startups and SMBs that have been hacked in some form had no confidence they could recover from the incident.
Deploying a company-wide password policy and getting set up with a password manager is vital to your startup's data integrity and absolutely mitigates risk.
Why do we use 1Password?
Every startup should have a password manager.
Check out this beginner's guide to password managers.
Two reasons… security (obviously) and productivity.
Employees do not create strong passwords, and they will typically use the same password across multiple platforms… which are very easy to crack.
With a password manager like 1Password, each password can be randomly generated, up to 100 characters, each account login can be unique, and you can store the login URL to ensure you are adding the password in the correct URL, avoiding any possibility of a phishing attack.
Try generating your own random, secure password here.
Using PBKDF2, it becomes very difficult to brute force a password for any would-be attacker with 1Password.
In fact…
If you were to use a 30-strong, randomly generated password, it would cost around $14,000,000,000,000,000 of computing power to crack your password.
That's $14 quadrillion.
No one is going to pay that to crack your password any time soon unless perhaps you're storing nuclear codes in your password manager.
Maybe some rogue organisation would give it a try.
By deploying a password manager, you're keeping any data you store secure; you ensure no team member will be vulnerable to attack too.
Because 1Password works across devices and browsers, you can use passwords anywhere; as soon as you open a website or app, your 100-character passwords are ready for you.
1Password will also help team members create secure passwords; if the password is weak, it'll tell you 😮
It will also monitor password health too…
What would we do without 1Password?
Purely from a risk mitigation perspective, we would never stop using a password manager.
You could ask your team to use their browser to store passwords, which might help save some time. However, it's not secure and means you have to use one browser all the time.
Switching between Chrome on mac and safari on iPhone means you have to manage passwords in two places which will become tiresome quite quickly.
Other password managers like LastPass have the same level of security; we have just found 1Password to be the most user-friendly, so new team members are much quicker to onboard.
Used by companies like Slack, Intercom and Gitlab, 1Password is an essential tool in your SaaS tool armoury.
6. Grammarly - The best free online writing assistant for startups
The amount of content a startup needs to create is significant.
By the way… if you don't have a content strategy in place already and need some help, check these tips.
Now, let's think about the content you create…
Copy for your website
Resources
Blog articles
Emails
Internal messaging
Policy documents
Internal documents
Internal strategies
Employee contracts
… the list goes on and on.
That's a huge amount of content you need to produce daily, created by you or one of the team.
Firstly, if you have the budget, you should hire a content creator to help with the mounds of content you need to produce.
With content, the problems all startups face are…
Time, how long it takes actually to create the content, whatever form that comes in.
Consistency, ensuring the voice and tone of the content is in sync.
Engagement of public content, let's face it, what's the point of creating content like this if you don't find it useful?
You'd never reach this point.
Why do we use Grammarly?
We originally started with the free version of Grammarly.
As a remote team, whilst based in the UK, for some team members, English is not the first language.
We found Grammarly useful for creating content consistency from emails to web copy and blog articles across all team members.
Now, we use Grammarly business to get more in-depth rewrite suggestions and grammar improvements.
We get full tone and voice consistency across all of our content, regardless of who wrote it and what the content is.
Like this…
We use snippets to speed up adding regular content we use, like this…
What would we do without Grammarly?
In terms of ROI, the cost for Grammarly is so low in comparison to what it gives us both in terms of our public perception and branding.
When we factor in productivity, and the time it saves us across the business.
It's a no-brainer and a product we use every day.
7. Close - The best sales CRM for startups to manage sales pipelines
Inbound or outbound sales or both, you'll need a sales pipeline.
It'll need to be meticulously organised.
See why sales pipelines are essential and learn how to set one up.
Unfortunately, there's no getting around the fact that you'll need to use some software to define your sales pipeline.
Why do we use Close?
We like using software that's simple and fast to implement.
Software that's intuitive and can be widely adopted by our sales team quickly.
There's no sales CRM we've used that's more intuitive and simple to set up than Close.
Close migrated all our data for us, free of charge and made everything really simple.
We like software that's not bloated with features.

To compare it to Hubspot, for example, as a startup, it's just not worth using Hubspot.
It's so complex to onboard new team members and very time-consuming, although Hubspot is very powerful for 100+ headcount teams.
Close is built specifically for our needs, it has everything we need
Calling, SMS, Email, Sequences, Pipeline, all in one platform
Email Automation
Search and Smartviews
Power and Predictive Dialer
Call Recording and Call Coaching
Pipeline Metrics
Flexibility to fit a variety of sales processes
Easy deal documentation using notes and custom activities
Engage and Close deals in one platform
What would we do without Close?
No, and yes.
Every startup should use software to organise the sales funnel end to end.
There are other options, like Hubspot and Pipedrive.
But for a startup, you'll be paying for features you just don't need.
Close, on the other hand, is ideal for startups; until you have more than a 100-employee headcount, you'll have everything you need with Close.
[PLUS] Bonus SaaS tools for startups to consider
Ok… we're trying to reduce the amount of software we use.
However, there are some SaaS tools for startups which are vital, but you don't need to use them every day.
Hunter
If you are doing any outreach, whether that's for outbound sales, building a partner program, or reaching out to candidates, Hunter is a fantastic tool for finding any email address for your prospects. Try Hunter out here.
Apollo.io
Need to reach more leads? Apollo has 250 million contacts ready to outreach to. This is a vital tool that we use every day. Get a free trial of Apollo.io here.
SEMRush
For all things marketing research, SEMRush is incredibly useful for getting a much deeper understanding of your own and competitor traffic, article research and much more. Take a look at what SEMRush can do for you.
Rewardful
Very simple and intuitive platform to manage and grow your affiliate program and is much more affordable than bigger competitors. Set up your affiliate program on Rewardful here.
NordSecurity
We use this to access our infrastructure securely, within a secure network, which is absolutely vital and really good value. Spin up a secure server with NordSecurity here.
Leadfeeder
Another great marketing tool we use to get greater insight into our website visitors. Try Leadfeeder for free here.
Bugherd
Incredibly useful for tracking bugs and taking action, it's helped us reduce the number of bugs across our marketing website. Grab a free trial of Bugherd here.
Uptimerobot
UptimeRobot is a website and server monitoring tool that helps to ensure the uptime and availability of your websites and servers. It provides real-time notifications of any downtime, enabling you to take quick action to resolve any issues which you can ping right to your mobile or Slack channel. Learn more about Uptimerobot.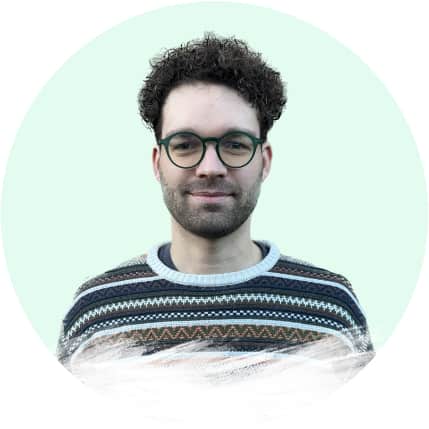 By Chris Smith
7 Feb 2023 · 9 min read
Founder of GoHire, dedicated to simplifying hiring for SMBs across the globe. Passionate about tech, SaaS, business, and recruitment innovations. Always up for a chat about the latest in our field. Let's connect!