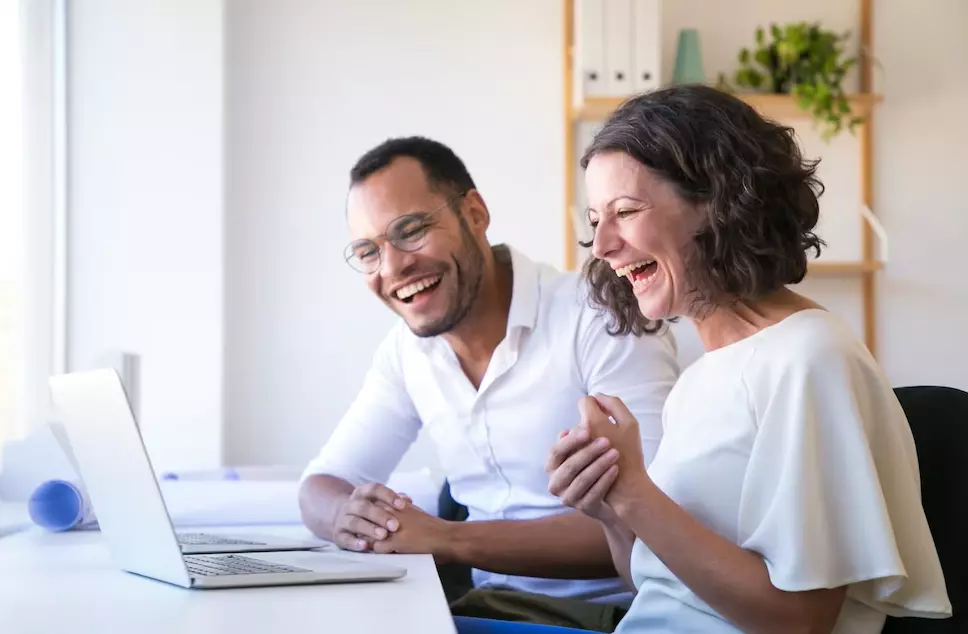 Around 59% of job seekers look up a company's website before deciding whether to apply for a role. If your website is not good, they may not apply at all. Hence, you must pay close attention to your website, especially the touch points on which a candidate may land and explore your website, such as the career page.
That's true! A company's career page is like a pitch to candidates – a chance to show them why your company is a great place to work and how it can help them achieve their career goals. An excellent career page can also offer them an easy place to apply for open roles.
However, recently companies have seen a decline in the number of site visitors who convert into applicants. As a result, it has become even more difficult to convert them into qualified applications. So, how do we maximise candidate conversion rates on a landing page? Here are a few tactics you can use:
Eight ways to attract maximum candidates by career pages:
1. Prominently Display Jobs on Your Career Page
Job listings are the critical component of your career page. They are the sole reason why candidates visit your website.
What if they don't quickly find what they're looking for? The candidates will switch to another website, and you will miss your chance of scoring an applicant. You would never want that to happen, won't you?
That's why you must prominently display job openings on your website so they can quickly discover them. Also, there should be filters (to sort jobs by locations and departments) to ensure candidates can find their relevant positions in a few clicks.
Here's how Tableau, a business intelligence software company, groups jobs in a clear and accessible way to ease job discovery and maximise candidate engagement: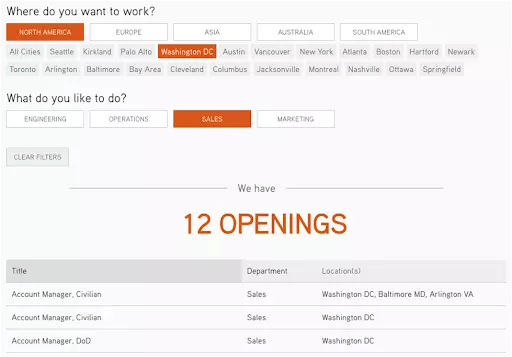 2. Make your application process hassle-free
The last thing a candidate would want while applying for a job is to fill out a lengthy application containing scores of questions whose answers recruiters can easily find on their resume. Such questions annoy candidates, and most of them leave the application midway. Hence, it is essential to design your application process carefully.
Here are the questions you must ask yourself while designing your application process:
Do you need all the fields?
Are you asking questions that you don't need at this stage?
Are you asking questions you can easily find on the candidate's resume and social profiles?
Does the question format make sense (in some cases, multiple-choice questions make more sense than open-ended questions)?
Are you asking for information that's not relevant?
These questions help you create a streamlined application process to ensure maximum candidate engagement. You can also use an applicant tracking system to complete a simple, streamlined application form.
3. Use career pages to showcase your company's culture
Candidates are savvy these days. You can't attract them based on an attractive salary and perks alone. They also prefer a working environment where they feel valued and motivated. Most don't even apply for a role without learning about the company's culture.
Now, if you don't highlight your company's culture, chances are candidates wouldn't know about your company. As a result, most wouldn't apply for the position you wouldn't want. That's why you must highlight your company culture on your website.
Your career page can be a great place to showcase your company culture, as this is where most job seekers will land. You can show them your mission and values, what environment you offer to employees, and what you expect from your potential employees. You can communicate your message with catchy graphics, videos, and slogans.
You can check out the career page of Plan.com if you want inspiration. They've done great with immersive visuals, attractive fonts, and clear messages: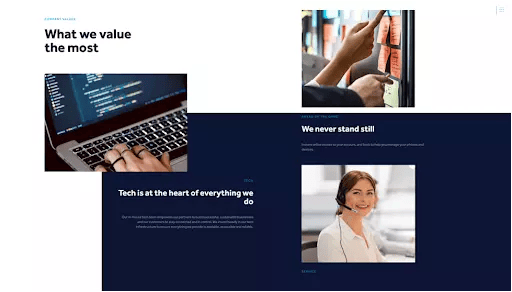 4. Don't just talk about responsibilities, but also benefits
The key to creating a career page that converts is quickly giving candidates what they want. In this case, benefits and perks are what most of them are looking for. It is also essential because salary and perks are the reason candidates want to switch in the first place. So, you must not keep them in suspense and highlight the perks of this job.
5. Offer job seekers the information they wouldn't find anywhere else
Quick question!
Why would a candidate visit your career page when they can find the same information on platforms like Glassdoor or LinkedIn? The answer: It's because they're looking for inside information about your business, i.e., details they wouldn't find anywhere else.
That's why it's essential to personalise your career page by featuring additional information like your team member's video testimonials or clips from company celebrations. Don't crowd your career page with the same content candidates can find on social platforms. Take it up a notch by including anything motivating them to apply.
Here's how Stripe uses its career page to link to Stripe stories on Medium, where employees talk about their life and routine at the company:

6. Frequently update your career page
How often do you update your career page? If you do it regularly, you're on the right track. But if not, you may miss out on many qualified candidates.
It is because many candidates see how actively a company manages its brand presence. Not updating your career page or even responding to reviews can put your company in lousy limelight and reduce your chances of receiving applications for an open position. Hence, you must frequently update your career page.
You don't even need a complete overhaul. Keep doing small things like updating pictures and videos and improving the copy to keep your career page fresh. You can also post news whenever your company opens a new office or receives a testimonial for fresh hires. You can even share pictures of an event you recently organised. All you need to showcase to the candidate is that your company is where new things happen daily.
7. Optimise your career page for mobile
According to a Glassdoor survey, 50% of job seekers bookmark a mobile job and apply later on a desktop. If your career page is not mobile-friendly, candidates will quickly bounce, and you'll ruin your chances of receiving applications for a job opening. So, you must optimise your career page for mobile.
Here are a few things you can do to improve the mobile version of your career page:
Keep your copy short and crisp, as scrolling through large paragraphs on mobile devices can be daunting for candidates.
Use graphics that don't take much time to load. It is because mobile users get frustrated and leave a website quickly if it doesn't load properly.
Make your page adaptable to various screen sizes as candidates browse it from smartphones and tablets.
Keep your application process simple; going through multiple pages is more challenging on mobile phones than on desktops.
8. Actively test and measure the performance of your career page
Last but not least! You must actively measure the performance of your career page to see whether it's meeting your expectations. It is essential because there's no point in using the same career page optimisation tactics if they don't yield results. Instead, you must optimise your business strategy and evolve.
You can use a conversion rate calculator to see how well your career page performs. It helps you calculate how much percentage of visitors from the career page apply for a job.
Let's understand this with an example:
Suppose 1000 people visited your career page, and 100 applied for the job. The conversion rate, in this case, would be 100/1000 = 10%. By measuring the conversion rate, you can identify if your design to redesign the careers page yields any results.
You can also use Google Analytics to track your conversion rates. Google also offers the User Explorer feature to give detailed information about how people interact with your career site.
Bonus: A Few More Tips to Attract Candidates on Your Careers Page
Here are a few more tactics you can employ to attract candidates to the career page and receive more applications:
Use videos to engage candidates on your career page. According to stats, some web pages experience an 80% conversion boost from on-page video content. Moreover, they're a great way to showcase your company culture.
Keep the number of questions less than 25. According to a study, asking 50 or more questions in job applications can reduce applicants by 50%.
No one will pay attention if you're going by the job descriptions everyone else posts. So, think out of the box and reinvent your job descriptions to make them more catchy and attractive to read.
Use interactive content to engage candidates on your website. This way, they would spend more time on it and will be more inclined to apply for a role. Job aptitude tests, career trajectory simulators, salary calculators, and ideal job builders are a few types of interactive content you can experiment with.
Tracking candidate behaviour to gain a deep insight into candidates' psyches and taking necessary steps to encourage them to apply is another way to maximise the conversion rate on your career page.
So, these tactics can help you maximise conversions on your career page. Now, it's time to give them a try to improve your career page, track your progress, and witness the results. If you're looking for inspiration, check out: examples of the best career pages. They would give the right idea of what to do.